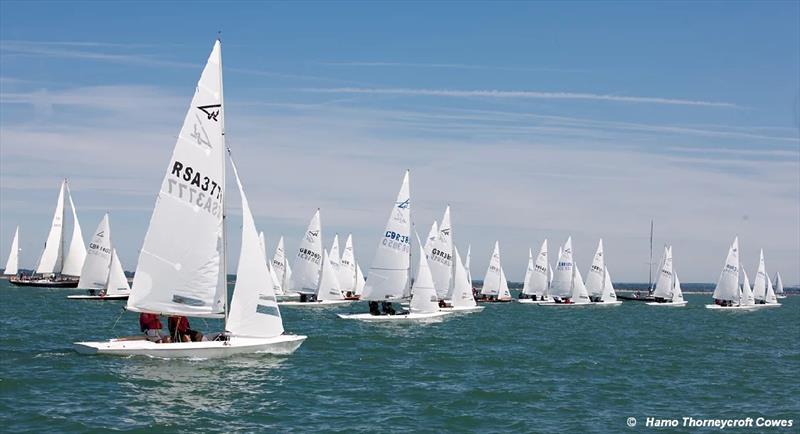 2022 is an exceptional year for the International Flying Fifteen Class in Cowes
2022 is an exceptional year for the International Flying Fifteen Class in Cowes
by Jonny Fullerton on behalf of FFI Feb 16 17:00 UTC
August 18-26, 2022
F15 fleet racing at Cowes © Hamo Thorneycroft
Ufa fox © Peter Keen

The Flying Fifteen 75th Anniversary International Regatta, comprising the 2022 European Championship and 75th Anniversary Race, will be hosted by Cowes Corinthian Yacht Club from 20-26 August 2022.
Over the previous week, August 18-22, there will be an open regatta weekend and a series of shore events celebrating the life and work of Uffa Fox. The event is called Uffa Fox 2022.
Uffa designed the Flying Fifteen in late 1947. There are several stories of how it grew from a eureka moment in the bath to labor stretching an International 14 mold in the workshop!
However he moved on, in 1948 he built his prototype 'My Dainty Duck' and took it around the country to promote the design and by 1949 there were enough boats to hold the first National Championship at Cowes where 13 boats competed. The regatta was won by Squadron Leader Nance in boat number 6 'Neesa'.
1949 was an important year for the class, as Uffa persuaded the people of Cowes to fund the construction of probably the most famous Flying Fifteen 'Coweslip' as a wedding present for the Queen and Prince Philip. Uffa sailed with Prince Philip during Cowes Week in the Flying Fifteen class until the late 1960s.
Boats designed by Uffa Fox will be hosted and organized by the Royal London Yacht Club. The event is all about having fun and celebrating Uffa Fox and her designs.
Sailing will be at the heart of the event which will also include static displays for historic boats. The Classic Boat Museum will host receptions and conferences in its buildings which include a large collection of Uffa fox.
Uffa Fox designs include: National 12, International 14, North Norfolk 16, National 18, Firefly, Pegasus, Jollyboat, Albacore, Redwing, Daysailer, Flying 15, Other Racing Keelboats, Duckling, Fox Cub 18 and Atalanta.
There is only one criterion for entry and participation and that is that the boats must have been designed solely by Uffa Fox.
For more info on the 2022 Flying Fifteen European Championship visit www.ff75.org
For more information on the 50th anniversary of Uffa Fox's death and the Uffa Fox 2022 event, visit uffafox2022.org