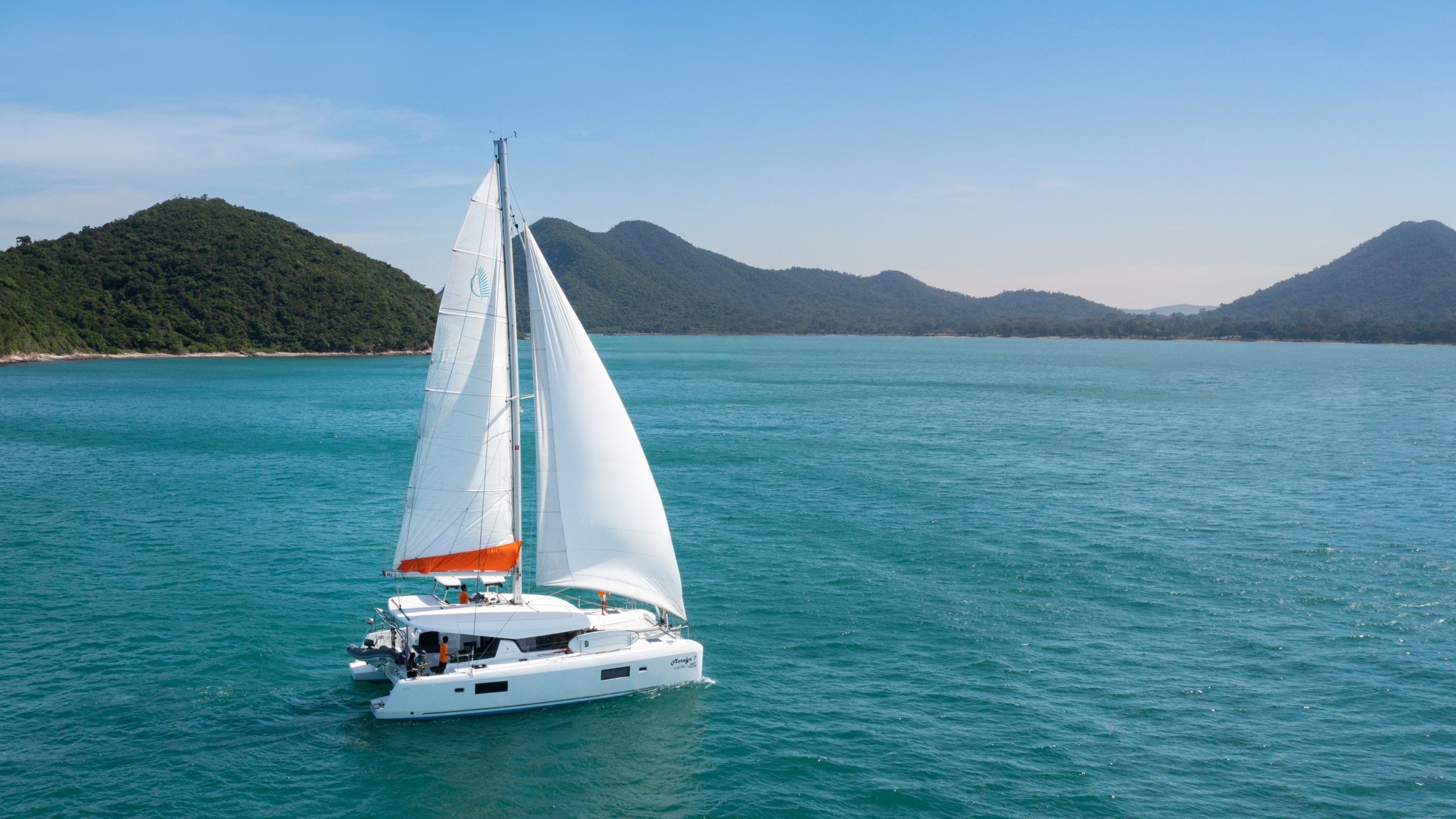 5 luxury yachts to bookmark for your next trip on the water
Limestone cliffs, white sand and azure waters will never fail to impress. So, one of the best ways to enjoy the sea may be to get there, especially on these luxury yachts from 5 Yachts in Thailand.
A yacht trip is a truly indulgent experience in good company with the sea, the sun and the sound of the waves. For those looking to escape from reality, board these yachts and dive into the deep blue. With the help of these luxury yachts and super yachts, you will feel like you are resting in a floating five-star hotel.
[Hero and featured image credit: Maralyn Yacht Thailand]
Built in 2021, Maralyn is one of the newest yacht charter services in Thailand. The Maralyn yacht is decorated in warm and welcoming tones with one bedroom and three cabins for the Samui route, and four cabins for the Pattaya route. The newest model guarantees the highest level of security and services with a professional captain and a team of 5-star hotel butlers. Guests can enjoy their time snorkeling, paddle boarding or on the rubber dinghy, and come back for freshly prepared barbecue and seafood for a fun weekend on the islands or in Pattaya.
Maralyn yacht charter currently has 2 locations in Samui and Pattaya, with several different routes to choose from. For more information, contact the line's official account @maralynyacht.
A favorite of many top Thai celebrities, Blue Voyage brings imported luxury yachts ranging from 38ft to 102ft to Thai shores. Whether you're heading to a close Bangkok getaway like Pattaya or a faraway vacation paradise like Krabi, expect to experience a consistently high quality luxury yacht like nowhere else. A guest favorite, M/Y For Your Eyes Only, is a 30-passenger ship with butlers, chefs, massage services, beach picnic, afternoon tea, snorkeling gear with snorkel and bait, and much more.
Blue Voyage has 4 destinations: Pattaya, Krabi, Phuket and Samui. For more information, call 02 048 7700 or visit the Facebook page.
Founded by a group of engineers and travellers, Sailing Yacht Thailand partners with a collection of sailing and motor yachts available in a range of sizes. For a super luxurious vacation, the Princess 72 is a 72ft long motor yacht with three incredibly spacious bedrooms. Sleek, stylish and fully equipped with equipment for snorkeling and other marine activities, it is one of the best choices for traveling in Phuket and Pattaya, especially for families or groups of friends.
Sailing Yacht Thailand offers several yacht models in Pattaya, Phuket and Krabi. For more information, visit the Facebook page.
At Crown Line Asia Yacht Charter Phuket, only the most extravagant yachts are at your service. An extensive collection of super yachts, motor yachts and sailing yachts will welcome guests, whether it's the 55-foot 15-passenger Azimut yacht or the 74-foot 45-passenger Chowa yacht. You can also embark on an island-hopping excursion with a speedboat or jet ski island tour through Crown Line Asia.
Crown Line Asia Yacht Charter Phuket operates in Phuket. For booking inquiries call 098 497 2720 or visit the Facebook page.
Super yachts, motor yachts, motor catamaran yachts, sailing yachts or sports cruisers: Ocean Escape has it all. More than 10 types of sailing catamarans are available for 12 to 100 passengers. Whichever ship you choose, be prepared to experience beautiful islands, scrumptious meals, exceptional service and luxurious comfort. Perfect for all cruising purposes – a corporate outing, a summer party with friends, a family reunion or a romantic cruise.
Ocean Escape operates in Pattaya, Phuket and Samui. For more information, contact 02-550-6153 or visit the Facebook page.