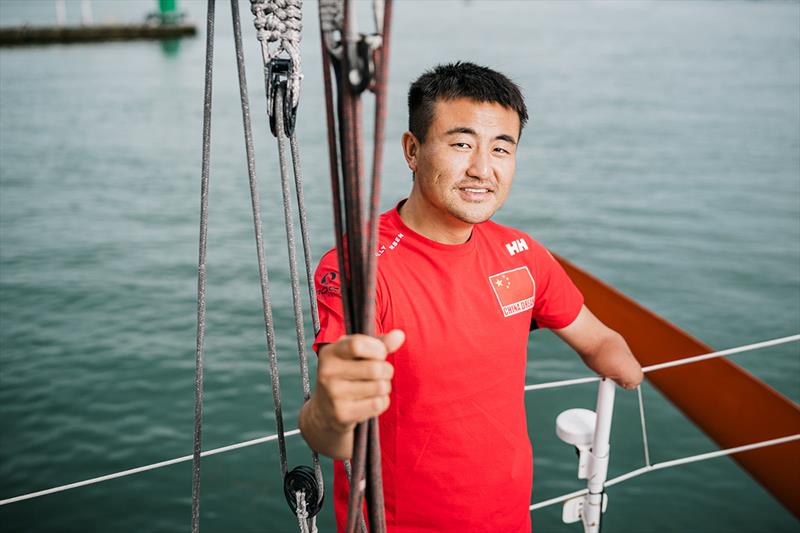 A pioneering and inspiring Chinese sailor taking on the Route du Rhum
A pioneering and inspiring Chinese sailor taking on the Route du Rhum
by Ed Gorman / IMOCA Globe Series Nov 2 23:53 PDT
November 6, 2022
Chinese navigator Jingkun Xu – Route du Rhum-Destination Guadeloupe © Jean-Louis Carli / IMOCA

You get used to hearing stories of perseverance through thick and thin, determination to succeed and not accepting a negative response in the IMOCA class. But one of the brand new skippers to join the ranks of this Route du Rhum-Destination Guadeloupe is truly breathtaking.
The 33-year-old Chinese sailor Jingkun Xu arrived at the start village of Saint-Malo for this quadrennial classic after the most improbable of journeys, a journey through life remarkable for what has already been accomplished and even less what awaits us.
Jingkun was born into a poor Chinese farming family living in the hills above what is now the "sailing city" of Qingdao. If all went well, the best he could have hoped for was to follow his parents into the hard work of farming. But all did not go well. At the age of 12, Jingkun suffered a devastating injury to his left arm in a fireworks accident that required his amputation just below the elbow. For all intents and purposes, he was told, his life was ruined.
But the youngster was determined his injury would not define him and clung to the idea of ​​joining the newly formed Chinese Paralympic team. Instead of destroying his life, his injury would become his opportunity. He was given the choice – sailing, cycling or running – and even though he had never seen the sea or a boat, he chose sailing.
In 2008, he and two teammates finished 10th out of 14 in the Sonar category at the Qingdao Paralympic Regatta, by which time Jingkun had already read of the exploits of Britain's Ellen MacArthur. Inspired by his example, he dreamed of going around the world alone in the Vendée Globe.
In 2012, he cruised the entire Chinese coast in a 24ft keelboat he had refurbished after saving it from a landfill. He followed that up in 2015 by becoming the first Chinese sailor to complete the Mini-Transat, finishing 36th out of 43 in the Series Division.
Then, accompanied by his Chinese wife Sofia, he completed a three-year world tour in a Lagoon catamaran in June 2020 – 34,000 miles covered and visited 40 countries without an autopilot – before acquiring the IMOCA Finot-Conq vintage 2007 by Alan Roura. Along the way, he qualified as a sailing instructor, established his own sailing school in China, and became an ambassador for Qingdao.
Today, this Chinese sailor, who is staring at you with a strong and confident gaze, is on the eve of his very first IMOCA race after a few frantic months preparing the boat while living on board. With little sponsorship funding so far, he had to learn everything from scratch and had very little time to sail a boat he named "Dream of China Haikou" after the Chinese city where he and his wife lived.
The Route du Rhum is in his sights, but the dream remains the Vendée Globe and Jingkun will do everything possible to be one of the 40 skippers at the start. "For me, this is my first time in IMOCA and the first time I've joined the Route du Rhum," he said in English from the cockpit of his boat. "But ultimately my goal is to take part in the Vendée Globe. For my project I have to finish the Route du Rhum, I have to finish, take care of the boat, not damage anything and finish the race."
"I do all the work alone, he explains, so I only had two or three training sessions. At the beginning it's very hard, it's not an easy boat, but it is a good thing because I did all the work myself so I learn fast I learned electricity and technology so now I can control the boat but I also need more learning and training.
Remarkably, Jingkun is not the only sailor in the IMOCA fleet to have a hand, as he is following in the footsteps of Frenchman Damien Seguin, and the two have known each other for years, dating back to their Paralympic days. Jingkun says he would like to develop some adaptations on his boat to help compensate for the loss of his forearm, like Seguin did with his cockpit winch base, for example. But he thinks it's harder to pull off than for Seguin – who was born without a hand – because Jingkun has almost no forearm below his elbow on the left side.
"Nothing has been done," he said in his loud, melodious speech. "I haven't had time. Instead of adapting the boat, I prefer – and it's much easier – to adapt. I change my way of doing things to adapt to this boat."
Jingkun admits he is both nervous and excited to join the ranks of the IMOCA class and compete in one of its most iconic races, but he says he was warmly welcomed by his fellow skippers. "I know a lot of sailors because we did the Mini Transat together in 2015. So when I came here I didn't feel like a stranger. I was here in 2015 and I have a lot of friends here and I knew the workers and some sailors too," he said.
One of the many impressive aspects of this story is the phenomenal social media following that Jingkun already enjoys in China. His is bigger – and several times bigger – than all the other IMOCA skippers put together. On a Chinese social media platform, he has over 130 million followers while more than 300 million Chinese are expected to follow the live stream of his race start on Sunday.
Already a two-time Chinese Sailor of the Year, Jingkun hopes his exploits will inspire other young Chinese sailors to pursue their dreams. "I'm excited and I care about everyone who follows me," he said. "I'm surprised and lucky to have so many people following me and supporting me, it's because we are the first Chinese team to have a place in the Route du Rhum and also in IMOCA. We have worked so hard this year and have tried to record what we do (there was a television crew on board during our interview), and the Route du Rhum is what we have been working on and we hope it will introduce our team and also ocean racing."
And so the adventure begins as Jingkun embarks on his second solo Atlantic crossing – this time to Guadeloupe – before returning his boat to France as he begins his epic journey to the Vendée Globe.
During our interview, Sofia had acted as a translator when her husband couldn't think of words he wanted to use in English. As I left the boat, I asked her if she was nervous about him leaving on a powerful IMOCA with foils which he had very little time to discover.
"No, I'm not nervous," she said. "I'm confident in his abilities. He's not a mad adventurer – he only does things he knows he can handle."