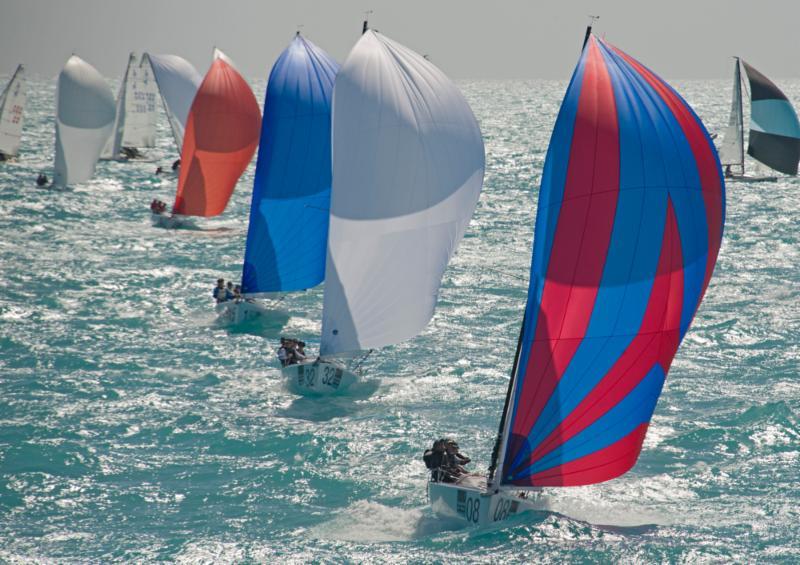 An interview with Martin Kullman on The Southernmost Regatta
An interview with Martin Kullman on The Southernmost Regatta
by David Schmidt Jan 13 16:00 UTC
January 17-21, 2022
Lewmar Day once again provided brilliant conditions on day two of Quantum Key West Race Week © Andy Newman / Florida Keys New Bureau
Let's face it: January doesn't usually offer the best racing conditions in most Lower 48s, but there are wonderful exceptions. Of these, it's hard to top Key West, the southernmost city in the United States and one blessed with fantastic breezes, gloriously warm waters and a reputation for after-sailing fun. The city was home to legendary Key West Race Week for thirty years, but those days sadly came to an end in 2017.
Fortunately, The Southernmost Regatta (January 17-21, 2022) aims to help fill that gap, albeit on a different scale (at least initially, it's their inaugural event).
The regatta is open to One Design keelboats ranging in size from 22ft to 75ft, ORC monohulls from 24ft to 75ft and ORCmh multihulls from 24ft to 65ft (certain handicap conditions apply; see NI ).
As of this writing, there are 47 boats registered for the 2022 edition of The Southernmost Regatta, ranging from Melges 24s and J/70s to J/111s and TP52s, with a few other 40 footers in between.
I contacted Martin Kullman, Regatta Chairman for the 2022 edition of The Southernmost Regatta, via email, to find out more about this exciting new regatta.
It's always exciting when a new regatta begins, but should sailors consider the Southernmost Regatta a new event or a continuation of the much-loved Key West Race Week?
I've been sailing Key West for over 30 years and it's one of the best places to hold a regatta, especially in January. Key West offers a place where there is [are] almost always good sailing conditions. Wrap that around a great place and Duval Street gives it a unique experience.
I realize this is the first year of The Southernmost Regatta, but what kind of event culture do you and other organizers hope to promote? Also, how do you plan to help create this culture?
We want to get back to basics where the culture and the vibe [are] focused on the fun around a few races and the camaraderie between competitors.
We hope to achieve this by keeping everything simple and easy. The last few years have taught us that we can simply organize regattas and still have a great event.
What kind of entry numbers are you expecting? Also, do you see geographic concentrations in the list of registrants?
We currently have about fifty registrations and are satisfied with the participation rate. With the pandemic, we're excited to have the numbers we have and I'm sure next year we'll have a lot more.
Travel is still difficult with teams wishing to come from outside the country. There are a few who are present, and we hope that next year it will be easier.
In the ideal world, do you see the Southernmost Regatta becoming more of a One Design event, or do you expect it to be a mix of One Design and handicap racing?
We want to mix it up and not exclude teams that would like to attend.
We chose the ORC assessment platform because it has grown in popularity in recent years, causing [an] increase in [regatta] attendance across the country.
What kind of role, if any, do you see local knowledge playing in this regatta?
You could say a lot of people have local knowledge [who] attended [Key West Race Week] over the past thirty plus years.
The racetrack here is awesome. There is a high percentage of perfect racing conditions, which attracts many teams to this site.
I have heard many people over the years say this place is their favorite place to run. It's my favourite.
What weather should sailors expect in mid-January off Key West?
Conditions in Key West are somewhat influenced by the trade winds coming from the east-northeast. However, in January we can be [affected] by a cold front that usually blows from the north for a day or two, giving windy conditions and warm water coming over the bow.
What kind of post-race/ashore entertainment can sailors expect?
We have learned over the past year to keep activities ashore to a minimum. For [The Southernmost Regatta,] we plan to hold post-race entertainment just after the race when the boats return to the dock at the Galleon Resort [and Marina] where there is an outdoor place on the water with lots of open space.
Can you tell us about the efforts you and other regatta organizers have made to try to reduce the environmental footprint of the regatta?
[Our sponsor,] Sailing Inc., has adopted the use of MarkBots for racing brands. These robots are controlled by mobile phone and can move on their own. This allows the race committee to reduce the number of motorboats and the reduction of the fuel calculation.
Sailing Inc also provided Hydra filtration systems which allow teams to use refillable water bottles and refill them at the docks before departing each day.
Is there anything else you would like to add, for the record?
Sailing Inc. has [been] step in to provide a browsing opportunity in a place that is notably one of the best places [in the world] have a regatta. The love and passion for sailing and finding ways for teams to live out their passion is what drives the desire to help out and run regattas in places we love to attend.
Our aim is to continue to run The Southernmost Regatta each year in a cost effective and [environmentally sustainable manor].