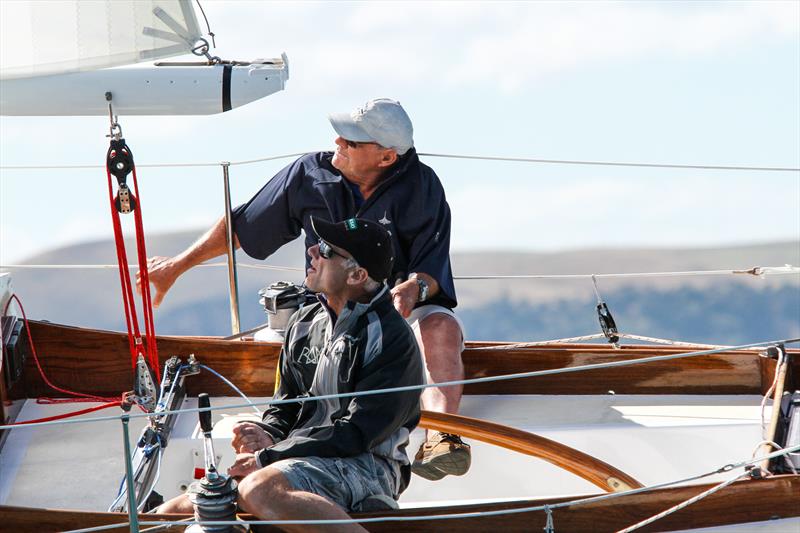 BroadReach Radio: Chris Bouzaid – the father of New Zealand's international offshore racing
BroadReach Radio: Chris Bouzaid – the father of New Zealand's international offshore racing
by Michael Brown / Yachting NZ Sep 11 13:58 UTC
September 12, 2021
Chris Bouzaid is all about concentration at the helm of Rainbow II – One Ton Cup Revival – Race 2 – March 2, 2015 © Ivor Wilkins / Offshore Images
Three generations of Bouzaids – Chris, grandson Wilson and son Richard. Chris and Richard Bouzaid are both sailboats. © Alan Sefton
Chris Bouzaid has been called the father of New Zealand international keelboat yachting – which inspired Sir Peter Blake and Grant Dalton.
He was the first non-Australian to win the Sydney-Hobart race. First non-European to win the One Ton Cup which, at the time, was only after the America's Cup in terms of importance. He was part of the New Zealand team that finished 1, 2, 3 in the 1971 Sydney-Hobart race, something never done before, and which saw New Zealand win the Southern Cross Cup.
These achievements saw Chris named New Zealand Sportsman of the Year in 1969, and he was also inducted into the New Zealand Sports Hall of Fame, received an MBE and listed as one of the New Zealand Sportsmen of the Year. 20th century.
But Chris sees himself more as a businessman than a great boater and also ran one of the largest sailmaking companies in the world. It's something he was immersed in early in life, taking over his father's business with his brother as a teenager, but he recognized the importance of marketing and has done a lot through his yachting exploits.
In this Broad Reach Radio podcast, Michael Brown of Yachting NZ, walks through much of Chris Bouzaid's career on and off the water, and the role he played in arousing the passion for New Zealand. Zealand for international yachting. It tells the story of the day he shared the front page with the moon landing; how he won 121 races with his famous Rainbow II yacht; the impact of hosting the 1971 One Ton Cup on this country; and the embarrassing, yet frightening, story of his worst erasure ever.
Links to the 37 episodes of the Broad Reach Radio series can be found here.