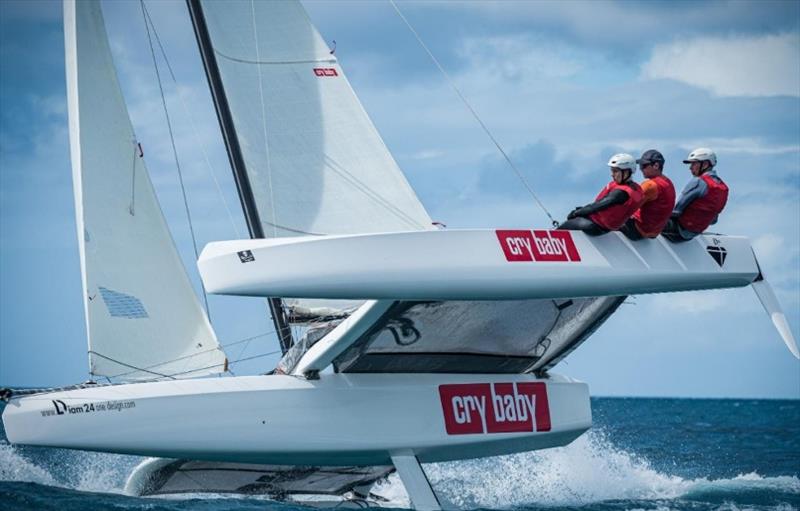 Carpe Diam – Seize the Bay with over 80 participants in the 2022 St. Maarten Heineken Regatta
Carpe Diam – Seize the Bay with over 80 participants in the 2022 St. Maarten Heineken Regatta
by St. Maarten Heineken Regatta February 8 17:41 UTC
March 3-6, 2022
Diam 24, Cry Baby, dominated the CSA 3 fleet during the Caribbean Multihull Challenge 2022. © Laurens Morel

The St. Maarten Heineken Regatta is set to welcome another expansive and international fleet to race in the waters surrounding the island for the 42nd edition, held March 3-6, 2022.
From local 24-foot monohulls and multihulls to international Maxis, competition is guaranteed!
Leopard 3 is aiming to be king of the Maxi fleet, arriving at a roaring 100 feet, and guest skippered by Volvo Ocean Race legend Bouwe Bekking. Another handsome Maxi will grace the Caribbean, co-founder of 11th Hour Racing, Wendy Schmidt's new Botin 85 Deep Blue will debut at the St. Maarten Heineken Regatta.
At the other end of the spectrum, a collection of Diam 24s will rival the long-running local rivalries between Melges in the sportboat classes. The Diam 24s bring the One Design sportboat concept into the multihull category, with easy access and expanding fleets of these pocket performance trimarans in France, the United States and the Caribbean. The island is home to its own fleet of Diam 24s, which compete in weekly races, and are looking to welcome other owners to St. Maarten Heineken Regatta with two Diam 24s available for charter.
"It's great to be back in action! We just hosted another successful edition of the Caribbean Multihull Challenge with an international fleet last weekend at the Sint Maarten Yacht Club – which was a perfect warm-up for the St. Maarten Heineken Regatta next month," said Michele Korteweg, director of the St. Maarten Heineken Regatta and Sint Maarten Yacht Club.
"The momentum continues… Our local racing scene has exploded, from the growing Diam 24 fleet to our record-breaking youth sailing programs. The return of the St. Maarten Heineken Regatta will have something for every type of racer and we look forward to hosting a robust fleet of international and Caribbean vessels of all shapes and sizes."
The St. Maarten Heineken Regatta Race Committee is committed to serving all runners, young and old. As the first regatta in the Caribbean to host racing classes and courses specifically for Ocean Racing yachts, which favor long ranges, RC has strategically designed a course manual that complements the expansive fleet. A new Caribbean Youth Keelboat class will ensure more access and opportunities at all levels. Courses and race classes will be announced in advance and adjusted to accommodate late registrations.
"We will start all classes in Simpson Bay and then the fleet will spread out over a variety of courses around the island. There will be plenty of offsets and long ranges to create dynamic courses that showcase the spectacular coastline of the island. 'Isle." shares race director Mark Townsend. Full details of the regatta can be found in the NoR.
Some things will be different for this year's event, with shore-based activities adapted to health protocols to ensure teams are having safe fun and "Serious Fun!". The registration process will be streamlined with crew information collected via an online survey in advance. On Wednesday March 2, teams will provide proof of Covid vaccine or a negative test when registering, and will receive Heineken Green wristbands – serving as a 'go' health pass for the Race Village and bars and restaurants in the "green" zone around the island. Organizers have decided not to hold any concerts for the 2022 St. Maarten Heineken Regatta, following the recent spike in Covid cases around the world.
Post-race hospitality will be arranged at race sponsor Yacht Club Port de Plaisance (PDP), where competing teams can gather each day for prize giving, light entertainment, cold Heineken beers and favorite food of the island. Dockside delivery and VIP services will provide all PDP competitors with a special post-race social experience. Docking for registered teams is offered by the Yacht Club Port de Plaisance, contact to reserve your spot!
If you haven't booked a boat yet, there are still a few opportunities to compete in this year's St. Maarten Heineken Regatta. Team charters are available through sailing operators, such as Pogo 12.50 from Ocean Racers, EH01 with Global Yacht Racing and a selection of performance racers with LV Yachting. Charter operators can provide logistical support, as well as training and coaching teams to get the most out of the regatta.
Are you ready to have "Serious Fun" again?? Or are you looking to join us for your first time? We want to hear from you!! Please contact us with any questions regarding this year's St. Maarten Heineken Regatta.
Stay tuned for more fleet news and festivities, follow @stmaartenheinekenregatta on Instagram and Facebook for updates!