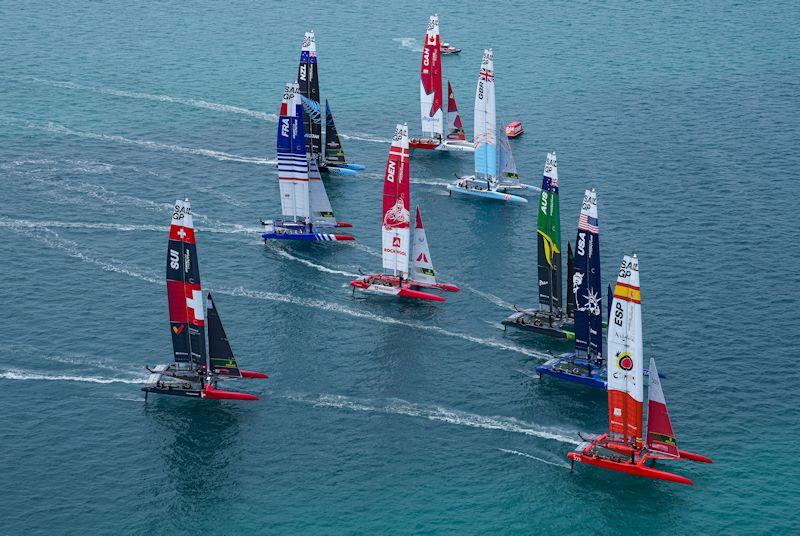 Challenges for the Aussie SailGP team at the Bermuda Sailing Grand Prix
Challenges for the Aussie SailGP team at the Bermuda Sailing Grand Prix
by Olivia Hogan / Australia SailGP Team May 14 21:31 UTC


Tom Slingsby's Australian crew finished the first day of racing in Bermuda in third place, despite the team's mixed performance.
The battle between the world's best sailors has erupted on the Great Sound, with the nine national teams, including newcomers Switzerland and Canada, battling it out in their identical 2,400kg supercharged catamarans, in light weather conditions.
The day presented its challenges for the defending champions, with the added pressure of nine F50s now crowding the course.
Commenting on the race, Tom Slingsby said: "We saw today that with so many boats on the course you are going to be punished for your mistakes. I would say consistency was hard to come by today and we we've seen with mixed results from even the best teams like Great Britain."
The Aussies struggled to start in a dominant position at the start line in all three fleet races, with mistakes forcing the team to the back of the pack.
Tom Slingsby said: "It could have been a disastrous day, but we managed to finish in the general classification. We were sometimes far behind, but we managed to come back and pass some boats just near the finish "I'm not happy with my starts and I have to do a lot better tomorrow, but as a team we're happy to have fought back well."
Perhaps an even bigger surprise for the day was the dominating performance of the Canadian team on their first day of racing. Led by driver Phil Robertson, the new team was able to stay ahead of the fleet during the race, securing a place ahead of top-ranking Great Britain and Australia heading into the second day of racing.
Australian sailor Natasha Bryant also made her racing debut aboard the Australian F50, demonstrating her elite abilities as a sailor, seamlessly jumping into a tactician role aboard the Australian F50 flying catamaran.
Natasha Bryant said: "Being on board during the race and knowing my family was watching at my home in Australia was pretty special. There were some big takeaways from the race like the importance of rounding the marks in clean air and the speed we can pick up in the day after the race."
Slingsby and his crew will now turn to day two of racing, which will see the nine teams battle it out in two fleet races, before the top three teams battle it out in a final podium race.
The teams will battle it out for two trophies in SailGP, with the second season of the Impact League, SailGP's second podium for the planet, also starting in Bermuda. The Impact League tracks the positive actions of teams to reduce their overall carbon footprint and help accelerate inclusiveness in sailing. New Zealand were the first winners of Season 2 and driver Peter Burling is aiming for his team to defend their title and aim for an overall podium.
www.sailgp.com

Ranking of the first day of racing:
1. Canada – 23 points
2. Great Britain – 23 points
3. Australia – 21 points
4. France – 20 points
5. United States – 16 points
6. Denmark – 15 points
7. New Zealand – 15 points
8. Spain – 14 points
9. Switzerland – 13 points