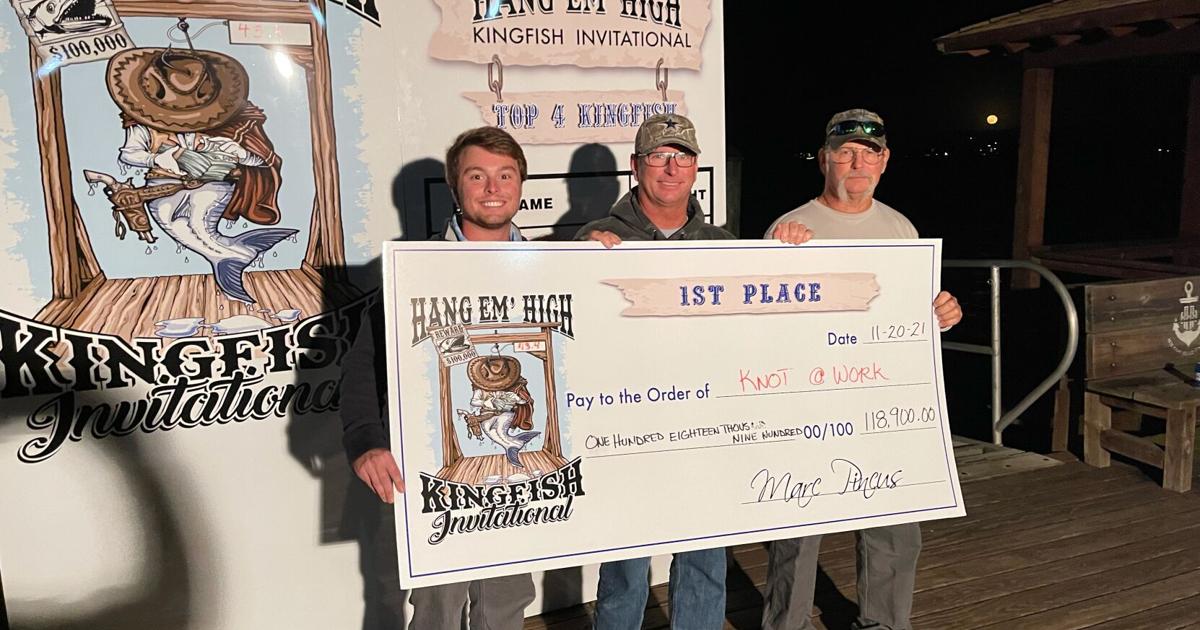 Charleston Charter Captain Wins $ 118,900 at Hang Em 'High Kingfish Invitational | Fishing
Captain Robert Olsen has cashed numerous checks at king mackerel fishing tournaments, but the one he just dropped off for winning the first Hang Em 'High Kingfish Invitational was what he called a life-changing.
Olsen, who charters from Shem Creek, was one of 40 boats entered in the inaugural Hang Em 'High tournament that promised a salary of $ 100,000 to the winning boat. Olsen and his crew, son Andrew, 22, and regular fishing partner Raymond Stivender, had an epic day of fishing on November 18, the tournament's only fishable day, and brought back the award-winning fish.
They caught around 40 mackerel, most in the 20 pound class, one in his 30s and a stallion they thought might be close to 40 pounds around 11am. After fishing a bit longer and deciding that they weren't going to catch anything bigger, they decided to travel 65 miles to Hilton Head Harbor for the weigh-in, feeling rather happy with their chances of making it. do a check, but not necessarily a first place check.
"We had some really good tournaments this year. We finished second in the Hooked on Miracles tournament with a 35lb fish and we had a 37lb fish in a tournament in Murrells Inlet," said Olsen, whose boat was the second to weigh. "We thought this fish was about the same size. But when my son and I went to the scale to weigh it, we were surprised it weighed 43.4 pounds. We knew there was other fish coming in. We just hoped it would hold.
For the past few years, Captain Marc Pincus of Hilton Head has led the South Carolina Wahoo Series, the SC Mahi Series (Dolphin) and the SC Fall Classic (King Mackerel) in which boats are allocated a few days of fishing on a extended period. of time. But Pincus wanted this one to be different and he wanted it to present a big paycheck. He invited 40 boats to participate, each paying an entry fee of $ 5,000, with a payment of $ 100,000 for the heaviest king mackerel; $ 40,000 for the second; $ 25,000 for the third; and $ 15,000 for the fourth. The fishermen would fish for two days. There was also an optional $ 1,000 tournament in a tournament (TWT) based on a two fish aggregate.
But Mother Nature threw a curve at the participants. Instead of fishing November 19-20, bad weather forced them to fish on November 18 and the TOP was changed to the heaviest fish.
And it really paid off for the Knot @ Work team, whose Big Fish turned out to be worth $ 118,900, including the TWT.
Second place went to Keepin 'It Reel / MSC, led by David Perry of Murrells Inlet, who took home a total of $ 48,100 for a 40.5 pound king mackerel. Mas Pescado of Mount Pleasant, the 2021 Wahoo Series champion led by Billy Freeman, finished third with a hold of 39.0 pounds and took home $ 25,000. Extra Kristi de Beaufort, led by Chris Rosengarten, finished fourth and won $ 15,000 with a 38.2 pound king mackerel.
"I fished two days before the tournament and I probably walked 500 miles and burned almost 500 gallons of gasoline. It was painful. The only reason it's not painful now is because I know gas is paid for, "said Olsen, who fishes a 35 ST Contender with two 350 Yamaha.
"I had some menhaden parked but I caught a bunch of menhaden the day before the tournament. They're usually here until the end of the month and then they go. Luckily they were still there," said Olsen. "I had done a lot of the bait prep work because the bait is the big deal in this kind of tournament. You want to make sure you're fishing and in your spot when there are lines."
Pincus said he didn't think it would be easy to get 40 boats ready to pay a $ 5,000 entry fee, but that was the number he needed to reach to offer the top prize of 100. $ 000. He said he had started approaching boat captains who had supported his other events and soon had his land with a short waiting list.
"I'm extremely happy with the tournament and received a lot of positive feedback. We have some great king mackerel tournaments in South Carolina, but we've never had anything like it," said Pincus.
Olsen said he and his team were "on Cloud 10, we're not even on Cloud 9".
"I've often finished second over the past couple of years and it's finally good to get gold instead of silver, even if silver pays off. Whenever you can make money , that's good, but we have the right bite in the right tournament, "he said, also thanking his youngest son Eli, 10, who couldn't fish due to the weather.
He said Eli was a lucky charm and sinned when the team finished in the money. But when Eli couldn't fish, he gave his father a hug and told him he was giving him luck.
"For king mackerel fishing, ($ 100,000) is a lot of money. It's not a lot of money for the blue water guys, but for king mackerel fishing, it's a salary. monstrous, "Olsen said. "It's going to pay for a great vacation for my wife and I. It's hard to grasp. It's life changing money."