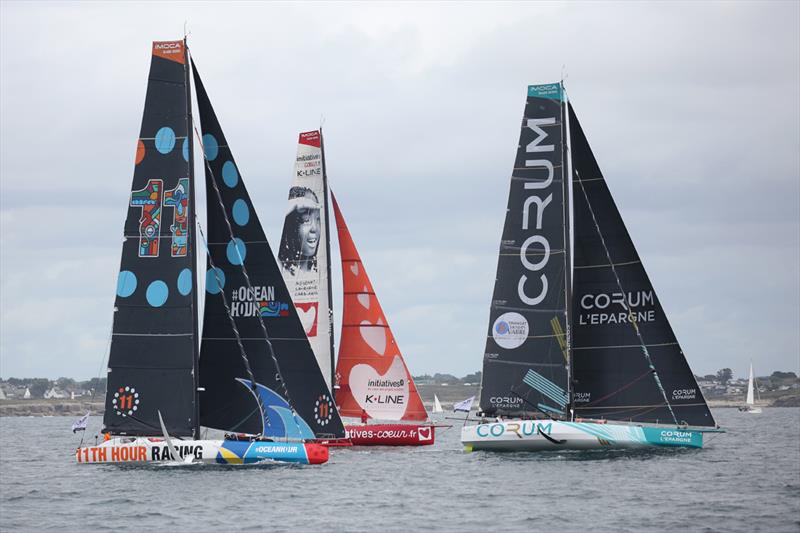 Countdown to the Transat Jacques Vabre
Countdown to the Transat Jacques Vabre
by TJV Oct 29 21:58 UTC
November 7, 2021
The IMOCAs on their way to the Transat Jacques Vabre © CDK Technologies
Preparation for the start of the Transat Jacques Vabre starts on Saturday with the official opening of the village-race. Thousands of fans are expected to visit the racing boats and attractions in the heart of Le Havre over the coming week. To kick off our daily English coverage, here's our quick mini-guide to the iconic race.
What is the Transat Jacques Vabre Race?
In fact, it's four races in one.
The Transat Jacques Vabre sees four different classes of regattas across the Atlantic. Each class wins its own trophy.
The non-stop double-handed race departs from the port of Le Havre in northern France on November 7 and ends in Martinique in the Caribbean.
This year's race sees 158 skippers from 13 nations compete against each other on 79 boats.
Names to look for
Impossible to miss the rock stars of French sailing. Their boats, once docked in the racing village, are usually surrounded by hundreds of fans admiring the boats and hoping for a selfie.
Among the greatest, Vendée Globe winners Yannick Bestaven, Armel le Cléac'h and François Gabart, America's Cup skipper Franck Cammas and Volvo Ocean Race winner Charles Caudrelier.
There are also a lot of great skippers from all over the world.
Race winner in 2015, Giancarlo Pedote leads the Italian challenge in the IMOCA class while Briton Sam Davies makes his seventh appearance in the race. The German Isabelle Joschke finished first and second in her previous Transat Jacques Vabre races and is coming back aboard her IMOCA MACSF.
Briton Sam Goodchild is the only non-Frenchman in the Ocean Fifty fleet of seven boats.
Boat classes
There are two classes of monohulls: IMOCA and class 40.
Multihulls are represented by the Ultims and Ocean Fifty trimarans.
Road
All the boats will leave together before separating to follow different routes and then converge again for a grandstand finish off Martinique.
The shortest 4,600 mile route goes to Class 40 boats, the longest 7,500 miles to Ultims.
The race is expected to last between 14 and 23 days.
Story
The TJV was first run in 1993 and takes place every two years.
This is the first time that the race has ended in Martinique.
The race was originally inspired by the routes of the clippers that brought coffee to Le Havre.
eSailing
The race will be reflected by an eSailing version taking place on virtual waters.
Register and face the real skippers!