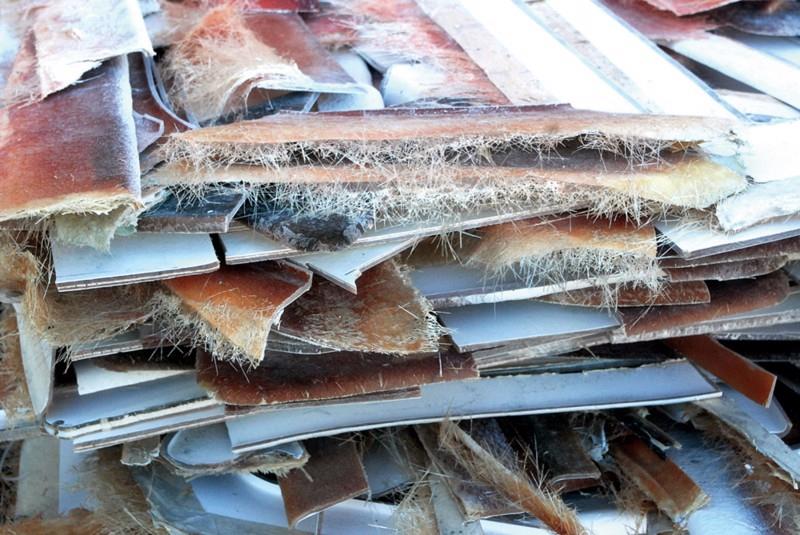 Dismantling and disposal of end-of-life vessels
Dismantling and disposal of end-of-life vessels
by Daria Blackwell Aug 30 17:09 UTC

Recycling © Ocean Cruising Club

Plastic boats (GRP/FRP) do not break down over time. With the increase in recreational boating, the problem of what to do with them when they become too old to maintain is a global problem.
When boats were built of wood, they deteriorated and eventually decayed at the end of their useful life. But with the advent of glass-reinforced plastic (GRP), or fiber-reinforced plastic (FRP), when boats reach the end of their life and maintenance becomes too arduous, it becomes difficult to find a solution for the removal of GRP. At some point, boats had so little use or monetary value that they weren't worth the cost of maintaining and storing them. Boats are often discarded once the cost of disposal exceeds the resale value.
In many places there are salvage operations that dismantle and recycle ships. Used boat parts dealers may accept your old boat for its parts, which they resell. Each dealer has their specific requirements as to the length and type of vessel they will accept. Some dealerships compensate the boat owner for the value of serviceable parts minus the cost of dismantling the boat and recycling or disposing of hazardous waste. Despite recent attempts to break plastic down into usable components, most still end up in landfills. There are, however, several new options for clean and responsible disposal of vessels being introduced in various parts of the world.
In 2019, the Office of the London Convention/Protocol and Maritime Affairs of the International Maritime Organization published a report on end-of-life (EOL) management of fiberglass vessels and alternatives to disposal at sea. IMO is one of the partners of the Global Partnership for Marine Litter (GPML) led by UN Environment and as part of this partnership, the LC/LP Secretariat has allocated funding to the GPML to order the study. Although they identified the problems, they didn't really offer any workable solutions.
Independently, the Blue Composites project seeks to recycle GRP waste from the production and end of life of UK boats. Around 55,000 tonnes of GRP waste is produced each year by the UK maritime sector, and the level is expected to increase by 10% each year.
The National Composites Center (NCC), which aims to create the first fiberglass composites recycling and reuse facility in the UK, said there are around six million boats in the EU alone, of which 95 % are GRP. Each year, approximately 1 to 2% (60,000 to 120,000) of these boats reach the end of their life. Of these, only 2,000 are recycled, while 6,000 to 9,000 are abandoned.
The European Nautical Association noted that according to a study by the European Composites Industry Association, the marine component of composite waste streams is expected to represent approximately 10% of the total by 2025 (70 kilotonnes out of a total 683 kilotons). They called for legislation on the management, scrapping and recycling of boats.
Perhaps the most intensive effort to date has been instituted by France. The Association for Eco-Responsible Yachting – APER – has dismantled more than 5,000 boats since its creation three years ago. Figures published by the French body, funded by boat builders, approved dismantling centres, administrations, local authorities and marinas, show that 33% of the boats were motor boats, around 32% were small sport sailboats – monohulls and multihulls and just over 29% were monohull sailboats. The organization concerns boats from 2.5m to 24m registered in France. There are 26 dismantling centers across the country.
The energy transition law promotes the principle of extended producer responsibility and consequently, since January 1, 2019, anyone who professionally introduces pleasure boats on the French market must finance treatment facilities for their products.
The figures include the dismantling of more than 1,100 boats which have been collected from sailing clubs since the signing of a partnership with the French Sailing Federation in 2020, with APER committing to finance the transport and treatment of old sailing school boats. The association works to empower boat builders and owners from the concept and design phase, through the choice of materials, to production and then the end of the boat's life. They help ensure that boat parts and materials are salvageable, recyclable or reusable.
The EU-sponsored BOATCYCLE project, implemented in Spain and Italy between 2010 and 2012 and which attempted a 'cradle-to-grave' life-cycle analysis of the economic and environmental impacts of ships, studied the disposal options for four types of vessels, a small yacht, a sizable sailboat, a rigid inflatable boat (RIB) and a fully inflatable boat.
The project successfully demonstrated that fiberglass can be recovered as part of the EOL boat disposal process, that the fibers are easily cleaned and foreign materials are removed, that a useful proportion of the original properties like-new fiber is available in reclaimed form, and that the fibers can have a second life. In addition, the thermoplastic composites obtained are, unlike thermosets, themselves recyclable since they can be remoulded hot repeatedly. He did not grasp the costs involved and who will pay.
Sweden has shipbreaking yards that have benefited from projects and funding to help clean up and salvage abandoned boats.
Norway has companies that are experimenting with grinding FRP and using it to make flowerpots, benches and other items.
Germany has banned FRP from going to landfills, largely due to the problem of dealing with old wind turbine blades. This means that FRP waste from boats cannot be landfilled. It is therefore burned in power plants at very high temperatures to create energy – a surprisingly clean process that results in a pile of ash that can be sent to landfill.
In 2018, there were 951,000 boats registered with the Florida Department of Highway Safety and Motor Vehicles, approximately 12 million documented boats across the United States, and 280,000 new motorboats sold nationwide. It's a big problem when the boats arrive in a derelict state.
A system developed by the American company Eco-wolf in the 1970s has been used to turn shredded fiberglass into bathtubs, paving slabs, railway sleepers and even coffins. Other uses are in making asphalt for road surfacing and mixing it with cement to make concrete.
A project funded and supported by the Rhode Island Marine Trades Association (RIMTA) breaks down boats and uses FRP waste as a fuel source for the cement industry. They created a model based on a German wind industry project where giant old turbine blades were shredded and burned in cement kilns as an alternative to fossil fuels.
The State of California has a vessel surrender program called SAVE that allows owners of an unwanted vessel to surrender the vessel to a participating local agency free of charge. The agency then manages its dismantling and disposal.
The Virginia-based nonprofit Vessel Disposal and Reuse Foundation removes derelict and derelict vessels.
This article was provided courtesy of Ocean Cruising Club.