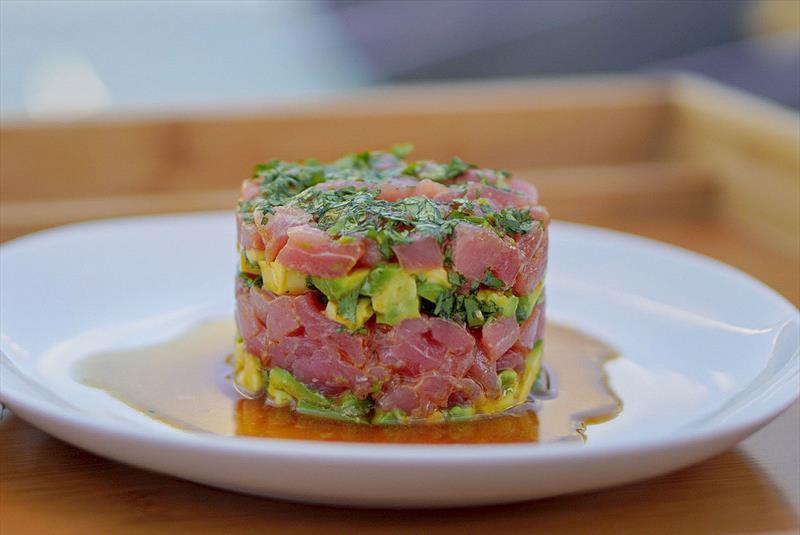 Don't just cook – Create wonder!
Don't just cook – Create wonder!
by Sail LUNA 24 Oct 00:13 PDT

Tuna Tartare © Sail LUNA

You know you've struck sailing gold when you're in the good hands of husband and wife duo Captain Nim and Captain Fabiola of Sail LUNA. Nim is a US Air Force combat veteran, a certified US Coast Guard Captain, and an experienced PADI Divemaster. He sailed through the famous Suez Canal in Egypt and through the Mediterranean, Adriatic and Aegean Seas, and the Atlantic Ocean. He has lived and worked in the Caribbean and is familiar with the bustling ports and local rum distillers.
Nim's first mate, chief, and wife, Fabiola, has Puerto Rican heritage. Fabiola earned a business degree and in his previous life worked in wealth management before giving up his call to life at sea and also becoming a certified captain in the United States Coast Guard. She grew up on boats with a sense of island freedom.
The husband and wife team are naturally hospitable and welcoming, making trips around the Bahamas, Virgin Islands, Turks and Caicos Islands an enjoyable foray into sailing. Fabiola has an ingrained love for cooking and has forged endless connections with local food suppliers across the islands. She explored many local markets so she could create mouth-watering dishes for her guests using her own recipes. Not only is Nim North to South Fabi, but he is also an award-winning mixologist (BVI Boat Show) who creates sunset-worthy cocktails and pairings from locally distilled rum, freshly squeezed native fruit juices and fresh herbs grown on site.

What are some of your favorite dishes you create for guests, and why?
I love exploring islands for food. The whole process of buying ingredients is part of inspiration. There is something magical about strolling through local markets, listening to busy vendors and haggling buyers, the visual appreciation of raw materials and, of course, the scents of the Caribbean that entice you even with your eyes closed. My cooking style is inherently simple; I like to keep the essence of the ingredients. If you want a tasty dish, having the freshest ingredients is key.
I would describe my dishes as comfortable, healthy and simple. They're all laced with flavors synonymous with the Caribbean, like creamy avocados, sun-ripened tomatoes, garlic, and citrus juice. I love playing with fragrant herbs like cilantro, culantro and oregano.
I design the menus for each charter based on client preferences disclosed at booking. The menu is not static. Sometimes I walk into a local market and find delicious fresh fish, meat and vegetables. I will update the menu to incorporate the new ingredients. Once in a while our guests may catch a fish, so I'll include it in our lunch or dinner dishes, or even both if it's a big catch.
I consider myself a versatile and very flexible chef. I will work closely with our guests to create a personalized charter menu. I like to use locally grown ingredients and work hard to incorporate a farm or sea-to-table approach into my cooking. I strive to support local communities and use wholesome, wholesome food in my meals.

What are some of the most popular/requested dishes by customers?
At the end of each charter, we ask our clients about the highlights of their Sail LUNA experience and if they had a favorite dish. This seems like a tricky question; our guests often say it's impossible to name just one, so they name their top five.
There are a few firm favorites. The one that always appears in the first five dishes is the fish tacos. I've heard many times "these are the best fish tacos I've ever had"! I make them with fresh Mahi Mahi marinated in a mixture of garlic, paprika, lime juice and zest, olive oil, salt and pepper. I make a crisp and light coleslaw with shredded red cabbage, small diced yellow peppers, jalapeño, cilantro, a little cumin, salt and pepper; it is seasoned with lemon juice and olive oil. Once everything is ready, I sear the fish in the pan and serve it with chipotle aioli and crunchy onions. They are delicious and fun.

NB At the end of this article you will find links to download some of Fabi's wonderful creations.

Why do you prefer to source local healthy ingredients and how do you go about it?
Fresh produce and ingredients are essential not only because they taste great, but also so that we can support local small businesses. They offer great products and are transparent about their sources. You can't beat face-to-face visits, not only for building and nurturing relationships, but also for being honest and voicing your concerns. I always like to shop myself; I have very high standards! It is important for me to choose the ingredients because I will be cooking during the charter week. I also have a garden on the boat where I grow my own herbs and microgreens. I use them in my dishes, and Nim uses them in his craft cocktails.

What relationships have you cultivated through your local sourcing?
We begin our fifth charter season in the Virgin Islands this year. Over the years we have built and nurtured relationships with fishermen and farmers from whom we will continue to purchase fresh produce. We have excellent communication with them; they love to share their latest catches and finds so I can include them on the menu. We also like to buy specialty ingredients from local businesses. visiting them is always fun. Because of the importance we place on our relationships, we often have new products to try.
In your experience, what are some of the best regions/areas for accessing local ingredients, and which ingredients are best in each region?
It depends on where we work. We work primarily in the Caribbean Virgin Islands but occasionally offer charters to the Grenadines. I love it when fishermen come to our boat with their catch. It doesn't get any cooler and our customers love the experience. All the islands have fresh produce and fish markets. When you buy what's in season, it's deliciously fresh.

Can you explain in a little more detail your style of global cuisine and the influence of a busy life? What is your favorite regional influence for cooking?
Each meal is a gastronomic discovery, a journey through refined homemade dishes and authentic ingredients. When our guests are on board LUNA, nothing is random. I introduce dishes, ingredients, and flavors they've probably never tried before. Many ingredients are inspired by our Caribbean, European and Mediterranean heritage. I love trying new dishes, discovering new ingredients, visiting a local market, street vendor or restaurant and watching the locals prepare their food.
My cooking style is a mix of international cuisine, with a generous touch of Spanish and Italian cuisine. I tend to emphasize light, fresh, flavorful and local ingredients in my dishes. I like to challenge myself by playing with different styles and mixing the old with the new.

Please share with us where you have traveled and your favorite places from which you gained the most culinary influence. And how does this influencer impact the way you cook today?
I have visited many countries in Europe, South America and Asia. I was most influenced by some of my favorite places, like Spain, Portugal, Italy, Argentina, Mexico and Thailand.
Food has always been one of my passions! Wherever I travel, I'm always on the lookout for great food. These can be upscale white-tablecloth restaurants, hole-in-the-wall restaurants, or street food; what matters is the food they serve.

What are some of your favorite culinary experiences/best culinary learning experiences while traveling?
I like to try cooking classes when I travel. I love learning new ingredients, cooking techniques and dishes. I use what I have learned and incorporate it into my cooking. We usually go to the market to buy the freshest local ingredients and then to the kitchen to prepare a great meal.
Several times I went to a restaurant and discussed the food and ingredients with the waiters. They surprised me with a visit from the chef, who sometimes even invited me into the kitchen!

Explain some challenges to becoming an award-winning chef (BVI Boat Show) on the high seas?
On a boat, you have limited space, tools, energy, storage and product availability; you have to be able to do magic with what you have. Planning is crucial. Once you are on a charter, you cannot go to your local store to refuel. You learn to be flexible and to improvise.

Have you always loved cooking? Do you remember what sparked your love for cooking?
I love to cook since I was little. It has always interested me and I have fond childhood memories of cooking with my father and my grandmother. I watched cooking shows like Julia Child, Jacques Pepin and Martin Yan.
My favorite time growing up was planning a special holiday menu and cooking it; Fortunately, I have adopted this responsibility in my family. It was therapeutic for me! I work as a yacht skipper and I do what I love every day. It was my hobby, and now I can do it for a living. It is rewarding to serve great food that you have cooked with a lot of passion and love and to see the faces of people enjoying it. Giving my thumbs up while eating and even clapping at the end of the meal is a thrill and an honor for me.
Husband and wife Nim and Fabiola Hirschhorn charter Sail LUNA https://www.sailluna.com/, a stunning custom 2019 Lagoon 450S, around the Caribbean Virgin Islands. For more information on their charter vacation, please contact them via

Download some of Fabi's recipes: