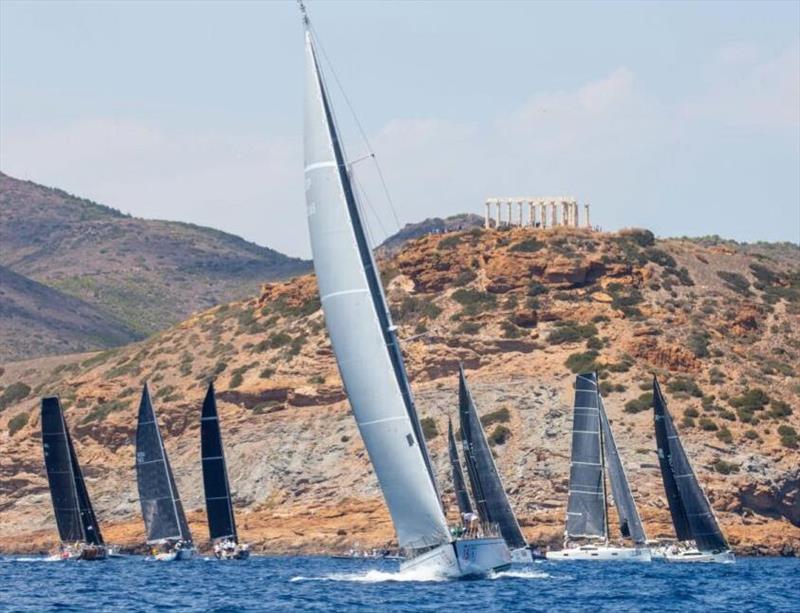 Excitation building for the AEGEAN 600
Excitation building for the AEGEAN 600
by Offshore Racing Congress Jun 22 13:51 UTC
July 10, 2022
The fleet will start and end under the Temple of Poseidon at Cape Sounio © Nikos Alevromytis

Teams from all over the world are registered for next month's AEGEAN 600, the second edition of this iconic race off the Aegean Sea.
With a month to go, an impressive fleet of 37 participants have registered so far, representing 14 nations spread out from as close as Greece to Australia. This group of monohulls and multihulls is a more diverse international fleet compared to the inaugural edition of this event last year.
"We are very happy with this participation", declared Ioannis Maragkoudakis, Commodore of the Helenic Offshore Racing Club (HORC), organizer of the AEGEAN 600. "Having so many teams coming from all over Europe and the world is an indication for their enthusiasm and passion to enjoy with us this exceptional region for offshore sailing.Skippers, crews and their friends and families are welcome to come and participate in all the activities associated with the event, and of course enjoy a generous portion of Greek hospitality.
The fleet will begin its 605-mile voyage around 13 islands in the Aegean archipelago on Sunday July 10. The start line will be located below the cliffs of Cape Sounio where the Temple of Poseidon and race spectators will tower over the fleet as it heads southeast towards its first island on the course, the island of Milos. The remaining legs will take the fleet on an anti-clockwise circuit that includes rounds at Santorini, Kassos, Karpathos, Rhodos, Kandelousa, Kos, Kalolimnos, Farmakonissi, Patmos, Agathonissi, Mikonos and Kea before crossing arrival at Cape Sounio.
They will meet all wind conditions, from light air to the fresh breeze of the Meltemi which can exceed 30 knots. It really is a challenge fit to test all offshore sailors, as it has been for Greek sailors for thousands of years.
Participating teams will benefit from free mooring at the official site of the event, the Olympic Marina of Lavrion. It is an exceptional world-class facility located just 30 minutes drive south of Athens International Airport which has all the support services needed by deep-sea sailors, from transportation, launching, logistics and repairs to markets, cafes, restaurants and lounges in a Race Village for relaxation.
HORC organizers have also planned pre-race safety training seminars, as well as opening and closing ceremonies, a dinner reception and sightseeing trips to the Temple of Poseidon – all just a few examples of famous Greek hospitality. of this region.
"It's a fantastic event," said Elio Petraci, manager of last year's winner Atalanta II, a Farr/Felci 70 from Italy. "It's one of the most beautiful pieces I've ever done in my life." Atalanta II set the existing course record of 2D 23H 54M.
The strong participation and the interest aroused by this second edition of the AEGEAN 600 unfortunately does not include enough sailors in double to constitute a valid event of the ORC DH European Championship, this one is therefore postponed to a next edition. . HORC and ORC organizers still believe this is an ideal venue for this championship and will work diligently to organize and promote a future event.
For more information on the AEGEAN 600, visit aegean600.com.