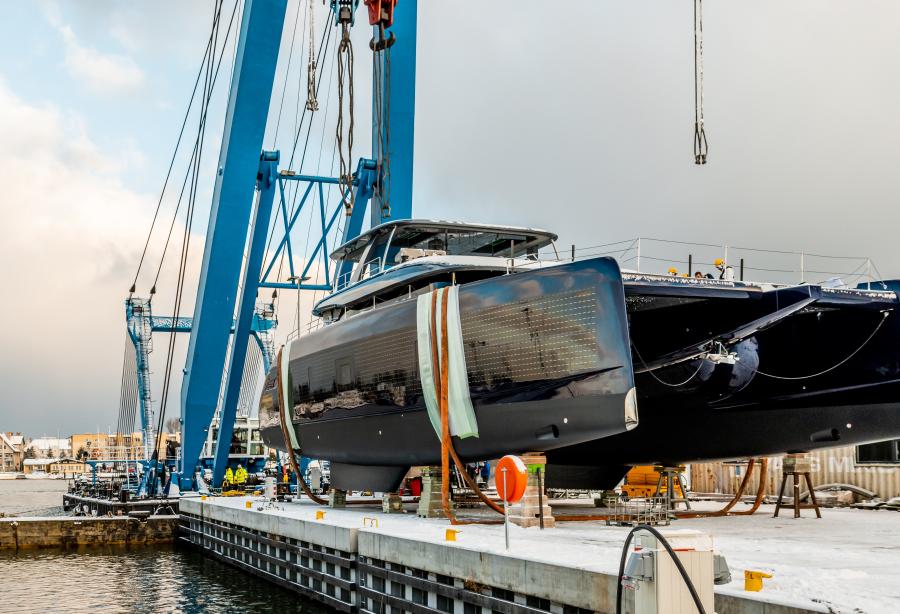 First Sunreef 80 Eco launched by Sunreef Yachts
Sunreef Yachts has launched the world's most advanced eco-friendly luxury catamaran. The all-electric Sunreef 80 Eco is a completely autonomous boat that uses revolutionary green technologies to travel without fuel in absolute silence and luxury.
Designed and built to navigate in perfect harmony with the environment, the Sunreef 80 Eco is a pioneer in the world of responsible boating. The catamaran is an all-electric vessel (fitted with two 180 kW motors) that uses solar panels to power the battery.
The Sunreef 80 Eco Solar System features ultra-lightweight solar panels embedded in composite materials located in the hull sides, mast, superstructure and bimini top. Using industry first technology, the photovoltaic system can deliver up to 36 kWh/sec.

The fully electric Sunreef 80 Eco offers silent cruising and infinite range with electric motors powered by the dedicated battery bank. The hybrid version of the Sunreef 80 Eco can combine the best of electric motorization with the advantages of internal combustion engines. The catamaran can be equipped with a kite for even more performance and autonomy.
The 23.8m catamaran can accommodate up to ten passengers in five luxurious and tasteful cabins. A spacious dining table that seats all guests is located in the main salon, which also features a large TV and inviting sofas.
Francis Lapp, Founder and Chairman of Sunreef Yachts

"We are taking a big step forward with this truly innovative yacht. Renewable energy is a key design element of the Sunreef 80 Eco. Thanks to a revolutionary solar energy system, hydro-generation and high-performance sails, the Sunreef 80 Eco offers total autonomy, relying on sun, water and wind," says Francis Lapp, founder and President of Sunreef Yachts.
Sunreef Yachts was founded by Francis Lapp in 2002 in Gdansk, Poland, and the shipyard has been designing and manufacturing luxury sailing and motor multihulls ever since.
Credits: Sunreef Yachts