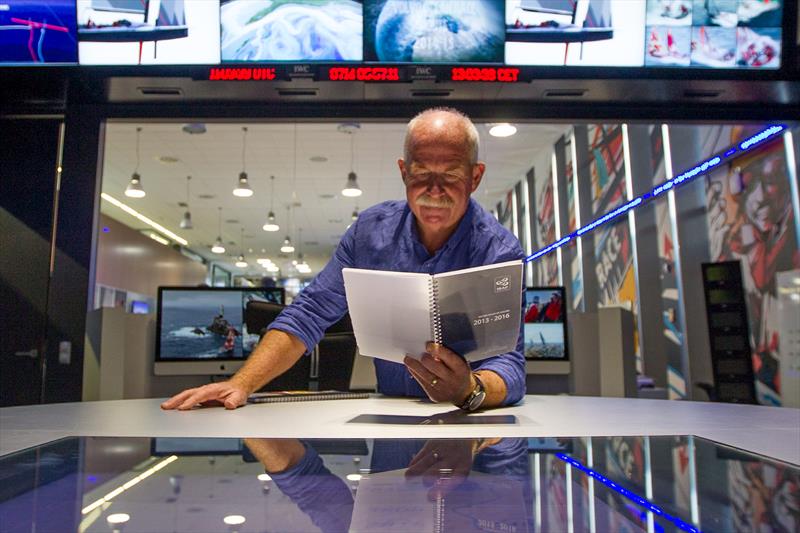 Former Volvo Ocean Race manager Jack Lloyd dies at 67
Former Volvo Ocean Race manager Jack Lloyd dies at 67
by Richard Gladwell / Alistair McRae Sep 16 13:58 UTC
September 17, 2021
Jack Lloyd was Director of the Volvo Ocean Race 2008-2015 and Compliance Officer for the 2017-2018 edition © Ainhoa ​​Sanchez / The Ocean Race
Jack Lloyd Commodore, Onerahi Yacht Club 1984-1987 © Archives OYC
Jack Lloyd (left) and Ian Mason enjoying a drink after watching the start of a race in Noumea circa 1984 © Archives OYC
New Zealand's main sailing official, Jack Lloyd, died suddenly and unexpectedly on Friday night at the age of 67.
For nearly three decades he has been involved in resolving disputes, rules, interpretations and sailing compliance issues for the jet set of yachting as the professional side of the sport evolved.
Jack's started sailing the traditional Kiwi style in a P-class at the age of 8 at his local sailing club before embarking on ocean racing at an early age. He followed in his father's footsteps in club administration before becoming a local and international match racing referee.
He survived the rarefied atmosphere of the International Jury Room before embarking on the hustle and bustle of the Volvo Ocean Race, from May 2008 as Race Director, overseeing three editions of the professional crewed race. complete around the world. He left this role after the 2013/14 edition of the race.
Jack was part of the international jury for three cycles of the Whitbread and then the Volvo Ocean Race. His last was in 2005-06 as chairman of the international jury, requiring a stopover trip from the 11th port, 37,000nm of circumnavigation for nine months for each race.
After three VOR races he left the demanding position of Race Director, returning as VOR Compliance Officer for the next race. Her main task was to ensure that the fleet of eight one-design VO65 boats complied with the VO65 class rule after coming out of a complete refit for the Volvo Ocean Race 2017/18.
Prior to his involvement in the Whitbread Round the World Race and its successor, the Volvo Ocean Race, Jack was part of the 26-member international jury for the 2008 Olympic Regatta in Qingdao.
This stint was preceded by participation in the America's Cup spanning four America's Cup cycles from 1995 to 2003, working as a member of the international refereeing team and then as an internal rules advisor for two America's Cup teams.
Born in Whangarei in 1954 with two sisters, Jack grew up in the seaside suburb of Onerahi.
Jack is remembered as a chubby red-haired kid, like most kids of his day, who started sailing a P-class at the local club. His father, Noel, was heavily involved in the Onerahi Yacht Club, serving as a commodore from 1975 to 1976.
Onerahi YC was one of New Zealand's first offshore clubs, hosting the semi-annual 1000nm race from Whangarei to Noumea and the annual Onerahi 100. The races have attracted large fleets, including the best of the New Zealand fleet, with names known as Rainbow II, Fidelis, Ta'aroa and Kahurangi competing. Noel Lloyd was heavily involved in the organization of ocean races and safety requirements as Jack was to be at the international level.
After the P class, Jack progressed through a few solo dinghy classes before inevitably moving into keelboats and ocean racing.
After only four years in high school, Jack apprenticed at his father's company "Lloyds Saddlery & Sails".
When he was around 19, he and his lifelong companion, Keith Andrews, teamed up and built the Farr Quarter Tonner Straightlaced, which they raced in competition. The two then decided to go for the "big time" and built a Farr One Tonner in a shed on the outskirts of town. Launched in 1976, Lovelace was a regular competitor in all events and test series until they were selected for the New Zealand squad to compete in the inaugural PanAm Clipper Cup in Hawaii.
Lovelace was sold to Hawaii, and Jack, newly married to Joss, turned to his sailmaking business as well as club and sailing administration – handing over to the sport some of what he had gained. Like his father ten years earlier, Jack was also Commodore of the Onerahi Yacht Club, but for two terms from 1984 to 1987.
Jack paved the way for a young sailor, Mike Sanderson, 22, who began a successful professional sailing career aboard the maxi-ketch NZ Endeavor with skipper Grant Dalton in the Whitbread Round the World Race 1993/94 . A decade later, Sanderson won the Volvo Ocean Race 2005-06 as the skipper of the Volvo 70, ABN Amro.
"I've known Jack literally my entire sailing career," recalls Sanderson, former Rolex World Sailor of the Year.
"He was a hero of the Whangarei Cruising Club and the Onerahi Yacht Club when I was young. In front of me were several America's Cup winners, Robbie Naismith and Mattie Mason.
"I started sailing when I was five or six, in Opti's and P's while Robbie and Matthew were sailing their Cherub. By this time, Jack was in his twenties and keelboat sailing. .
"Jack and his Lovelace buddies were the heavyweights of our local sailing scene. Jack was one of our big guys who got to sail in Auckland!"
"My lasting memory as a kid was that Jack was a pro," Sanderson recalls, his eyes still slightly widened.
"Throughout my time in school, when he had Lloyd Sails, he did all kinds of weird and wonderful sailing projects for me. The boys of Whangarei. Of course, throughout my America's Cup and in particular the Volvo. I spent a lot of time with him.
"He was an amazing guy with his background as a good boater, sailboat, practical boat builder and such a solid knowledge of the rules. With that base of practical knowledge he could just lay out all the scenarios in his head in very practical way, "Sanderson noted.
In the early 1990s, Jack began touring the Royal New Zealand Yacht Squadron with his work boat to learn the basics of match-race umpiring.
Along with a few of us, Jack attended the first IYRU Arbitration Seminar at RNZYS led by future IYRU President Göran Petersson (SWE).
Jack entered Match Racing through a different route than most – obtaining his then-IYRU International Referee certification in 1993, before adding his International Judge ticket three years later.
Jack has worked on the umpiring squad at numerous Match Racing events and served on the umpiring squad for the 1995 and 2000 America's Cups in San Diego and Auckland. These were long periods of service, made even more difficult as officiating was still evolving and under tremendous pressure from professional crews and team rules advisers. The stakes were high with an error by a team, or a referee, in the final stages of a series would likely result in the end of a multi-million dollar campaign for the America's Cup.
"Jack has raced regularly. He understood the game from a sailor's point of view and brought a down-to-earth, pragmatic approach to his officiating," recalled Russell Green, longtime Emirates Team rules adviser. New Zealand.
"As a result, he was highly respected nationally and internationally, being appreciated both by the officials he worked with and by competing sailors." When he worked as a team rules advisor for One World in Auckland in 2003 and Emirates Team New Zealand in Valencia, Jack was a valued member of the team with a great work ethic.
"When he wasn't busy working on the rules, he would soon use his practical skills to help out in the boathouse or sail lodge," Green added.
"He was a real soldier."
"Jack and Joss have also been involved in managing the YNZ Youth Teams. He has made a great contribution to young people and the wider sailing community, especially in Northland." "Everyone will greatly regret his calm and thoughtful demeanor and his sense of humor. We have lost a true friend and supporter of New Zealand sailing."
After two Cup cycles on the umpire teams, the game warden became a poacher, and Jack worked as a rules advisor / umpires and in-house umpire for the One World (USA) Challenge in Auckland in 2003, then moved to even for Emirates Team New Zealand in the 2007 America's Cup campaign.
"Jack was viewed by his peers as an exceptional race official," commented David Tillett, who, as chairman of the Olympic, Volvo Ocean Race and America's Cup juries, has worked with Jack on several events.
"He understood the sport and the sailor's point of view," Tillett recalls.
"Jack was not just a race official. With his vast experience in sailmaking and boat building, he was very good at evaluating the evidence presented."
"He has been a wonderful sounding board on difficult issues."
"We have lost an invaluable member of our team."
Jack was an ISAF International Referee Testing Administrator and Chairman of the Testing Administration Group. He has served on the ISAF International Judges Subcommittee and the Racing Rules Committee. In 2013, he was one of the few Kiwis to receive the ISAF Silver Medal in recognition of his many years of service to the world governing body and the sport of sailing.
During the 1990s, Jack and Joss took over the management of the YNZ Youth team at several Youth World Championships and brought stability to the situation – helping many young sailors achieve their first ever success in major international regatta.
In 2008, he was invited to be part of the 26-member international jury for the 2008 Beijing Olympic Regatta – with a component on the water each day, followed by protest hearings at night – again in a tense context. Olympic medals won and lost. .
For the 2012 and 2016 Olympics, Jack acted as the New Zealand team's rules adviser, keeping them out of the jury room, winning two gold, three silver and two bronze. .
Throughout his career as a navigator, Jack has distinguished himself for keeping a cool head under pressure, always making a carefully reasoned argument while listening intently to those of others. Despite the sometimes intense pressure, he always kept a calm demeanor, kept his tone of voice – and when he thought the problem was fixed, his sentences just got shorter.
Jack has covered a lot of ground, but his thinking has always been shaped by a solid foundation of practical experience gained outside of the classroom.
He was living proof that you could take the boy out of Whangarei, but you could never take the Whangarei out of the boy.
He will be sadly missed by all, especially his wife Joss, daughter Ria and son Kobe.
Good luck, mate.