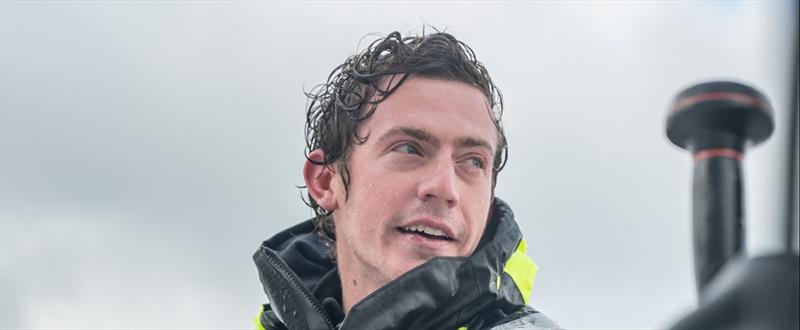 Harayda blazes a trail at the forefront of a new generation
Harayda blazes a trail at the forefront of a new generation
by Vendée Globe 3 April 09:05 UTC

British skipper James Harayda © Gentoo Sailing Team

In a few days, the young British skipper James Harayda will take charge of his new IMOCA 60, Stéphane Le Diraison's Groupe Finot designed and built in 2007 A Time For Oceans, and his ambition to compete in the Vendée Globe 2024 takes a huge step forward. . But first he had the serious business of officially launching his Gentoo Sailing Team challenge for the Vendée Globe in London at the Royal Ocean Racing Club this Wednesday..
Young and ambitious, Harayda is only 24 years old. His experience in IMOCA to date is quite limited, amounting to a few months of sailing with Alex Thomson on the latest Hugo Boss. But for all that he is completely realistic and objective about the steepness of the learning curve, but Harayda has a great mentor in Dee Caffari who finished sixth in the 2008-9 race and who of course sailed or raced around the world. six times.
Caffari says: "In the eighteen months I have sailed with James, I have seen many characteristics and traits that will set him up very well for a Vendée Globe campaign. He is tenacious, he is very resilient and he stays very calm when challenged. , but also he is very open minded and wants feedback, he wants to improve and become better. With someone so young he has a huge future ahead of him ."
Unlike some members of the new generation of Vendée Globe racers, the grueling single-handed, non-stop round-the-world race was never really Harayda's immediate goal. As a former dinghy and sport keelboat racer who grew up sailing in Singapore before turning to IRC and one-design offshore racing. It was the announcement that mixed doubles offshore racing would be on the Paris 2024 Olympic program that really piqued his interest.
With a view to making it to the 2024 Olympic regatta in Marseille, competing offshore there, he teamed up with Caffari in a SunFast 3300 for a successful two-year program that resulted in victory twice from the British National Championship to 2 hands and the navigation of many thousands of precious. miles offshore.
But his Olympic dream was shattered when news broke that the IOC had effectively ruled out the possibility of a double-handed offshore race at Paris 2024. But conversations with Caffari and Alex Thomson persuaded him that the 2024 Vendée Globe was makes it a realistic proposition. Thomson was of course the first owner and skipper of the IMOCA now owned by Harayda, the boat being built in England under the name Hugo Boss.
"Not a winning boat, but pretty much perfect for my first Vendée Globe. Seems like the right boat, pretty much bulletproof and built solidly for Alex originally. "We've got a few things to do but we'll have to sail straight next week. It's so exciting," Harayda enthuses, "and the ever-enthusiastic Vendée Globe double-runner Le Diraison who finished 18th last year has been a great help and will continue to be,
"Stéphane is brilliant. He couldn't have been more helpful and he's super transparent. For me, not being based in France and indeed not part of the Lorient community, he was great to help work there. I look forward to sailing with Stéphane in the weeks to come." Harayda smiled.
Despite his lack of experience in IMOCA and on the high seas, he is realistic and motivated: "I sailed a little on the Hugo Boss boat which is a very different beast from this A Time For Oceans. The IMOCA will train. Sailing with a reduced crew will be OK I think, but managing the 60 and how to tame it will be the challenge.
And Caffari was careful not to water down the idea of ​​racing the Vendée Globe, "During our two years of sailing she told me many stories about her doing the Vendée Globe and that really heightened my interest. So we sat down and made a decision what to do next after the Olympics were over I could have done a Class40 or another class but the sad fact is there would be very little media exposure in the Kingdom United by doing a Class40 and the budget is basically the same to do a good Class40 as it is to do a "budget" IMOCA program And I spent two months sailing Hugo Boss with Alex Thomson and he too really had the seemed to think it was a good idea. It all came together recently but it's something I've wanted to do for a long time." He explains.
"Dee warned me that getting the start is the hardest part, but she says she had an amazing time doing it. Her campaign was relatively short so she was very supportive of the belief that going to the Vendée Globe from here is very good, it's doable as long as you can find some money. So she told me beautiful things but also scary stories like when she was at the top of the mast and couldn't come down for an hour or anything, she's very encouraging."
His immediate job means he will not race the Bermuda 1000 race in early May. The first big race will be full crew around Britain and Ireland in August. Haraya plans to announce the arrival of some experienced IMOCA sailors to join the program. Four IMOCAs are expected for the RORC Pip Hare's Medallia race, Swiss skipper Olli Heer has a similar vintage IMOCA and Sam Davies plans to race to shake up his brand new Heart Initiatives. The first race of the IMOCA Globe Series will be the Defi Azimut before the preparation and planning of the main objective of the season, the Route du Rhum Destination Guadeloupe.
"It's going to be a very busy season." says Harayda, "Learning to sail the boat well will be the biggest challenge, but I plan to go a week at a time and do as many miles as possible, not always solo. It will be a great learning experience. "
He grew up on dinghies sailing Bytes and Lasers and moved on to keelboats like the SB20 before doing crewed offshore races like the Sydney Hobart, Middle Sea Race, Caribbean 600.
"I ran everything from 30ft to 60ft and then when the Olympics was announced I decided to switch to that because it looked like there would be a training and a route that didn't exist. in the UK sailing shorthanded. It was debut into the world shorthanded and then two years with Dee. Then he was taken out of our hands.
They're looking for additional funding through partnerships, "We're looking to get a few tiers. We'd like a title sponsor and a second tier so that allows us to operate to the fullest extent we'd like. We have some one-on-one support as well ."
In the meantime, the boat will sail from Lorient before being sailed back to the UK, with Harayda convinced it is a British based and managed project.
"The boat is in Lorient and I'm hoping to go from there until May. We then hope to bring the boat back to the UK, possibly to Victoria Quay in Gosport which is a brand new facility. It looks really good with infrastructure there that would support an IMOCA campaign like we haven't really had before and I think we could have another IMOCA there too, it would be nice to have someone another to train with. I want to keep this as a British entry. I don't want to be as tough as Alex Thomson, I want to go to France and do some of the French races."
Alex Thomson helps him remotely from his home in Jersey. He gives advice and support but Harayda has a sailing team with IMOCA experience,
"In the next few weeks we will announce a sailing team with a few people with good experience in IMOCA who are experts in their own field. It will be key for me to have the right people around who have the right experience. " harayda notes
Caffari concludes: "I think it's really important that he develops like his own sailor and that he doesn't copy or model himself on anyone. He's massively inspired and enthusiastic and getting overexcited, but one of my tasks for his campaign is to be realistic, to get him to understand what he's doing, to prepare him for what he's doing and it won't be a surprise. . I can't wait to sail with him on a bigger boat but I think he has the potential to create a surprise."
In the absence of a short-handed offshore route in the UK, Harayda founded the Gentoo Sailing Team Youth program in which Caffari is involved. Twenty sailors between the ages of 16 and 23 have been selected and have already started training most recently with three SunFast 3300s. These sailors will benefit from coaching on and off the water as well as racing experience on offshore RORC and JOG racing, the idea being to give the next generation of offshore sailors strong skills and basic experience to launch them into their individual careers. Hopefully among them will be the next generation of British Vendée Globe racers, already inspired by Caffari, Sam Davies, Alex Thomson, Pip Hare and now James Harayda.