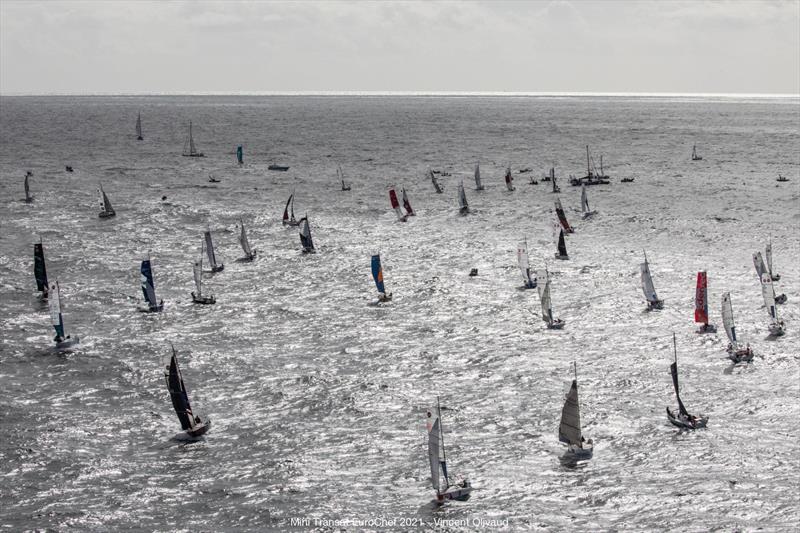 Hinman Trophy, offshore sailing and Mini Transat news
Hinman Trophy, offshore sailing and Mini Transat news
by David Schmidt Sep 28 05:00 PM UTC
September 28, 2021
The 1st stage of the 2021 EuroChef Mini Transat departs from Les Sables d'Olonne © Vincent Olivaud
Summer may have technically passed the baton in fall, but that certainly doesn't mean the sailing scene has cooled in North America, at least not yet. This past weekend provided the sailing world with several great events to watch and participate in, starting with the US Team Racing Championship (September 24-26), hosted by the Bristol Yacht Club in Bristol, Rhode Island and contested aboard 420 One Designs.
A total of 24 teams competed in the regatta, which determined the winners of the Hinman Trophy and serious bragging rights. A total of 204 races were organized, with Team Holiday Road Show (Colin Merrick, David Thompson, Rachel Holick, Christopher Klevan, Greiner Hobbs and Miranda Bakos) emerging as the winners.
Impressively, this was the third time Hobbs, Bakos and Klevan have won the Hinman, while it was the sixth time Merrick has won this prestigious trophy.
"We tried to keep it simple, just keep going fast," Merrick said in an official statement from the event. "We were a little slower upwind so getting out of the clean line was important to us," added Hobbs. "We just kept pushing the race forward."
Team Holiday Road Show and their competitors faced difficult conditions that put every team to the test. "The winner was a master of all kinds of conditions," said Shannon Bush, the event's PRO, in an official statement. "It was nuclear the first day, sneaky and light and knotty on the second day, and champagne today."
Overall, the combination of conditions, teams and level of competition went well.
"We had champagne conditions and the competition was great," said Bruce Cook, vice president of the regatta referee team. "The finals were held until the last race and until the last half of a stage. You couldn't ask for better."
Meanwhile, along the coast in Annapolis, Md., The racetrack action traded small One Designs for big ones at the U.S. Offshore Sailing Championship (September 23-26), hosted by the Squadron of sail of the US Naval Academy, and which took place aboard the Navy School Fleet 44 MK IIs. The event included both round-the-ring and distance races, and it was marked by light winds on Saturday and stronger conditions on Sunday.
"We got off to a good start, and we thought we had made a good change, and it turned out that it wasn't such a good change," said winning skipper Steve Travis, of the Corinthian Yacht Club of Seattle, in an official event statement, regarding the event's finale. race.
"We passed the mark in third position, and the boat in front of us lowered its kite and set a jib, which ultimately wasn't the right thing to do," continued Travis. "And then the lead boat gybed up, and when it came back it was behind us. From there, we just had to hit the weather mark. It was stressful to hang on. . but we did. "
Speaking of deep sea sailing, last weekend also marked the conclusion of the first Hempel mixed world championship at sea for two (August 26-September 26). This event involved 816 nautical miles of offshore navigation as ships sailed up the west coast of Italy from Brindisi to Venice. The race took place in three stages, with stops in Bari and Marina di Rivenna, and was contested aboard a fleet of ten One Design Figaro 3 keelboats.
Once the race and protest room meetings are over, ITA Team — Enit, which is composed of Claudia Rossi and Pietro D'Alì, won the top honors. They were joined on the winner's podium by Giovanna Valsecchi and Andrea Pendibene (ITA Team — Marina Militare) and Sophia Faguet and Jonas Gerckens (Belgium team).
"It's an incredible feeling, it's like a dream come true," Rossi said in an official statement from the event. "We fought until the end, but then we had protests to discuss, so it wasn't really easy. But now we can just feel good and party together because we had a great race and great teamwork together. "
At Sail-World, we take our hat off to all the teams that took part in these great end-of-season events, and we are excited about the Mini Transat, which started on Monday (September 27) and saw a fleet of 90 skippers alone take off. on the 1,350 nautical mile course from Les Sables d'Olonne, France, to Santa Cruz de La Palma, in the Canary Islands. Once in La Palma, the skippers will have a stopover to rest, repair their boats and catch up on their sleep before setting off for the last nautical stage of 2,700 in Saint-François in Guadeloupe.
North American interests are represented by Jay Thompson of California who has been sailing the world's oceans since 2006. The former sailor Laser has raced in high performance mounts such as the TP52 and Marstrom 32. He will sail on board. of a boat designed by Guillaume Verdier (#CocoTopia) that he built himself.
The first stage of this two-stage race started in airs of 16 to 20 knots. French skipper Brieuc Lebec led the fleet around the upwind brand then out to sea.
Sail-World wishes the entire Mini Transat fleet a safe journey to La Palma, and to Guadeloupe.
May the four winds bring you home safely.
David Schmidt
North American publisher of Sail-World.com