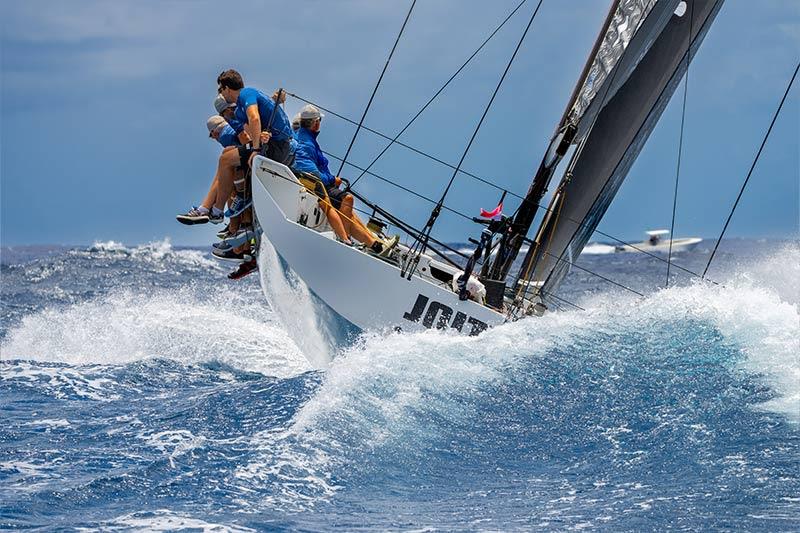 Les Voiles de St. Barth Richard Mille Day 4
Les Voiles de St. Barth Richard Mille Day 4 – Dramatic penultimate day
by Laura Muma Apr 23 01:29 UTC
April 17-23, 2022
Les Voiles de Saint-Barth Richard Mille 2022 © Christophe Jouany

After a much appreciated day of rest, the crews of the 11th edition of the Voiles de St. Barth Richard Mille got back to work this Friday. The Maxis, the ORCs and CSA Multihulls, then the Diam 24 OD completed a 35-mile course, while all the CSA classes completed two races of 12 to 18 miles in the east of the island.
The day had its fair share of shaken-up perfect results, but nothing next to the drama that unfolded on the CSA 1, 2 and 3 course, which shares the same start line and features boats ranging from 52s to Arabella , a Cap 31.
Before the start of today's first race, Niall Dowling's new Cape 31 Arabella was dismasted after the Cookson 50 Triple Lindy's bowsprit became entangled in the stern of the Cape 31, snagging its backstay and then dragging the much smaller boat with him until the top half of the mast finally gave way.
"Luckily no one was hurt and we're in good spirits, but it's a real shame," said Anthony Haines aboard Arabella. "We were going out today to try and get the overall win. We were in first place by one point."
There may still be hope for the British boat, as the protest hearing awarded them average points for today and tomorrow. As a result, they still retain first place in the provisional standings and currently only have a 0.4 point lead over Sergio Sagramoso's Lazy Dog. Sagramoso could take the CSA 2 overall victory over Arabella if the race committee decides to race more than one race tomorrow; but the Melges 32 would need to win them both.
On the penultimate day of competition, the battles are heating up between the classes, and in Maxi, CSA 1 and 3 new winners took first place today: Deep Blue, Jolt 3 and Om II, respectively.
In the Maxis, Jim Swartz' Vesper, winner of the first three races, conceded his first race this afternoon to Deep Blue, which seems to be tackling some technical problems plaguing the boat.
"It's a great victory for Wendy Schmidt and her team. Unlike the previous days, this time they did not encounter any hydraulic problems. Better still, they got off to a very good start but they also had a bit of luck," said Benoît de Froidmont, president of the International Maxi Association and ambassador for this 11th edition of the Voiles de St. Barth Richard Mille.
In fact, the main opponents, Vesper and Belle Mente respectively lost a lot of ground, the former after Vesper had a bad spinnaker and a subsequent hourglass turn, and the latter after Bella Mente's spinnaker blew when a small gust blew.
In CSA 1, Maximilian Klink's Caro also ended his streak of first-place finishes in race two today in favor of Peter Harrison's Jolt 3, after Caro caught a course mark, dragging it for some time. . The error worked in favor of others on the course, including Om II in CSA 3.
"We were lucky that Caro got the mark and moved it to a better place for our needs," joked OM II owner Shahid Hamid, who is delighted with his first race victory and to stop Jim Madden's Stark Raving domination. Crazy VII. "We managed to win the last race thanks to fewer mistakes, and we found the appetite to beat the leader."
The Swan 58 was just launched on December 20 in Barcelona, ​​and already Hamid and his team have covered over 5,000 miles, arriving in the Caribbean and taking part in the four-race series before returning to the Mediterranean afterwards.
The situation is still perfectly under control for the crews of Bernard Girod's Pata Negra in CSA 5, Pierre Altier's Crybaby in Diam 24 OD and Kent Haeger's Mach Schnell in Offshore Multihulls.
These three continue to dominate the competition, and another team focused on final day success is CSA 6's Island Water World team, owned by Frits Bus. After a first day of retirement following a forestay issue, he and the team worked to overcome the "didn't finish" score. It remains to be seen if Bus continues his winning streak, but fate lies in his competition and if Blue Skies will manage to hold on to victory.