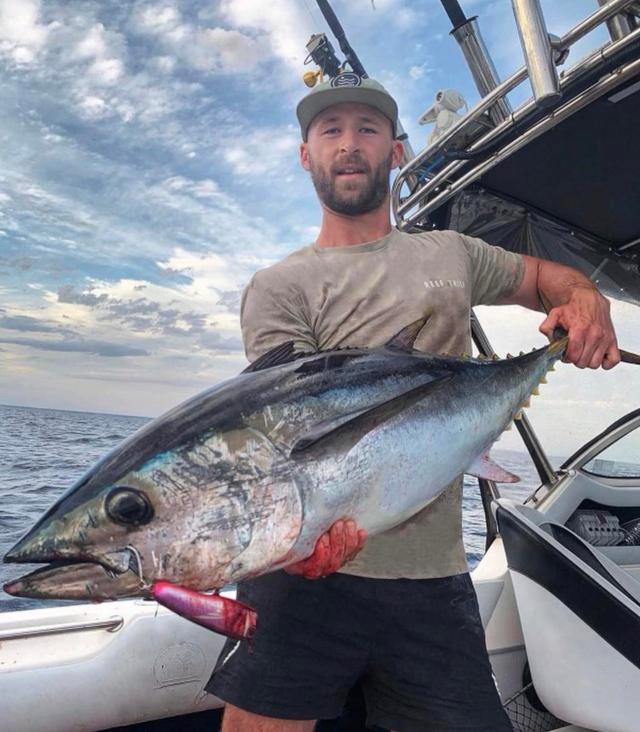 Peri Stavropoulos
The local fishing has continued to be very good over the past week with many reports of decent snapper fishing on offer in the outer harbour.
The Leopold and Curlewis cut grounds produced good fishing with anglers dipping bait and casting soft plastics having great success landing good numbers of pinkies at 50cm.
In addition to snapper, many other species are offered such as flathead, salmon and whiting.
Squids have always been close along the entire peninsula, with natural squid jigs working best.
Offshore Barwon Heads still shows no signs of slowing down, on the contrary, it is improving.
The tuna bite was searing between the rip and Torquay at 40-60 yards.
Halco laser pro 190 trolling has been a standout lure, as have lures behind a spreader bar.
Surface lures, as usual, still catch a lot of fish.
Kingfishers have been in fantastic numbers nearby and quite hungry, although not massive in size there are certainly plenty of them there.
Mako sharks are still roaming the coast right now with many reports.
The Rip has had a few whispers of kings inside it lately, but is well worth watching.
At this time of year we should expect the rip to fish very well with fish up to 15kg to be caught.
Fishing Slower tide changes and slack water are the best times to fish, allowing for easier and more comfortable fishing.
King George whiting has been chewed up off Queenscliff in recent times with many reports of boats landing good numbers of fish and at a quality size.
Gone Fishing Charters has been right lately to offer customers good fish.
Painkalac Creek has been fishing quite well over the past few weeks for both bream and estuarine perch with reports of both species reaching up to around 38cm in length.
Casting hard lures like the Ecogear SX40s and Daiwa Infeet Spikes worked very well.
Early morning and late afternoon were very productive for surface fishing.
Both Wurdi Buloc and Stoney Creek Reservoir have been fishing well for bluefin tuna over the past week with reports of catches of fish down to 45cm.
Adam from Trelly's Geelong got stuck in the action at Wurdi and had great success with the soft plastics.
Adam also tagged himself a few trout along the way.