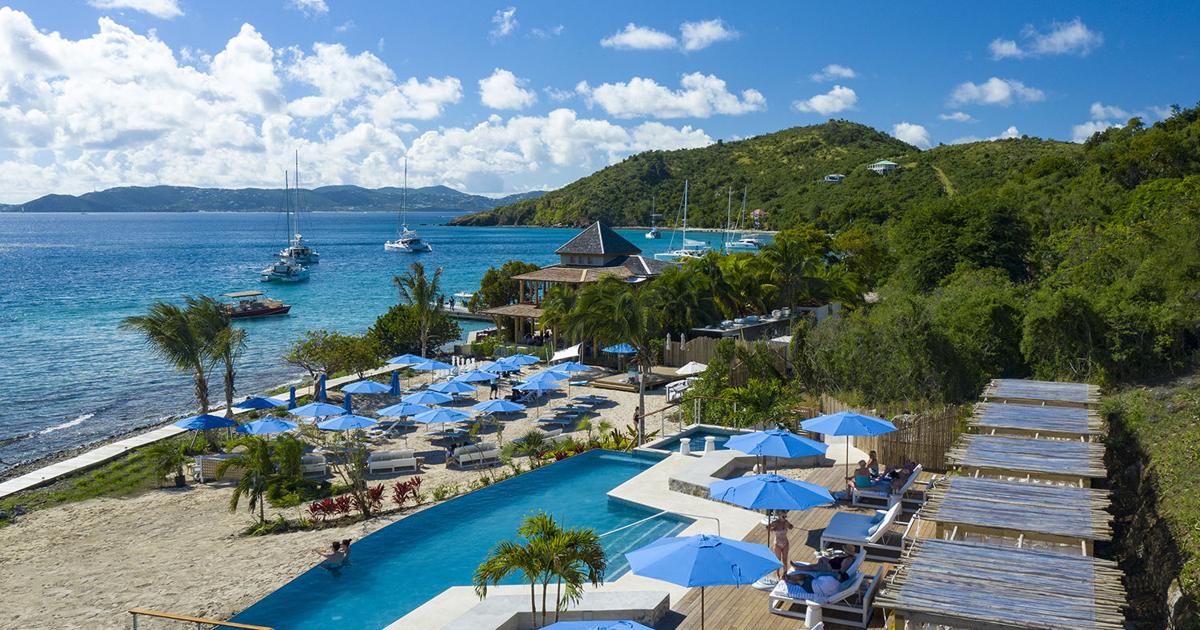 Lovango prepares for housing opening on Christmas Day | Island life
Lovango Cay is a beehive of activity this week as workers prepare the property for two very important dates – the Lovango Beach Club reopening on Monday and the Christmas Day debuts of the glamping tents and luxury tree houses in the complex. It's a deadline you can't miss, as all five tents and five treehouses in Lovango are full for opening day.
The tents and treehouses are located on the north side of the island, overlooking Crescent Beach and Congo Cay. The luxury treehouses can accommodate four people, with one king-size bed and two twin beds, and can be rented together with the glamping tents, which can each sleep two. Treehouses and tents have a full bathroom.
Those who spent the day at Lovango Beach Club last season will notice several changes to the venue. A stage has been built for live music, which will be performed three times a week during the beach parties.
On Tuesdays there will be seafood paella and music by Lady Eva and Friends; Thursday's rate will be surf and turf with music by After Irma; and on Sunday there will be a seafood pastry with music by Lauren and Bo. Chicken and vegetarian options will also be offered during the party nights at Lovango Beach.
The Green Oyster Bar, a tequila and raw bar, is a new addition to Lovango's food offerings. The shopping village expands with five stores: HIHO, a Caribbean clothing company; Lovango Style, a women's fashion clothing store; a Lovango brand store; SEEH, a sustainable luxury fashion and clean beauty store; and a general store with ice cream, coffee, ice cream and other sundries to accommodate boaters and resort guests. There are 12 berths on the south side of Lovango for private boats and charters.
Guests who stay in Lovango for a few days tend to want to stay on the island and soak up everything, owner Mark Snider said, while those staying longer have the option of booking a ferry to Cruz Bay or Red Hook, St. Thomas, for trips, meals, and errands. Guests of the accommodation receive breakfast baskets as part of their stay.
"The island has different areas for different types of experiences," Snider said. "There is a serene side and an active side. The main hiking trail around the island offers ocean views almost all around.
Crescent Beach on the north side of the island offers no amenities for an untouched nature experience.
"We want people to appreciate beauty," Snider said.
The resort owner acknowledged that Lovango encountered supply chain issues during construction and preparations for the opening, but the opening day was not changed despite those issues.
"We were able to achieve almost anything we wanted," said Snider's wife Gwenn Snider, who runs the Lovango retail village.
When the Lovango Beach Club first opened, the Sniders announced they would be moving staff between the Virgin Islands and their resorts in Nantucket and Martha's Vineyard, Mass. Due to complementary high seasons.
Mitchell Scobie, who grew up in the Virgin Islands, is back in Lovango after working the summer at the Nantucket Hotel & Resort.
"It was a great experience," said Scobie. "I learned a lot and made some good friends."
Lovango offers local rates for residents of the Virgin Islands. For more information, or to book a day at the Beach Club, or a stay in a glamping tent, luxury treehouse or Villa Lovango, visit www.lovangovi.com.