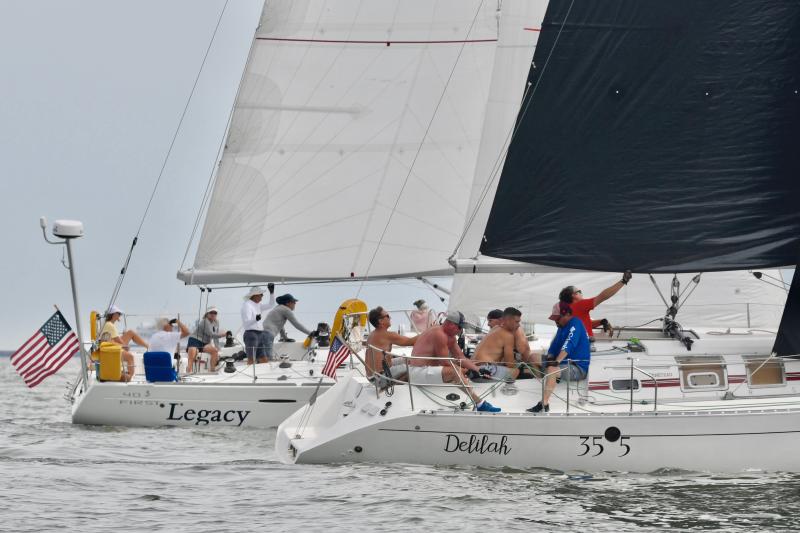 LYC continues the tradition with breakwater races
Iris, skippered by Hattie Warwick-Smith, prepares to start the annual race around the Delaware Breakwater. She and her crew took top honors in this year's race.
Iris leans into the wind as she approaches the Delaware Breakwater East End lighthouse, the turning point of the keelboat race.
Nick Carter, skipper of Legacy, is a veteran sailor and former commodore of the Lewes Yacht Club.
Legacy prepares to round the Inner Breakwater and Delaware Breakwater East End Lighthouse.
Mystery's crew struggles to get into position to balance their boat as they use a strong breeze to pick up speed. Mystery finished in second place in the keelboat division of the LYC breakwater race.
Delilah, who then ran aground and retired from the race, prepares to round the Delaware breakwater.
Ships passing during the day. Sunfish sailor Connie Miller, who finished second, heads east towards the breakwater as Legacy in the keelboat race flies her spinnaker west to the finish line.
Andy McDonald's Hobie Cat is dwarfed by the Cape May-Lewes ferry in the distance. McDonald was the first overall finisher in the LYC Labor Day Race one-design boat competition.
David Miller leads his Sunfish to first place in the annual LYC Breakwater Sailing Race.
The Mobjack team of skipper Sarah Lester and crew Tony Ingram add another win to their record, taking first place in the LYC Breakwater Sailing Race.
The team of skipper Paynt Ingram and crew Jeremy Niedererr are working the wind for a second-place finish in the Mobjack Division.
Scott Gaston and his 4 year old son Sav took third place in the Sunfish breakwater race.
Veteran sailor Bert Keller races to the finish line of the LYC Breakwater Race.
It doesn't always go as planned. Less than 100 meters from the finish line, sailor Sunfish Achareeya Gaston takes off like a turtle.