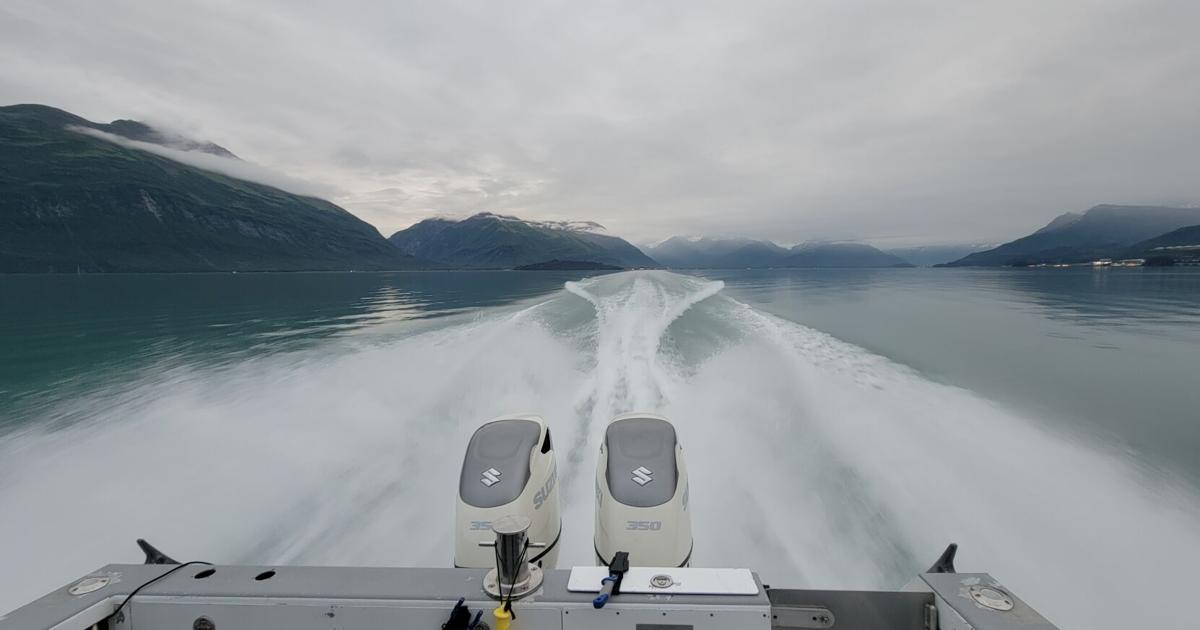 Mackenthun: Alaska trip ends with sea voyage with Captain Bud | local sports
Alaska's Richardson Highway cuts south from Copper Center to Valdez along a beautiful road. Travelers along this path finally see and enter the Chugach Mountains, past glaciers and lakes, and through alpine meadows with beautiful blooming summer wildflowers.
As you approach Valdez and the coast, you'll reach some gently curving switchbacks and pass a pair of scenic waterfalls. Finally, you'll arrive in town for a stunning scene; boats arranged in perfect dock rows in the harbor against a backdrop of black spruce forests along snow-capped mountains shrouded in often-present summer fog.
On the final leg of my Alaska fishing trip in August, our party of five hoped to end our trip with another successful day of fishing. We booked a fishing trip with Captain Bud Scott of Valdez Saltwater Adventures.
All week before our trip, we would ask Captain Bud about the weather and the sea, and each day we would be as uncertain of being able to go out as the day before.
While the fishing port of Valdez located deep in Prince William Sound can have light winds and steady seas, where the sound ends at the entrance to the Gulf of Alaska and the North Pacific Ocean is a entirely different environment. The seas are rougher and the winds are not restrained by the mountains.
Fishermen need calm seas on the day of fishing, as well as two or three days before. Many hopeful halibut and redfish anglers booked months in advance to fish Seward, Homer or Valdez, but found the seas too rough and their trip was canceled.
Local fishing charter captains would love to get out no matter the weather, but detecting bites, keeping bait on the bottom and avoiding seasick anglers is nearly impossible in rough seas.
With lucky good weather on our scheduled charter date, we left port with Captain Bud in the Arctic Warrior, a 37-foot cabin cruiser powered by two 350 horsepower Suzuki outboard motors.
The day started out wet and overcast with a light drizzle as we headed south for bigger waters. The boat hummed and slid, our crew waking up to cups of black coffee and chocolate chip granola bars.
The boat sailed smoothly over flat water, an easy ride that allowed everyone to admire the lush scenery of the mountain fjords and the low tide mark on the shore.
After an hour, we finally found open water. The swell was rising and falling.
Captain Bud radioed other groups that had ventured out. Reports were of rough seas and building waves.
After a few minutes of diving in rough seas, Captain Bud turned the Arctic Warrior around and we headed for calmer waters. Along a drop-off off Hinchinbrook Island, we dropped anchor and prepared for a day of bottom fishing.
With 7-foot broomstick-shaped heavy action rods, we dropped 16/0 circle hooks baited with cut herring. Two-speed Avet-level pinwheels were opened to drop heavy braids and 3-pound weights to the bottom in 150 to 300 feet of water.
With all of our lines deployed and everyone doing their best to extend the lines to avoid entanglement, we then started catching. It wasn't one after the other, but every 5 or 10 minutes you felt a little tap-tap-tap, or maybe just a heavy sensation of more than your 3 pound sinker backing off.
In the end, you twirl the reel, the mechanical advantages of the gear are realized, and the line is pulled in quickly, tightening the line and bringing the circle hook into the corner of a fish's mouth.
For the first hour, everyone on board had reeled in a small halibut, a first for almost everyone on board. Every angler had to make a decision – the state of Alaska regulates the harvest in its inshore halibut fisheries there by allowing anglers to catch one Pacific halibut above 28 inches and another below.
Every fish landed is a gamble and an exercise in probability – should you keep your fish if you expect to land something bigger?
It depends on the quality of the bite and how much time you have left.
For small halibut that were an inch or two below the 28 inch limit, it was easy to narrow these fish down to possession. Small fish were always a gamble. Ditto for fish just over 28 inches.
Would you catch something bigger? Time will tell us.
Our crew continued to catch fish regularly – small halibut with the occasional Pacific cod, which were retained, as well as razortooth, also known as arrowtooth flounder, which were released.
After a few hours of fishing and while doing our best to stay untangled and clear of others hauling in fish, Jordan Korzenowski latched onto a nice fish. This fish took some drag and gave Jordan a workout.
After 15 minutes of working with Jordan to exhaustion, he was able to get the fish up the back of the boat.
There, in the surface waters of the cobalt blue Prince William Sound, lay a veritable "barn door" halibut, snow white on one side and freckled olive brown on the other.
Captain Bud cleared the deck and approached with a steel rod. With one shot of his shotgun, he neutralized the fish and our team carefully hoisted it on board. The big fish of the day has been landed.
After photos and congratulations for Jordan, everyone was back fishing.
Cod and halibut continued to harass the bait, and our catch cooler slowly filled. A few small skates were snagged, cartilaginous shark-like fish difficult to reel in due to the vertical pulling effect against their horizontal body shape.
Captain Bud naturally cursed the fish as they had a tendency to sail sideways into other lines and produce massive tangles.
A single Spiny Dogfish was caught, sparking stories and anecdotes from the Captain about the size and variety of sharks caught in the area.
Just when our group felt confident in our halibut catching abilities, high tide hit and water surged around the island. Our baits weren't as easily anchored to the bottom and staying on the ground became a problem.
We swapped three pound pellets for four and five pound pellets. After more tangles, we dropped a few anglers to give more space to those left behind and agreed to rotate the fishing spots.
A few more halibut were caught before re-anchoring in deeper water to try a new spot. The bite wasn't as fast and furious as when we started, but it obviously had some good rockfish in it.
A few Quillback and Yelloweye Rockfish were released. At this point, our team was exhausted bringing fish up from such deep water, so most of the rods were stored in racks while the angler concentrated on rotating the handle. Essentially, the rods and reels worked like a giant winch.
The high tide ended but the twirling of the boat never really stopped. The winds swirled through the sound and the waves crept in.
After enough menacing entanglements, I was sure Captain Bud would lose his temper like a frustrated father tending to his young children's fishing lines. Instead, he was very pragmatic and fished us out until it was clearly a hopeless endeavor.
We pulled some lines and headed back to Valdez, stopping along the way to admire sights of killer whales swimming in a pod near shore, a boating sign island where sea lions barked and basked, and a few stops near relaxing sea otters or when a strange jellyfish pulsated near the surface.
Despite a long drive, the day had been a resounding success. Our weather window remained open, we got through it, while others on both sides of our dates were canceled.
Everyone was catching fish and we were all going home with our own packets of rockfish and halibut, a tasty reminder of the beauty and bounty of Prince William Sound, Alaska.
Scott Mackenthun has been writing about hunting and fishing since 2005. Email him at [email protected]