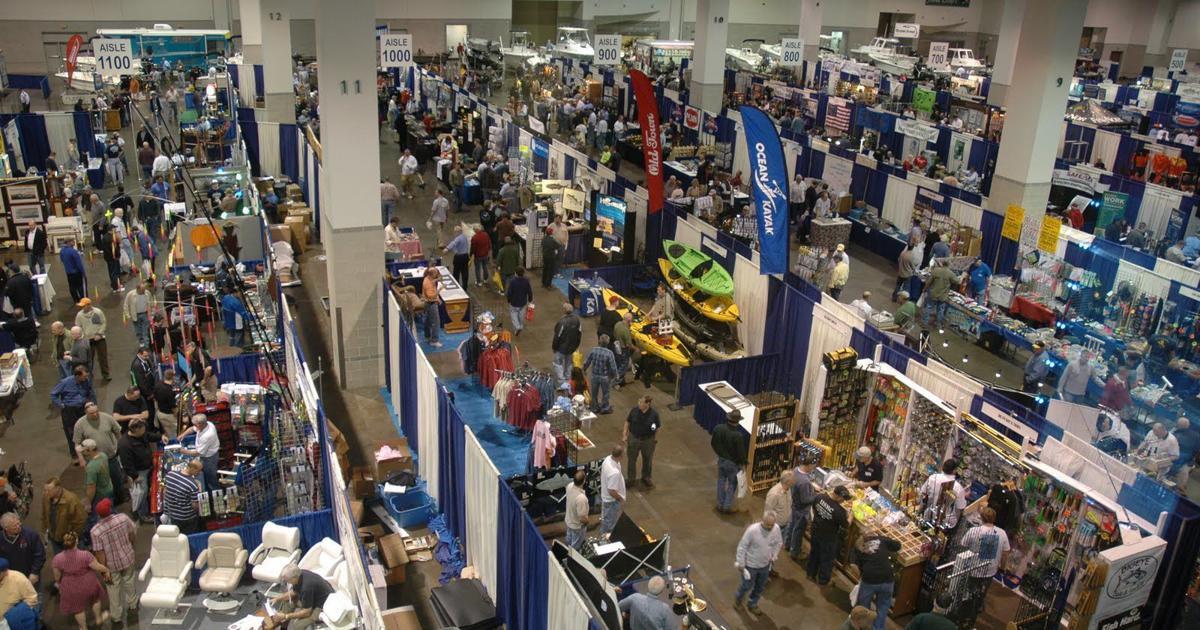 MONTI: New England Saltwater Fishing Show Gears Up for Rhode Island | local sports
Let the New England Saltwater Fishing Show, held March 11-13 at the Rhode Island Convention Center, help you prepare for fishing season. The show is back as the largest saltwater fishing show of its kind in the Northeast featuring tackle, rods, reels, lures, electronics, charter guides, boats, engines, accessories, clothing and much more.
"We're about two months away and have sold 260 booths," said Greg Vespe, executive director of the Rhode Island Saltwater Anglers Association, sponsor of the show. "Our 12 large spaces for the boats and the large display cases against the back wall of the exhibition hall are all occupied. However, we still have stalls available. Many of our exhibitors have exclusive specials, so anglers should take advantage of these specials. »
"Our seminar committee has refocused on seminars" How? "focused on strategies and tactics to target the species that we anglers love to catch, eat or release… striped bass, summer flounder, tautog and a host of others," added Vespe. "We pay special attention to species that are in abundance in our area due to warming water. Species like black bass and we hope to attract abundant new species like false albacore and bluefin tuna as they are closer to shore than ever and anglers who have not targeted them before are beginning to fish for them.
Seminar topics will include everything from offshore canyon tactics to inshore black bass tips and tricks. Speakers will cover locations from Boston Harbor to the Connecticut River and everything in between. Accomplished charter captains, authors and local experts step up to cover topics of interest.
Visit the RISAA Facebook page for updates on seminar topics and speakers as the schedule expands. By taking a little time to plan your show visit, you can make sure you're at the show for the presentations you want to see and visit the booths that have products you want to check out and buy.
The New England Saltwater Fishing Show will be held at the Rhode Island Convention Center on Friday, March 11, from noon to 8 p.m.; Saturday, March 12, from 9 a.m. to 7 p.m.; and Sunday, March 12, from 10 a.m. to 5 p.m.
Children under 12 will be admitted free and March 12 will be Family Day with all women admitted free. Visit the children's casting area on Saturday and Sunday.
All adults who attend the show can enter to win a free fishing trip with Captain BJ Silvia of Flippin' Out Charters. Plus, you can purchase a limited entry ticket to win a second fishing charter with Booked Off Charters as well as a custom Crafty One fishing rod (one rod for each show day).
Tickets at the door are $12. Friday is Military Appreciation Day. In conjunction with the U.S. Department of Veterans Affairs, the first 250 veterans and active-duty military to arrive on Friday will be admitted free.
Online fishing license
Anglers are requested to renew their fresh and salt water fishing license. In Massachusetts, to purchase licenses online, visit Mass.gov. In Rhode Island, the Department of Environmental Management reminds anglers that the freshwater fishing season begins March 1. Regardless of the date of purchase. To purchase licenses online in Rhode Island, visit RI.gov.
NOAA Recreational Fisheries Data Workshop
The NOAA Fisheries Marine Recreation Information Program will host its third Data User Seminar on Tuesday from 1-2:30 p.m. The training session will provide an overview of how the MRIP query tool can be used to filter NOAA Fisheries recreational catch and effort statistics by time series, geographic area, species, mode and other characteristics. It will walk participants through several different queries and explain how the query tool will change after the recreational fishing survey and agency data standards are fully implemented.
To register for MRIP workshops, go to Fisheries.noaa.gov. To log in to the Tuesday meeting, call 1-415-527-5035 and enter passcode 2760 242 8757. The event password is noaa.
Fifty years of ocean, coastal conservation
Fifty years ago, Congress took action to protect the nation's oceans and coasts, when it passed a powerful set of laws that helped lay the foundation for nationwide coastal and marine stewardship. These important laws include the Clean Water Act, the Coastal Zone Management Act, the Marine Mammal Protection Act, and the National Marine Sanctuaries Act.
In a press advisory this week, NOAA said, "These landmark laws are making a huge difference in the lives of Americans… But even greater challenges lie ahead as we face the challenges of climate change and its impacts on the ocean, the coasts and the wildlife.
NOAA is asking everyone to browse its 50 Years of Ocean and Coastal Conservation website to watch 50 Ways to Love Your Coast and Ocean, a new video that summarizes the four acts and resources for NOAA partners.
Where's the bite?
"The weather worked against us and we haven't brought out cod since December," Cod said. Captain Frank Blount of the Frances Fleet party boat, Pt. Judith. "A few boats tried and caught very few fish." Party boats fishing for cod south of Cape Cod and off Rhode Island, weather permitting, include Frances Fleet on francesfleet.com, Seven B's on www.sevenbs.com and Island Current on islandcurrent .com.
Fresh water: As temperatures rise and fall this week, check safe ice conditions with cities and towns.
Dave Monti holds a captain's license and a charter fishing licence. He sits on various boards and commissions and has an advisory practice focused on clean oceans, habitat preservation, conservation, renewable energy, and fisheries issues and clients. Send fishing news and photos to [email protected] or visit www.noflukefishing.com.