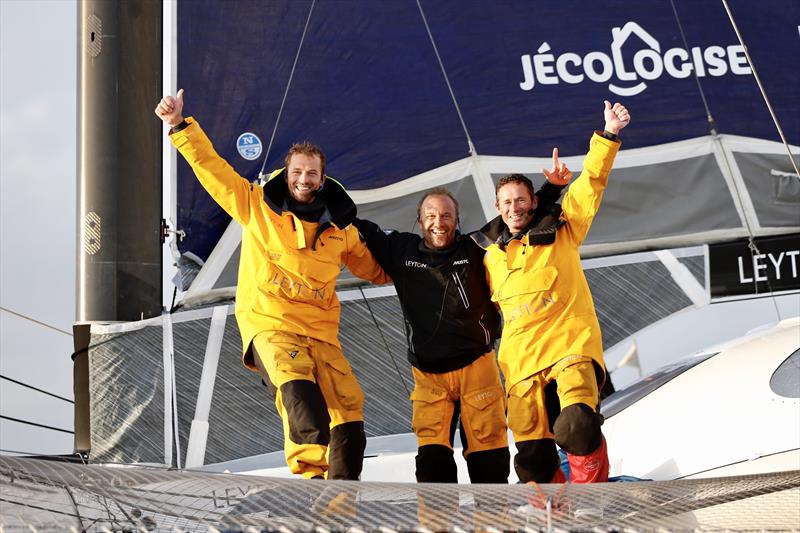 Pro Sailing Tour Season 2: racers and riders
Pro Sailing Tour Season 2: racers and riders
by Pro Sailing Tour Apr 29 13:47 UTC
May 12 – July 10, 2022
Pro Sailing Tour season 2 © Jacques Vapillon

Two weeks before the start of season 2 of the Pro Sailing Tour (May 12-July 10), one of the most exciting new competitions in ocean racing, a multinational fleet of seven foiling trimarans (the eighth will join Brest) and 50 of the best offshore sailors will soon converge on Bonifacio in Corsica for episode 1 of season 4 episodes.
An exciting new course, with inshore and offshore competition, will take the show from Corsica to Brittany via Cowes in the south of England. The 2022 Pro Sailing Tour – renowned for its intensity and boat-to-boat battles – promises to be two months of hard-fought and thrilling racing.
"There is a lot of appetite and excitement for the start of this new season," said Julien Mauriat, CEO of the Pro Sailing Tour and one of the masterminds behind the revealing and highly engaging television series Ocean Fifty which puts the viewers on board. of action. Each Ocean 50 has its own dedicated onboard reporter capturing each team's adventures as they unfold, the resulting footage is raw, inspiring and entertaining, and broadcast on fifty channels worldwide. In France, season 1 will be broadcast on Canal+ from May. "While most reports dedicated to sport focus only on sporting aspects, the production of the Ocean Fifty series has the particularity of focusing on human adventure and raw and spontaneous emotions", explained Julien Mauriat.

Who will challenge Sam Goodchild (GBR) and his mixed team on Leyton?
This year, the Franco-British sailor is still the favourite: the Leyton team worked all winter to optimize the multihull, they added a central rudder and a new mast. Two new crew members, Pierre Pennec and Devan Le Bihan, will join the mixed crew which includes Elodie-Jane (Ocean Race with Team SCA and Turn the Tide, Tour de France) and Laurane Mettraux (Match racing, Sailing Arabia-The Tour, Tour de France) as part of the Leyton x Magenta Project program launched last year.

Erwan Le Roux – Koesio
Leyton is no longer the only mixed crew, Erwan Le Roux (4th last year) has teamed up with Audrey Ogereau and Mathilde Géron aboard Koesio, the crew also includes Yann Eliès. Their goal is to "get on the podium and win a few races this season".

Quentin Vlamynck – Arkema
The battle for victory will be intense. Quentin Vlamynck (2nd in 2021) was the youngest skipper on a 50ft trimaran and one of the revelations of Season 1, second behind overall winner Leyton. He has made some changes to the crew and says he is "more motivated than ever".

Thibaut Vauchel-Camus – Solidarity In Peloton-ARSEP
Thibaut Vauchel-Camus (3rd in 2021) is just as enthusiastic, having set the Channel solo record in early April as part of his preparation. He predicts a second season with higher ambitions, although "the game will be very open".

Sebastien Rogues – Primonial
Sébastien Rogues, winner of the last Transat Jacques-Vabre, is ambitious. After improving the reliability of his multihull, he recruited Pierre Quiroga (winner of the Solitaire du Figaro 2021) and Mathieu Salomon in his crew.

Gilles Lamiré – GCA-1001 Smiles Group
Gilles Lamiré, who describes himself as "an offshore sailor rather than a regatta sailor", trained in the West Indies, notably by participating in the RORC Caribbean 600, where he finished third. His experience will be invaluable this year.

Armel Tripon – Les P'tits Doudous
Armel Tripon, despite capsizing in early April, hopes to be ready in time to start in Brest alongside the seven other multihulls.

Eric Péron – Komilfo
Finally, the Pro Sailing Tour welcomes a new skipper: Eric Péron. With a wide range of skills that includes Olympic, monohull and multihull sailing, he will race Komilfo and just 2nd in the 1000 Miles of the Sands, will be one of the sailors to watch.
The Pro Sailing Tour promises to be more competitive than ever!

Estimate

Thibaut Vauchel-Camus (Solidarity In Peloton-ARSEP): "The motivation and quality of the crews as well as the very open nature of this first season bode well for a second season with increased ambitions! We will have the opportunity to navigate in new places such as Corsica or the Isle of Wight and to return to emblematic places of the Ocean Fifty with Brest and the Bay of Saint Brieuc. We also look forward to TV coverage of this first season. It was a novelty to take on board press men in order to show the public our sport in an immersive way and to offer beautiful images of navigation and the atmosphere on board!"

Gilles Lamiré (Group GCA-1001 Smiles): "I am really excited for this second season. The 2022 Pro Sailing Tour will take us on a fabulous course from the Mediterranean to the English Channel and will bring together 8 Ocean Fifty multihulls with great sailors on board. The level of competition is rising. I know I I still have a lot to learn. This new season will be an opportunity to make further progress and have the chance to sail a lot in preparation for the Route du Rhum-Destination Guadeloupe."

Erwan Le Roux (Koesio): "We are having a good time. The atmosphere is good, and the potential of the trimaran is great. We are clearly progressing. For this second season, we are going to aim higher. We want to be on the podium and win races. We will try to be as efficient as possible, to get as many people sailing as possible while contributing to the popularity of our sport."