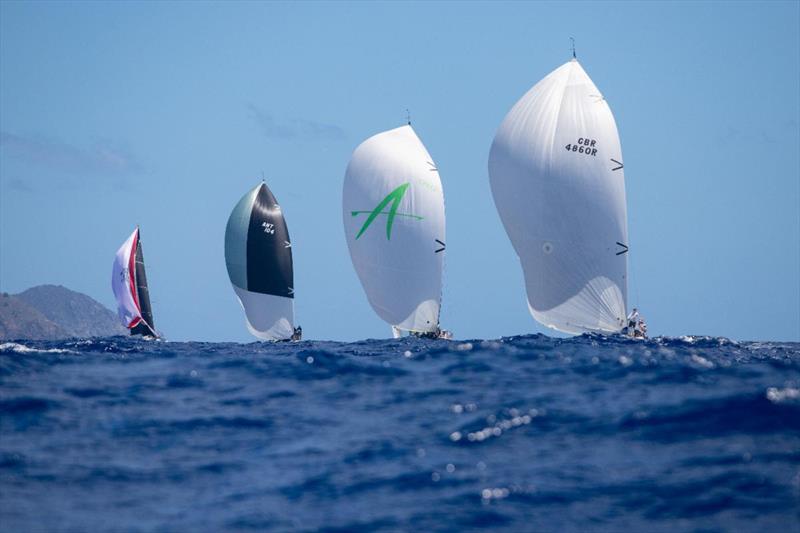 Registration opens for the BVI Spring Regatta and Sailing Festival 2023
Registration opens for the BVI Spring Regatta and Sailing Festival 2023
by Michelle Slade, BVI Spring Regatta 16 Sep 09:36 PDT
March 27 – April 2, 2023
Champagne sailing on the last day of the 49th BVI Spring Regatta & Sailing Festival © Alastair Abrehart

The seven-day event begins on Monday 27 March with the Festival of Sailing opening day festivities and collection of skipper packs.
The Sailing Festival, a warm-up event, takes place on Tuesday March 28 and Wednesday March 29, offering friendly and fun races to island destinations including Scrub Island.
The Scrub Island Invitational, hosted by Scrub Island Resort, is an approximately 12 NM windward ride for the CSA Cruising, Bareboat and Multihull fleets, and a longer course for the CSA-Racing fleet.
Located on the northeast end of Tortola, Scrub Island is a beautiful private resort island with classic Caribbean white sand beaches and ready-to-go docks. The relatively short run to Scrub Island gives sailors plenty of time on the island to enjoy Scrub Island's exceptional hospitality.
After a rest day on Thursday March 30, the crew and boats will be ready for the ever-competitive BVI Spring Regatta, three days of the best racing in the Caribbean starting Friday March 31. The regatta has traditionally attracted a diverse fleet of boats in addition to a strong bareboat fleet, and whether sailors compete in all five races of the BVI Spring Regatta & Sailing Festival, part or all of the festival, or the A three-day regatta, the event is brimming with 50 years of great stories and experiences that keep sailors, their families and friends coming back year after year.
Without its sponsors, the BVI Spring Regatta & Sailing Festival simply would not have taken place, and the organizers extend their heartfelt thanks to the sponsors who make it possible for sailors to attend this fabulous sailing event: Nanny Cay Resort & Marina, Moorings BVI, Scrub Island, Cape Air, Tito Vodka, RTW/Provisioning, Sea Hawk Nautical Coatings, Mount Gay Rum, BVI Tourist Board, SOL, International Motors and Portland ShipYard. The regatta sailing community is encouraged to support these generous sponsors!

What sailors say about the BVI Spring Regatta & Sailing Festival race
Arabella, the Cape 31 owned by UK's Niall and Olivia Dowling, made her Caribbean debut in the 2022 racing season. Anthony Haines, who manages the boat, commented after taking first place in her class at the BVI Spring Regatta: "Our first day of racing at the BVI Sailing Festival was just champagne sailing, it doesn't get any better than that, spinnaker up and we were hitting over 20 knots, spray everywhere, getting soaked – it's the best feeling. We have a lot of fun here at the BVI, the racing is great – the geography of the area is really cool, we hope to come back!"
Brett Bonthron of Napa, CA has competed in the BVI Spring Regatta & Sailing Festival three times. His team is made up of the "Escaped Aussies", a band of friends who met and sailed to Australia years ago. They have been organizing international regattas for 22 years now, chartering boats all over the world. BVI Spring Regatta is the only regatta they have done multiple times. "It's definitely one of our favorites," Bonthron said. "We know what it takes to put on a great regatta and it has all the right ingredients – good weather, good sailing, good parties – it has it all, well done to the regatta organisers. I think the 50th will easily push north of 100 entries."
The offshore multihull fleet has been a regular at the BVI Spring Regatta for eight years, including a fleet of gunboats and other high performance multihulls. Greg Slyngstad, owner/pilot of Fujin, the Bieker 53, a BVI Spring Regatta regular in recent years, finished first in class in 2022. He said: "It's a great regatta and for multihulls it's unique in that we get to dock together at Nanny Cay and socialize – most places we're scattered, grounded, it's great to be together."

Community involvement, clean and green since 2009
The BVI Spring Regatta & Sailing Festival prides itself on involving the local BVI community at every opportunity. Each year the regatta presents the Guy Eldridge Spirit of Enthusiasm Award to one or more individuals who shine in the spirit of the sport and demonstrate exceptional commitment to the event. Saturday night regatta night is dedicated to the local community and it is a joy to bring our international visitors into the local fold.
Committed to a clean and green sailing festival, since its inception, the BVI Spring Regatta has made it a priority to protect the crystal clear waters and lush vegetation that surround this Caribbean territory made up of more than 50 islands and cays. Sailors for the Sea, a leading conservation organization, awarded the organization's first level of Gold certification to the regatta in 2009, and the event has worked diligently to maintain this certification ever since. In 2014, the BVI Spring Regatta was recognized as the world's first carbon neutral regatta, recognized by Sailors of the Sea.
Visit bvispringregatta.org for more stories and inspiration! Better yet, register now for 2023. It's going to be a blast!