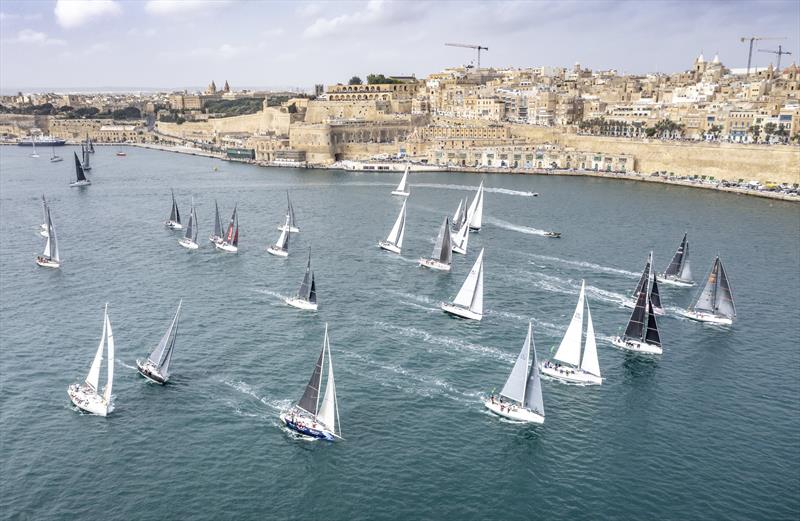 Registrations multiply for the Rolex Middle Sea Race 2022
Registrations multiply for the Rolex Middle Sea Race 2022
by Rolex Middle Sea Race Aug 26 14:24 UTC
October 22, 2022
An international fleet of 114 yachts from 25 countries takes part in the 2021 Rolex Middle Sea Race © Kurt Arrigo / Rolex

Two months before the start of the 43rd Rolex Middle Sea Race, registrations continue to accumulate, with 88 yachts representing 24 nations currently registered.
The change is a slight increase of 28 yachts since the last report in July and bodes well for the race with four weeks until entries close. Italy has by far the largest participation so far, with 18 boats, followed by France with 13 powerful looking boats, then Malta with eight – and the possibility of more to come. With maxi multihulls, maxi monohulls, full crews and doubles, the fleet is a true sample of offshore racing prowess bringing together many parts of the world.
The entry deadline is officially Friday 23rd September 2022, however the Royal Malta Yacht Club (RMYC) has retained discretion to accept late entries until Friday 30th September. The race itself will start from Grand Harbour, Valletta on Saturday 22nd October.
Among the recent crop, notable entries include Riccardo Pavoncelli's returning MOD 70 Mana, skippered by Paul Larsen, in the multihull fleet and Andrea Recordati's 28.3-metre Bullitt, in the monohulls, making her debut in race for the boat and apparently the very first Wally Yacht to participate.
In the fight for overall honors under IRC, other big guns handed in their papers, including: two-time winner Elusive II from Malta, Ker 46 Tonnerre de Glen from Dominique Tian from France, previously class winner at both the Rolex Middle Sea and Rolex Fastnet Races; Lisa R de Giovanni di Vincenzo, from Italy, another Ker 46 and overall winner of the Rolex Giraglia in June; the always menacing Teasing Machine by Frenchman Erik de Turckheim; the UK trio of James Neville's Ino XXX, Ed Bell's JPK 1180 Dawn Treader and, Mark Emerson's UK entry Phosphorous II, purveyor of this viral music video.
Since the first race in 1968, Maltese Yachts have won nine times, most recently in 2020 and 2021, when the Podesta siblings took back-to-back victories with Elusive II. This year's brood of local boats looks stronger than ever.
Podesta's participation in the Rolex Middle Sea Race was already legendary, with the late Arthur Podesta having competed in 35 races and passing on his enthusiasm to his children, who have now all competed in over 20 races themselves.
The preparation for this year will be more complete than ever, but in a difficult domestic context, as Maya Podesta explains: "This year has not been easy. Christoph, my brother, became the father of a little boy, Jamie , in March, and I gave birth to Amy in July, so while the boat was kept at its winning potential, our focus was distracted!"
Fortunately, the core crew on board hasn't changed much since 2016, and although there are two newcomers this year, the Podestas have proven their ability to successfully integrate new faces.
"One crew member who won't be on the boat this year," laughs Podesta, "is Amy! She will be five months old and will be home with my mom and the rest of the family, and will have to wait until she has 16 years before being able to participate."
Lee Satariano is another race-winning Maltese skipper, with victories in 2011 and 2014 on his previous Artie, a J/122. Last year, along with his co-skipper Christian Ripard, Satariano was second in IRC 3.
"It will be my 15th Rolex Middle Sea Race and the crew is largely the same as last year with a few changes," he explains. "Each year I look forward to the construction and preparation of the boat. Bringing the crew together and having training sessions is always part of the excitement. I hope we will have conditions similar to those of the last year…quick and wet!"
Now in his 16th race, Jonathan Gambin is back with Ton Ton Laferla and a crew of his company, friends and family.
Gambin's best result to date was third place overall in 2020, and his enthusiasm never seems to wane: "I really appreciate that the race is different every time. I always hope for lighter winds because it suits the performance of my boat and the crew. Mainly, however, I'm just looking forward to it because it's the first 'holiday' for me after a summer of hard work!"
Maltese Falcon II has a long association with racing and is currently owned by Jonathan Camilleri Bowman.
"I've raced the Rolex Middle Sea Race a total of five times and the last four times with Maltese Falcon II," says Bowman. "Currently the crew consists of two women and eight men. The first few years definitely proved to be a learning experience in finding the right balance of skills, attitude, mental preparation and physical ability within the crew. "It's a tough race, at a difficult time of year for the weather. We're always trying to improve, but I'm very happy with the current group."
Bowman is another who enjoys the preparation period, the training, the activity around the Royal Malta Yacht Club and the general adrenaline rush to get to the start line.
"I have to admit that there are times during the race where I wonder why I decided to participate again," he smiles, "especially when the wind and the waves are up. However, once you have overcome a difficult phase, you end up wanting to know more and I always look forward to finishing the race and preparing for the next one!"
2022 will be the first year that Vivace will compete as a full crew under the co-ownership of Andrew Agius Delicata and Matthew Gabriele, with the two previous entries being double-handed. "In total, I took part in eight Rolex Middle Sea Races, the first of which was when I was 15," says Agius Delicata. "Four were fully crewed and four were double-handed. The race that gives me the most satisfaction was last year when Matthew and I finished third in the double-handed class and beat a lot of fully-crewed boats. in our handicap classes. Plus he was with our own boat."
The Otra Vez team, with owner Aaron Gatt Floridia, has had strong results in the past but struggled to find form with their latest boat, an ICE 52. "I've competed in six Rolex Middle Seas Races and our best results to date were third overall in 2011 and first in class in 2013 with the J/122," says Floridia. last two editions due to hardware failure with ICE 52."
The Otra Vez crew is a mix of friends who have been with Floridia for many years, and new additions including young Danish sailors who have raced the 2022 Rolex Giraglia and 151 Miglia. It's a very good mix of experience and youth according to Floridia, who is another unconditional fan of the course: "It's an exciting race. Full and the turns make the race very unpredictable. There are always a lot of very well sailed boats. participate, so you really have to be on top to do well."
Other Maltese entries to watch: the Calypso J/99 skippered by Sebastian Ripard and Mario Debono's Sun Odyssey 45 Janissah.

Race management
Behind the scenes, the Royal Malta Yacht Club continued the process of strengthening its Race Team. Earlier this year, in June, another 25+ year veteran of international race management and race scoring joined the team, taking on the role of Senior Race Director. Stefan Kunstmann's experience spans virtually all sailing disciplines. Most significant has been his involvement with the RORC racing team since 2008, which has seen him work on 15-20 offshore races per season. Kunstmann, originally from Germany, is a respected international race officer, whose career highlights include being PRO for sports and keelboats at Kieler Woche, PRO for the Bermuda/Hamburg leg of the NRV Atlantic Anniversary Regatta and current consultant for the Newport Bermuda Race. Stefan is familiar with the Special Offshore Regulations, notably through his contributions to the development of the proposed WP (Racing round Waypoints) and TS (Traffic Separation Schemes) annexes. "I've been lucky enough to be the RORC representative at the Rolex Middle Sea Race twice," said Kunstmann, "and I'm really looking forward to supporting the Royal Malta Yacht Club racing team with the 43rd edition of this spectacular race."
The 43rd edition of the Rolex Middle Sea Race will start on Saturday October 22, 2022. It will be streamed live on Facebook and YouTube, and streamed on TVM (Malta), starting at 10:30 a.m. CEST.