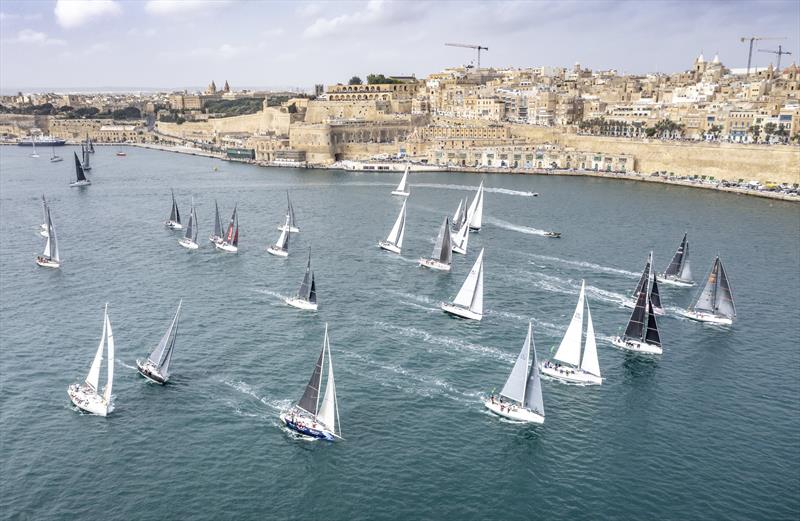 Rolex Middle Sea Race 2021: rising to the challenge
Rolex Middle Sea Race 2021: rising to the challenge
by Quinag on Oct 30 20:20 UTC
23-30 October 2021
An international fleet of 114 yachts from 25 countries take part in the Rolex Middle Sea Race 2021 © Kurt Arrigo / Rolex
For the international fleet of 114 people, the Rolex Middle Sea Race 2021 turned out to be a real seamanship test.
The challenges presented offered a test even to the most prepared crews. Organized by the Royal Malta Yacht Club since 1968, the race has been a Rolex partner since 2002.
The 42nd edition of the race was dominated by an exceptional weather window which offered fast sailing downwind on almost the entire course. Despite a determined effort from smaller, less powerful but exceptionally well sailed yachts, the maxi Comanche was declared the overall winner of the Rolex Middle Sea Race on time correction. The 100-foot (30.48 m) yacht sailed the 606 nautical mile (975 kilometers) racetrack in a time of 40 hours, 17 minutes and 50 seconds, setting a new monohull record, seven and a half hours less than the previous record. Comanche became only the third yacht in racing history to win the triple line honors, the monohull racing record and overall victory.
Mitch Booth, the skipper, confirmed that despite high class opposition, the situation was favorable for his boat:
"The Rolex Middle Sea Race is one of the flagship ocean racing events and winning the triple is very rare. This weather window was perfect and we were lucky to cross the bends at the right time. We had started everything. with us – strong winds, rain, lightning, huge waves sometimes. It was really difficult. "
For Tom Slingsby, a Comanche crew member as well as a former Rolex World Sailor of the Year and skipper of the Australia SailGP team, a first participation in the Rolex Middle Sea Race was extremely memorable:
"Setting a new (monohull) race record is very humbling. The race track is beautiful, going around islands in changing conditions with a lot of geography in play and then coming back to where we started is new to me. definitely come back. "
Meanwhile, for the predominantly Corinthian crews, the weather and sea conditions were brutal. In the threatening winds, the need to balance caution and performance was critical. Experienced sailors, like Christian Ripard, 31 times competing in the race on the Maltese yacht Artie, agreed:
"At night we were doing up to 28 knots. You have to be careful. With the experience of our crew, we are able to push the boat hard. There is that element of the race where you want to win, but you are on. a tightrope. You have to make sure you stay on that line. "
A quartet of maxi multihulls were also able to take full advantage of the conditions, with Jason Carroll's MOD70 Argo (USA) circling the course in 33 hours, 29 minutes and 28 seconds, setting a remarkable race record.
The Rolex Middle Sea Race 2021 will be remembered as the year's records fell and Corinthian sailors displayed cunning, courage and determination. Their resilience and human achievement are two of the qualities that have long linked Rolex and the sport of sailing.