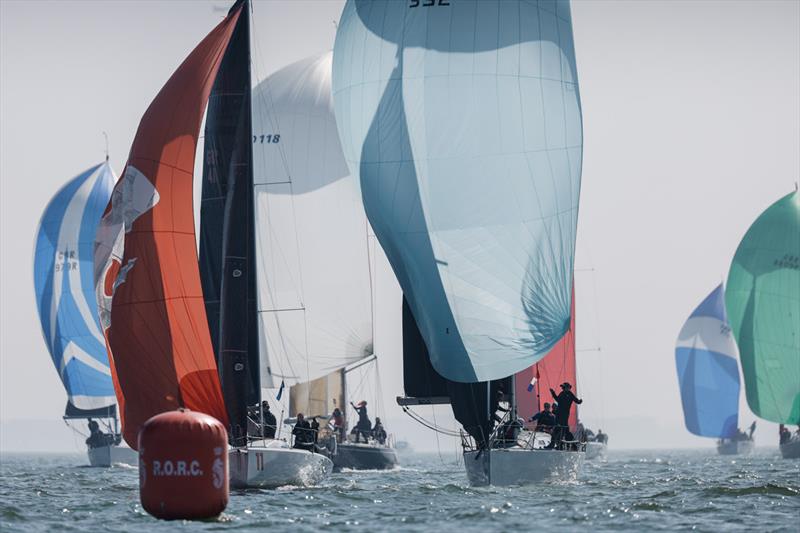 RORC Easter Challenge Day 2: Super Saturday
RORC Easter Challenge Day 2: Super Saturday
by Louay Habib Apr 17 05:48 UTC
April 15-17, 2022
Fabulous sailing conditions continued in the Solent on day two of the RORC Easter Challenge © Paul Wyeth / www.pwpictures.com

The Easter treats continued for nearly 300 sailors taking part in the RORC Easter Challenge. Fabulous sailing conditions continued in the Solent for day two of the regatta.
The RORC Race Committee, led by Steve Cole, with Paul Jackson as PRO, organized two race courses providing the fleet with a mix of downwind and canister courses. Three races were completed for the three IRC classes; a southeasterly breeze of 10 to 16 knots, with a beautiful spring sun, offered superb racing.
A race debriefing took place at the RORC Cowes Clubhouse with more expert guidance from Andrew 'Dog' Palfrey and the coaching staff, and included drone footage of Northern Sails departures, around marks and boat handling. Those unable to attend watched the presentation via Zoom with documents, videos and photos also uploaded to the cloud. "What a fantastic job by the RORC Race Committee; great mix of courses, what you want for a practice regatta," commented Dog Palfrey. "We have seen solid improvements since day one. There is still a long way to go to always be well sailed, but each team has made progress towards this objective.

IRC One
Intense racing in the big boat class saw Ian Atkins' GP42 Dark N Stormy score two more bullets to take firm control of the class, but it wasn't easy. In Race 5, a well-executed gybe by Dark N Stormy could well have been the difference, taking victory by just one second after Dutchman Ker 46 Van Uden's IRC time correction. Dutch Ker 43 Baraka Gp of Harmen Jan de Graaf turned the tables on Dark N Stormy, winning the final race of the day two seconds ahead of the IRC time correction.
"Really great organization today by the RORC, mixing upwind racing with well thought out can racing," commented Dark N Stormy's Ian Atkins. "All the boats in IRC One are almost the same, but we all have our own advantages. Usually we're not the first to achieve the top rating, so we've definitely put jibing in our arsenal to get that separation. Brilliant coaching on the water makes this event exceptional at the start of any campaign.

IRC Two
After posting a 1-2-4 today, the J/112 Happy Daize piloted by the Knight Build team, retained the class lead by a single point against the Sun Fast 3600 Fujitsu British Soldier of the Army Sailing Association. Cape 31 Tokoloshe 4, skippered by Dave Bartholomew, retains third place in its class, but only thanks to the count of the Ker 39 Andrew McIrvine's Response.
"We love this regatta," commented Henry Foster, skipper of Fujitsu British Soldier. "The debriefs are really helpful as we have a lot of crew turbulence due to army commitments so the lessons learned from this regatta are invaluable to the new crew who joined us this weekend. I have been doing this regatta since 15 years and what RORC and North Sails provide is really good to get the boat ready for the season It's a great regatta and we really enjoy it We've been working on our upwind settings and we've had lots of good feedback from Andrew Palfrey. Tactically we have improved our starts and our entry into the shifting phase on the first beat. We have bigger boats in our class and it is very important to perform well from the first beat. We have improved race after race, so we're really happy.
The crew of the Ker 39 Andrew McIrvine's Answer is made up of friends who have known each other for many years. Team Larry, as they are known, will be participating in two must-attend events this year. They are chartering a boat for Antigua Sailing Week at the end of this month, then in July the Ker 39 La Response will take part in Volvo Cork Week, which also marks 300 years of the Royal Cork Yacht Club. "Larry is back having fun. We are a bunch of friends without professionals. The racing is great, the craic is great and I love it! commented Andrew McIrvine.

IRC Three
Quarter Tonner Bullit, skippered by Julian Metherell, retains the class lead, but failed to maintain her perfect score from day one. Lena Having's Corby 33 Ms Freckles had a great day at the races including winning race 5 to hold on to second place. The J/109 Mojo Risin' skippered by Rob Cotterill also had an excellent day, scoring two podiums to move up to third place in her class.
Cowes' Elan 450 Emily is skippered by the very experienced Richard Oswald, but for the RORC Easter Regatta a new crew has been assembled to kick off a campaign by RORC member Geoff Johns. "Most of the crew are new to keelboat racing, having sailed dinghies on tanks in the past. Richard Oswald suggested we should come to the RORC Easter Challenge and we are very happy about that. is extremely well organized and the debriefings are a valuable way for us to learn, plus having coaching on the water gives us expert advice to improve our performance.
Results at www.rorc.org/racing/race-results
For more information, visit www.rorc.org