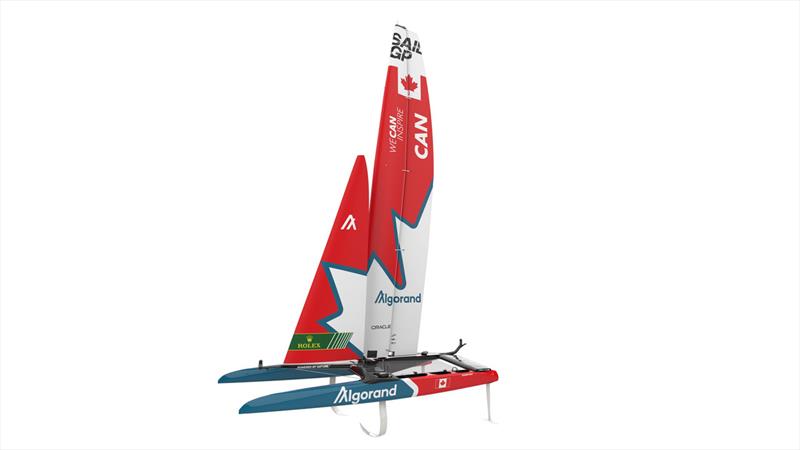 SailGP, One Design, Congress Cup and offshore racing news
SailGP, One Design, Congress Cup and offshore racing news
by David Schmidt Apr 26 15:00 UTC
April 26, 2022
Canada SailGP Team announces partnership with Algorand © Canada SailGP Team

The wake (foiling) may have barely settled in San Francisco Bay after Tom Slingsby and his Australian SailGP team took top honors at the Mubadala United States Sail Grand Prix event (March 26-27 2022) and won the $1M+ purse at The SailGP Season 2 Grand Finals (March 27), but that certainly isn't stopping SailGP teams from making headlines on Season 3. For Sailors The shining object is the launch of the Canada SailGP team, which was announced last fall and is led by CEO Jean-Sébastien Chénier Proteau (CAN) and pilot Phil Robertson (NZL). Now, more details about the squad composition have emerged.
On April 21, the Canada SailGP team announced that its water team will consist of Robertson on wheels, Tom Ramshaw on tactics and grinding, Billy Gooderham and Luke Ramsay on flight controls, Graeme Sutherland on the wing tuning, Isabella Bertold and Georgia Lewin-Lafrance as co-pilot and strategist, and Tim Hornsby and Jareese Finch on the grinding pedestals. The team will be coached by Joe Glanfield.
"Phil knows what it takes to update a new team and has done it successfully twice," Chénier Proteau said in an official team communication. "Canada will be no exception – we have some incredibly talented sailors, but very little foiling experience. It is the team's vision that the Canada SailGP team will change that, and really be the catalyst sailing across the country."
While there is no doubt that the Canada SailGP team is poised to initiate a new generation of Canadian sailors to Sailing 2.0, there is also no doubt that the fledgling team has little time to find its foils ahead of the Bermuda SailGP event (May 14-15) and the start of the nine-race Season 3 calendar.
"I look forward to starting training this week in Bermuda with Team Canada," Robertson said in the team statement. "We have a few days of training alongside the Swiss team before we get our own F50 for the event. It will be a baptism of fire for our team and it's a challenge I'm excited about. We have a great rookie group, so now it's about taking small steps forward at a fast pace."
Sail-World wishes Robertson, Chénier Proteau and the rest of Canada SailGP well as they prepare to race their F50s.
Speaking of Canada's top sailors, Sarah Douglas, the Laser Radial phenom (sorry, "ILCA 6") from Toronto, will compete this week in the French Olympic Week competition in Hyeres, France (April 25-30). Douglas enters this regatta with momentum: she won a gold medal at the Trofeo Sofía Mallorca from April 1-9, 2022) and a sixth place finish at the 2020 Japan Olympics.
"I look forward to the second European event of the season," Douglas said in an official statement from Sail Canada. "I've just spent the last week training in Marseille, the 2024 Olympic sailing venue, and learning more about it and the conditions. A majority of the top sailors will be there for French Olympic Week and I am delighted to conclude this trip to Europe with another high caliber regatta."
Sliding south of the border, US Sailing recently announced its team roster for the same regatta. The Official USA Sailing Team for this high profile One Design event will be Ian Barrows and Hans Henken, Andrew Mollerus and Ian MacDiarmid, and Nevin Snow and Mac Agnese in 49ers; Markus Edegran on the men's formula kite; Daniela Moroz on the women's formula kite; Sarah Newberry and David Liebenberg on the Nacra 17; Louisa Nordstrom and Trevor Bornarth in the 470, and Steph Roble and Maggie Shea in the 49erFX.
Sail-World wishes good luck to all these athletes in their next events.
In match-racing news, the 57th Congress Cup (April 18-23) recently took place off Long Beach, Calif., and saw skipper Ian Williams and his Gladstone Team Long Beach the crew of Matt Cornwell, Andrew Estcourt, Jon Gunderson, Steve Mitchell and Richard Sydenham beat skipper Taylor Canfield and his Stars+Stripes Team 3-1 to take the honours.
Impressively, it was the fifth time Williams had donned the famous crimson blazer awarded to the winner of this top-flight match racing event. Even more impressive is the fact that Williams defeated a skipper who also has five crimson blazers hanging in his closet.
"I was devastated not to be here last year; and even more gutted now that I remember what I missed," Williams said in an official communication from the event, referring to the 2021 event which he missed due to Covid restrictions. "I wanted to try to be the first to five wins, so it's fantastic now to have matched Taylor. What a great competitor: to match him is fantastic; I guess now it's a six-man race! "
In offshore news, we learned last week that IMOCA skipper Paul Meilhat (FRA) would be taking part in the 2023 edition of The Ocean Race aboard the brand new IMOCA 60 designed by Verdier. Biotherm, which is currently under construction and is expected to encounter brine in August.
"Everything about The Ocean Race excites me," Meilhat said in an official statement. "It's sport, but it's also traveling around the world and being able to discover other countries and create links with new people; it's all great and I can't wait to feel the full story of one of the great events in our sport."
Meilhat, let's remember, was the 2021 IMOCA Globe Series champion and is a former winner of the Roue du Rhum and the Fastnet Race. According to reports, Meilhat also plans to compete solo on board Biotherm in the 2024-2025 edition of the Vendée Globe.
"The new format of The Ocean Race fits perfectly with our current IMOCA program and calendar," continued Meilhat. "It's one of the great races which is consistent with what we do and which has the advantage of taking us to the Southern Ocean, sailing in difficult and demanding conditions, which helps us to develop our boats and themselves as sailors."
Meilhat and his Biotherm now join a confirmed shortlist of IMOCA entries for the 2023 edition of The Ocean Race, including Boris Herrmann Malizia Team and Charlie Enright 11th Hour Race Team.
Finally, much closer to home, owner Manouch Moshayedi and his Rio 100 the crew broke the Newport to Ensenada International Yacht Race (April 22) course record of 2 hours, 33 minutes and 17 seconds, not a bad gain on a track of just 125 nautical miles. Rio 100 The unofficial finish time was just 7 hours, two minutes and 17 seconds, which is now the number to beat for monohulls.
Interesting way, Rio 100 navigator, Peter Isler, now finds himself holding the course record for monohulls and multihulls in the Newport to Ensenada Race, after successfully helping to steer the MOD70 Orion to a new course record in the 2016 edition of this West Coast classic.
May the four winds bring you home safely.

David Schmitt
North American publisher of Sail-World.com