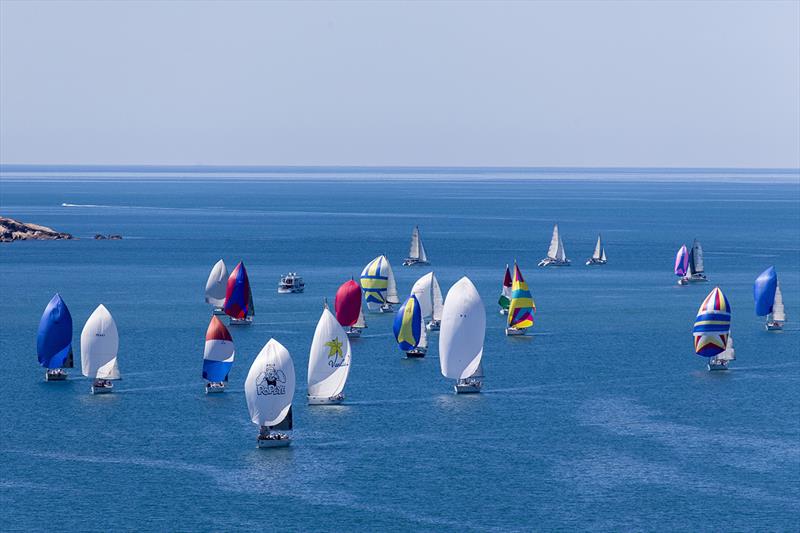 SeaLink Magnetic Island race week ended in four hours!
SeaLink Magnetic Island race week ended in four hours!
by Di Pearson, SMIRW Media Mar 8 22:19 UTC

Competitive races in tropical paradise – SeaLink Magnetic Island Race Week © Andrea Francolini

Within 15 minutes of registration opening for Townsville Yacht Club's (TYC) SeaLink Magnetic Island (SMIRW) Race Week, the northern beauty was at 50% capacity in 15 minutes, and less than four hours more late it was sold out – an unprecedented response for any major Australian sailing event.
"The response has far exceeded our expectations," Mike Steel, the delighted event chair, said of the 15th edition of SMIRW, which will be held September 1-7, 2022.
"We sold out in days last year, but we never imagined it would happen so quickly this time around. Some of the regulars in our own club missed out – they can't believe it – we put them on, so than others who were too late, on a waiting list.
"It's a beautiful island in a beautiful part of the world and I think SeaLink Magnetic Island Race Week offers something a little different from other regattas," he said, rationalizing the sale.
Steel is right, the annual regatta has a certain je ne sais quoi. Part of the attraction is everything from the ferry terminal to Peppers Blue on Blue Resort, its marina, restaurants, supermarket and bottle shop are within shouting distance. And the fun factor is limitless.
"Maggie Island" is such a force of attraction that it has prompted several interstate competitors to set up businesses and/or buy homes there over the years.
Among the newcomers who have yet to taste the delights of the event is Andy Kearnan with his and Peter Wriigley's Grand Prix racing yacht Koa. The Sydney-based TP52 has never traveled this far north to race before, but Kearnan heard about TYC's flagship event from others, and it piqued his interest.
"I've never done Magnetic Island before so can't wait to experience it. Others have told me it's a fantastic, relaxing and enjoyable regatta. It's an opportunity to do racing and having fun. It's a combination of all those things that get us there.
"It's going to be a group of friends getting together and I'm really looking forward to it. Koa has done Airlie Beach, Hamilton Island and Magnetic Island. I've done 11 Hamilton Islands but never got further. "
Shaz and Bob Colman are bringing their Delphia 40, Red Knot, from the Northern Territory to race at Maggie for the first time as well.
"I've done the last two magnetic islands on Celebrity (Wayne McNee's Swarbrick S111) so Bob and I thought we'd bring our own boat this time. We're leaving this week. We'll go straight to Cape York and stop by at Flinders Island Group (in Lakefield National Park, Queensland) We will be doing Port Douglas Race Week in May to warm up," said Shaz Colman.
"I love the spirit of Magnetic Island Race Week. It's fun, but there's also serious competition if you want it. We love the island. We've made friends there and in Townsville, so we're looking forward to catching up again."
On who will crew the boat, the Darwin navigator said: "I'm trying to get a few people from Darwin to join us. Two of my friends are looking forward to coming. We're going to do the Townsville Yacht Club GaLS regatta after Magnetic Island."
Colman and her husband bought the Polish-designed performance cruiser in Brisbane in 2014: "It's well configured for cruising – it's got everything down to the generator, air conditioner and watermaker – so we cruised on the way back and now it's time to come back," she concluded.
A wide variety of boats ranging from multihulls to racing monohulls, cruisers and sports boats take part. Bids representing Victoria, Tasmania, New South Wales, Western Australia, South Australia and the Northern Territory will mingle with Queenslanders in various classes and divisions.
For all information, including the list of participants, please visit: www.magneticislandraceweek.com.au