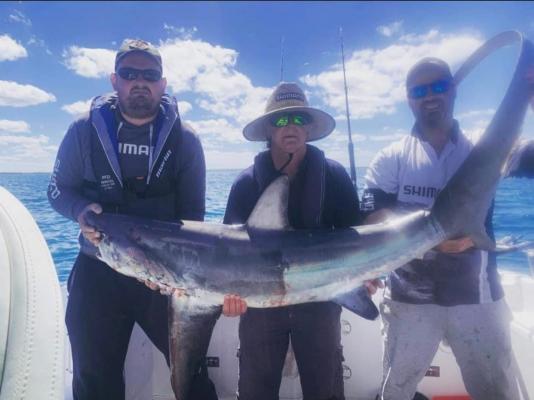 Snapper begins to bite after a slow start to the season
Peri Stavropoulos
The snapper season started off a bit slowly, but after a few days of warm weather the water temperature rose just enough for these fish to start chewing.
Corio's outer harbor has been a prime spot to pick up a snapper, especially towards Portarlington in the old steamboat canal.
Fishing in 11 meters of water with sardines and squid was a lethal tactic to land a few 6 kg fish.
Fishing in the dark or on either side of the changing tide is a prime time to dip bait.
The Trellys snapper lineup is in full swing with plenty of seats still available and time to get in.
The Bellarine Peninsula has fished very well over the past week, particularly from St Leonards to Queenscliff Bight which are the most notable spots.
The size 3.5 jigs have been very effective but if you are looking for the extra edge over your friends try using one with a rattle chamber inside it has been a killer in the last few weeks .
King George's whiting faced a pounding over the long weekend with hundreds of boats dotting the whiting ground making it difficult for anglers to get there in large numbers.
Some fishermen who have managed to escape the large number of boats and find their own fish have managed to do quite well with fish up to 38 cm.
Off Barwon Heads there is always an incredible mouthful of barrel tuna with many boats bringing in fish well over the 100kg mark.
Skirted lure trolling has been the flagship tactic with some boats collecting fish while drifting from pilchards into schools of fish.
Fishing in 65 meters of water, from Torquay to Cape Schanck, has held up tons of fish and shows no signs of slowing down any time soon.
In addition to the hot barrel bite, there was some fantastic bottom fishing with boat snapper and good chewing gummy sharks.
Gone Fishing Charters brought their customers on a perfect table size snapper with lots of fish over 3kg.
Matt Magri was fishing offshore during the week for a few gummies and managed to score himself a cracking thresher shark on the light tackle.
After a crazy 45 minute fight, the fish was his and the smile couldn't be wiped from his face.