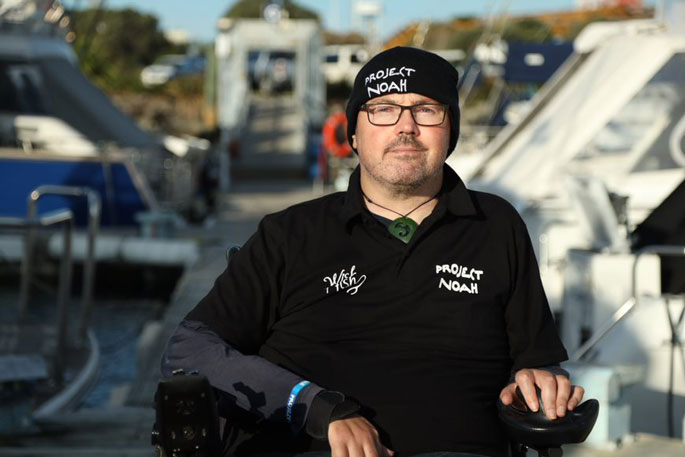 SunLive – Wish4Fish dream comes true
A Tauranga quadriplegic dream of a fishing boat specially designed for disabled, sick and struggling Kiwis has been fulfilled.
It's been a long planning, but the Wish4Fish bespoke boat is afloat and the first profitable trips are booked for December.
Bryce Dinneen is the man behind the dream – a big one that lasted about a dozen years and involved a colossal amount of fundraising.
The $ 2.5 million boat was designed for wheelchair users and is considered a world first in terms of what it can offer the disabled community.
Bryce says it's "awesome" that his idea has turned from a dream to a reality.
"It's going to make such a big difference. The benefits of these trips extend far beyond a day on the water, as beneficiaries get a feel for what can be achieved despite some of the most difficult circumstances they experience.
This avid fisherman would know. He was left a C4 quadriplegic following a shallow diving accident 14 years ago at the age of 29.
He envisioned the idea of ​​the boat while on his back in a spinal unit.
The boat shares the name of the charity Bryce started to provide people with access to the ocean, primarily through fishing trips.
In recent years, the association has taken around 100 people each year on charter boats. Now, thanks to the boat adapted to the use, everything is ready to increase to 1000 per year and the experience will be improved.
The Wish4Fish boat, manufactured by Alloy Cats, is an 18m high displacement alloy catamaran custom designed by Roger Hill and powered by two marine diesel engines. Its capacity is 50 passengers (with that including caregivers).
It includes a specially designed loading system to allow wheelchair access from a wide variety of berths. It includes, for example, a wheelchair access lift to the fly bridge and a full loop gantry crane to allow access to the toilets for all levels of wheelchair users. There are also beds as overnight trips are possible, although most excursions last half a day.
Wish4Fish chief executive Tony Pearce said there was great excitement around the completion of the boat's construction and what it means for New Zealanders with disabilities.
He says that although the boat is based in Tauranga, plans are already underway for it to take passengers to Auckland and the Coromandel and ultimately further afield as it is a New Zealand boat.
The Wish4Fish boat project was made possible through various fundraising activities, as well as a large grant from the Lotteries Commission and financial support from the Lion Foundation, Grassroots Trust and Pub Charities, for example.
While those eligible to enjoy a Wish4Fish boating experience do not have to fish, the boat is fully equipped with fishing gear, bait, remote control fishing rods and electric reels for people. with very reduced mobility.
Travel is free for beneficiaries.
Those interested in booking travel for beneficiaries can contact Tony at [email protected]
The public can support Wish4Fish's efforts through a campaign that has just been launched. Called 1000 Magical Moments, the campaign was created to help raise funds for 1,000 beneficiary trips per year. It costs around $ 180 to bring a beneficiary (and caregiver) on the water.
Tony says people wishing to donate any amount can do so on the Wish4Fish website, www.wish4fish.co.nz
"Donations will allow 1,000 people with physical or mental disabilities, illness or financial hardship, to benefit from the confidence and therapeutic freedom to be on the ocean.
"A day on the water can bring so much joy and provide our beneficiaries with unforgettable memories – we call those moments magical," says Tony.
The Wish4Fish vessel will also be available for commercial charters, with all profits going towards running costs. In fact, the first corporate booking has been received – Bay of Plenty Rugby will be hosting their Christmas function on the Wish4Fish boat.