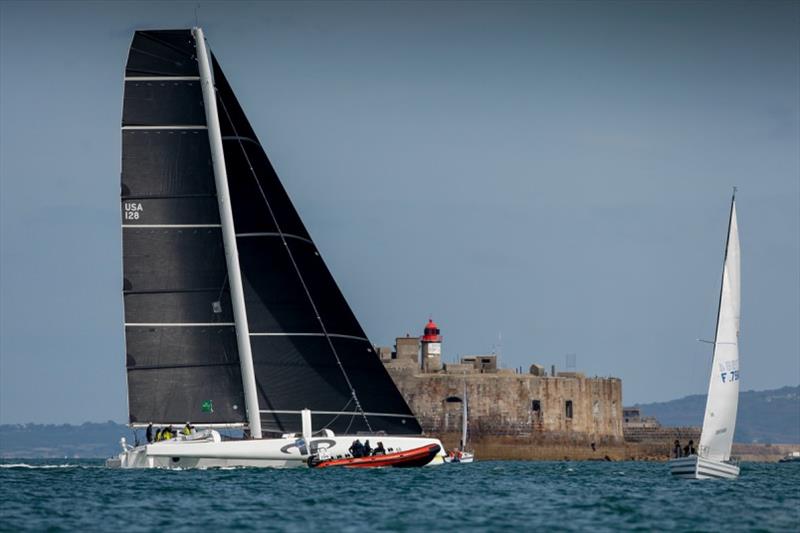 The first MOCRA multihull bursts into Cherbourg during the Rolex Fastnet Race
The first MOCRA multihull bursts into Cherbourg during the Rolex Fastnet Race
by James Boyd / RORC Aug 10 17:26 UTC
August 8-14, 2021
Jason Carroll's MOD70 Argo crosses the finish line at Fort De L'Ouest Lighthouse at 1522 BST © Paul Wyeth / pwpictures.com
While it is difficult to attract attention in the Rolex Fastnet Race away from the fast and glamorous at the front of the fleet, think of the smaller boats among the 337 starters on Sunday.
As the powerful Ultime Maxi Edmond de Rothschild trimaran reached Cherbourg after devouring the 695 mile course in just over a day, Alaistair Cooke's Sigma 36 Sundance was reversing the tide at 2 knots, unable to bypass the starting point still with 570 long miles. remains to navigate.
During the day Brian Skeet and Nicolas Malapert, who were racing in doubles on the Sigma 38 Marta, encountered a similar problem passing the starting point, only to see it again as they were pulled back at the mercy of the tide. "There was absolutely no wind overnight – we were practically dead in the water," Skeet described. "When it was windy we would follow it. There was a lot of haze and fog coming in. It was pretty hard work. There was no chance of kedging because it was too deep, we had to so keep moving forward. "
Their rugged Sigma 38 is well used to severe conditions. In fact, the design went into production after winning a competition organized by the Royal Ocean Racing Club to design a yacht that could withstand racing in the most inhospitable weather conditions after the Fastnet Race tragedy of 1979.
"It was tough work, but not too bad," Skeet continued in his first 24 hours. "That's what the boat is designed for, so she took care of us. Everything was fine. There was no damage to either us or the boat. It was just hard work. least, we've gotten through the worst of times now. "
The last arrival in Cherbourg, finishing at 3:22 p.m. BST this afternoon, was the on-water leader of the MOCRA class – American Jason Carroll Argo's MOD 70 trimaran, which had a relatively lonely race after Giovanni Soldini's quasi-sister, Maserati, retired after its explosion. winch.
"The start at 27 knots was spectacular, but everyone got off to a good start on port tack and were safe, which was good," said Brian Thompson, legend of the British Argo multihull. "It was pretty bumpy there and great races. We were alongside Sodebo for a little while and obviously alongside Maserati for a very long time, all day. It was sad to see them give up."
Thompson said Argo's rounding of Fastnet Rock was the best of his many rounds, both in this race, in other races, and in his record attempts. "It was such a clear sky and a pleasant 10 knot breeze. The sun was shining, it was hot: it was Mediterranean sailing on the south coast of Ireland."
Argo is the first boat in the fleet to take the longest route around the Nord des Casquets TSS en route to the Cherbourg finish line. "It's because we had five knots of tide against us on the final approach," said Thompson. "If we had come the other way, we would have been VMG with five tidal knots against us. then went through the worst of the tidal current [heading south] high speed. The last hour was their fastest at 30 knots, exciting with 5 knots of tide under them.
However, leading the multihull class under MOCRA rule remains Adrian Keller's 84-foot performance cruising catamaran Irens, Allegra, who Thompson said looked untouchable for the class victory.
In the IMOCAs, Charlie Dalin and Paul Meilhat aboard Apivia maintain a monster 45-mile lead over second-placed Charal, led by reigning Rolex Fastnet Race champions Jérémie Beyou and Christopher Pratt. This afternoon Apivia was close to the Cornish coast, just past the Lizard. All the IMOCAs are now around Fastnet Rock with Clément Giraud and Erik Nigon aboard Compagnie Du Lit / Jiliti which brings up the rear, passing shortly after noon.
At 14:42 BST, reigning Luke Berry champion Lamotte – Module Création led the Class40 around Fastnet Rock with a 21-minute lead over second-placed Andrea Fornaro of Italy aboard Tales (punch greater than its weight, taking into account the age of its boat). "We have about 12-13 knots," said Berry an hour before the turn. "They're a little more behind, so they're going to catch up on us a bit.
"I think we handled the wind changes well. In these conditions, we are not slow. On the way back, it will not be as tactical, it will be more a question of speed, which will complicate us a bit. the task with the AWA at 80-85 degrees. There are four Mach 4 behind us and they are going a little faster in there. It will open again in the English Channel in 20 knots: Off Cherbourg there will be no it is not very windy either … We will try to hold on as much as possible but it will be difficult against these faster boats. " The ETA of Cherbourg de Lamotte – Creation Module, it's the early hours of Thursday morning. "We will pray that the tide is with us, but it will depend on our speed. I am very happy to be in this position halfway through," Berry concluded.
The big IRC Zero boats, notably the Polish duo I Love Poland and Sailing Poland, continue to have a strong hold on this class as well as the general IRC price. This afternoon, they were approaching Bishop Rock while they were still well ahead of the water, the ClubSwan 125 Skorpios was approaching the west side of Casquets TSS with an ETA towards Cherbourg at around 2100 BST this evening.
RORC Commodore James Neville's INO XXX was the first IRC One to round Fastnet Rock at 2:30 p.m. BST this afternoon, holding a 3.5 mile advantage over the second Elliot 44CR Matador of Sweden's Jonas Grander.
"It was a tough, pretty horrible first 24 hours," Neville said of their departure and their first night. "We headed south pretty well. It was just difficult – very wet, everything was soaking wet – just what you like! We made a few sail changes and kept the boat moving. The changes were pretty good. and we got to the east side of the TSS at Land's End. Then the weather got better and we had a tide under us heading north. Now the Irish Sea is beautiful, a real glamor. We reach the Rocher at around 12 knots. It's a beautiful afternoon. "
The IRC breakaway Two leaders on the water, Britain's Tom Kneen's JPK 10.80s Sunrise and Dutchman Astrid de Vin's Il Corvo, had 40 and 50 miles respectively to go to reach Fastnet Rock this afternoon, making good progress in the southwest breeze. . During the day, Sunrise rose firmly to the top of the class although the other 10.80, Fastwave 6 of Eric Fries and Leclerc Hennebont / Cocody of Richard Fromentin made strong progress.
A drag race in the middle of the Celtic Sea takes place to boast of being ahead of IRC Three, with the Sun Fast 3600 Fujitsu British Soldier on the left side of the course, slowly overtaken by Louis' JPK 1080 Raging-bee -Marie Dussere "and J / 120 Hey Jude from Philippe Girardin, followed closely by Alexis Loison and JPK 1030 Léon from Guillaume Pirouelle, at the top of the IRC ranking, even if it is incredibly close.
The first of the IRC Four this afternoon were halfway through the Celtic Sea at around 7.5 knots. Here, David le Goff's JPK 10.10 Raphael continues to lead both on the water and under the IRC corrected time of Harry J. Heijst's S&S 41 Winsome. During the day the JPK 10.10, the Gioia of the Pinteaux family and the British favorites and Richard Palmer and Jeremy Thwaite in doubles on Jangada mounted the field.