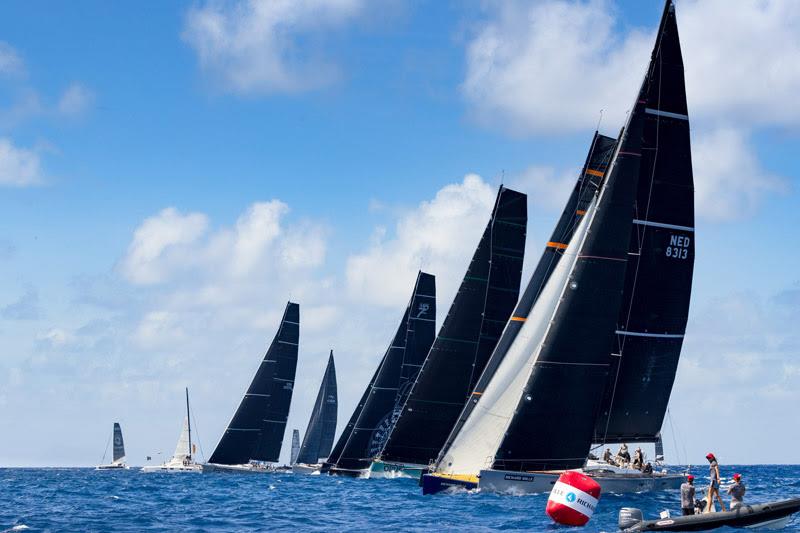 The Sails of St. Barth Richard Mille
Les Voiles de St. Barth Richard Mille – Less than a month before the start of the 11th edition
by Les Voiles de St Barth Richard Mille Mar 26 21:54 UTC
April 17-23, 2022
Les Voiles de Saint-Barth Richard Mille © Christophe Jouany

Last stopover to participate in the 11th edition of the Voiles de St. Barth Richard Mille, with a fleet of 72 sailboats ready to compete from April 17 to 23, 2022. The regatta open to the Maxi, Spinnaker and Multihull classes promises some great battles at the arrival and a truly fantastic spectacle on the water, with equally magical moments on land to add to the fun…

2022 Poster
This year's Les Voiles poster will be on sale at the Race Village throughout the regatta.
Proceeds from the sale of the posters will be donated to Coral Restoration St Barths, a non-profit organization that has worked hard for many years to repopulate areas on the reefs with genetically strong and diverse corals.

Focus on the Multi Class
16 multihulls are currently entered in the race: As part of the ORCmh (multihull ratings rule), there are four HH66s: R-Six, Nala, Flash and newcomer Nemo. These fast 66′ (20.1m) cruising catamarans, designed by Morrelli & Melvin, are of an impressive breed, combining speed and elegance. Named Best Boat by SAIL Magazine and Best Multihull by Sailing World in 2018, the HH66 has set a new standard for luxury, high-performance cruising.
In race against them, according to the CSAmulti scoring rule, entries include three Orc50s: Five Oceans, Addictive Sailing and Guyader Saveol. These liveable cruising catamarans are built by the French shipyard Marsaudon Composites. This fiberglass centerboard sailboat, rigged as a split sloop, and designed by naval architect Christophe Barreau, is 15.23m long (50′) with a maximum draft of 2.7m. No doubt the competition will be fierce in these two categories.
As a reminder, in 2014 Les Voiles de St. Barth Richard Mille adopted the Multihull Ratings Rule-ORCmh. This rating system specific to any type of catamaran or trimaran aims to be fairer and more egalitarian in the ratings, because it takes into account the characteristics of the centerboard and the geometry of the hull, as well as the weight, during attribution of disabilities.
See the list of entries

Les Voiles welcomes a new partner from Champagne
Founded in 2005, Champagne Barons de Rothschild is a family business close to the heart of the three branches of the Rothschild family. For the first time in their history, the three have united to create a common vineyard, working together to create their unique interpretation of a Grand Vin de Champagne, blending the elegance of Chardonnay with prolonged aging and a minimalist dosage.
"We are proud to associate our brand with this superb regatta, Les Voiles de St Barth Richard Mille, which is the perfect extension of our family's historic attachment to the paradise that is Saint Barth. It is also a fine demonstration of our desire for excellence. without compromise and an invitation to enjoy the best of the French art of living." Frédéric Mairesse, Managing Director, Champagne Barons de Rothschild – Frédéric Mairesse, Managing Director, Champagne Barons de Rothschild

Course 2022
St Barth has many peripheral islands, large and small. The average water depth is around 20 meters, with some more delicate areas for those with a greater draft (up to 8.5 m). "The courses are designed around the island and these islets to try to vary the attraction and multiply the manoeuvres, mixing upwind and downwind tacks", explains Luc Poupon, race director.
"The choice is made by the race committee according to the daily weather conditions, the size of the boats, and therefore their average speed", adds Poupon. "Departures are usually around 10 a.m., the aim being that all the boats are back in port by 5 p.m. In certain categories, we can organize two races in the same day."
2022 race documents available here.

Day off at Nikki Beach
Do not hesitate any longer and register now for our Day Off on Thursday April 21 at Nikki Beach, a restaurant by the water on the magnificent beach of St Jean.
Places are limited, so reservations are highly recommended. Contact for reservations.