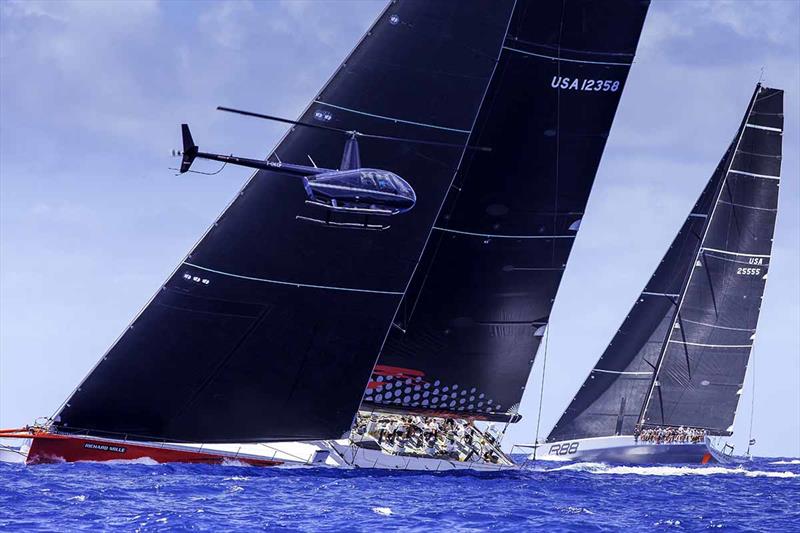 Top 10 reasons to participate in Les Voiles de St. Barth Richard Mille
Top 10 reasons to participate in Les Voiles de St. Barth Richard Mille
by Laura Muma Feb 4 19:03 UTC
April 17-23, 2022
Les Voiles de Saint-Barth Richard Mille © Christophe Jouany

In the DNA of Les Voiles de St. Barth Richard Mille are remarkable boats, high caliber crews, challenging race courses on the incredible blue water of the Caribbean and ideal weather conditions. But it's right on the water…
Designed in 2010 by François Tolède and Luc Poupon, Les Voiles de St. Barth Richard Mille also offers its chic and relaxed atmosphere and a variety of entertainment ashore, able to please sailors, their family and friends, as well as to the inhabitants of the island. It is an event that has become unmissable today and for which there are at least 10 good reasons to want to discover it… or to come back to it!

1. Open and ready for guests
If, for two years, the planet has been facing a health crisis of exceptional magnitude, the island of Saint-Barthélemy continues to do well in the face of the pandemic. Although conditions may change, tourist season is in full swing, as evidenced by numerous reports of celebrity sightings, enjoying the charm of the French island.
Les Voiles de St. Barth Richard Mille is scheduled for April 17-23, 2022, and bars and restaurants, shops and tourist attractions are ready to welcome sailors and their guests.

2. An exceptional place, a professional organization
Les Voiles de St. Barth Richard Mille has established itself as a major event in the Caribbean. The regatta attracts at least 15 nationalities each year, nearly 800 sailors and the most spectacular boats on the planet with many Maxis and Gun Boats, including the powerful Comanche. Skippered by Mitch Booth, Comanche and his crew have just broken the RORC Transatlantic Race record and plan to tackle Les Voiles de St. Barth Richard Mille as part of their Caribbean racing schedule.
"Saint-Barth is an incredible playground for sailing and Luc Poupon and his team offer superb courses around the island and its islets, promising to vary the pace. It doesn't matter if some shorter courses will require multiple maneuvers, which are not necessarily Comanche-style. benefit, we look forward to participating," Booth said.

3. High level competition
Booth, an Australian with two Olympic medals and several world championship titles, is just one example of the sailing "stars" who can't wait to return to Les Voiles de St. Barth Richard Mille. From offshore racing specialists, to Olympic, World Championship and America's Cup medalists, current and past crew lists read like a sailing "who's who": Terry Hutchinson, Jonathan McKee , Loïck Peyron, Stu Bannatyne, Ken Read, Andy Beadsworth, Pierre Casiraghi, Saskia Clark, Pete Cumming, Jean-Pierre Dick, Marc Emig, Simon Fisher, Michael Giles, Andy Green, Phil Harmer, Peter Harrison, Sir Peter Harrison, Sir Richard Matthews, Sean Clarkson, Mike Sanderson, Maxime Sorel and so many others have already taken part in the race. The 2022 edition already has a few surprises in store!

4. A race integrated into the Caribbean Maxi Challenge
After launching an Offshore circuit in the Mediterranean in 2016 then an Inshore circuit in 2019, the International Maxi Association (IMA) announces a new program in the Caribbean: the Caribbean Maxi Challenge. Open to all Maxis over 60 feet, it includes four prestigious events, including Les Voiles de St. Barth Richard Mille.

5. An eco-responsible regatta
Les Voiles de St. Barth Richard Mille continues its commitment to make the event as clean, ethical and responsible as possible, focused on two objectives: to preserve the paradise that is their island but also to set an example. Thus, the objective of the regatta is to become zero plastic. Cocktails and coffees served in ecological cups, exclusive use of biodegradable materials and the installation of multiple water points within the race village are just a few steps taken.

6. The right balance between festive and competitive
The island of St. Barts strikes the perfect balance between European sophistication and laid-back island charm. Long white sand beaches, turquoise sea, luxurious hotels and elegant villas, restaurants offering a rich and varied taste palette…
These ingredients, combined with the intense racing on the water and the relaxed atmosphere of Les Voiles de St. Barth Richard Mille in the centrally located Race Village, the lively "Crew Party" on a beautiful beach, or the famous festivities " Day off" in a festive atmosphere, make it a "must have" on the calendar of each runner (as well as his family and friends).

7. An event open to as many people as possible
Les Voiles de St. Barth Richard Mille is open to Maxis (under IRC gauge), Spinnakers (under CSA gauge), Multihulls (IMRR and OMA) and Melges 24. Racing Charter boats are still available for teams interested in discovering the magic of Saint Barth.

8. Varied Courses
Race director Luc Poupon offers more than 30 different courses that vary between 15 and 47 miles, each promising to challenge and reward teams with spectacular scenery requiring sharp tactical decisions. Every morning, Poupon chooses the race courses (1 to 2 races are scheduled each day) according to the direction of the wind, the state of the sea and the forecast so that the fight on the water is close and interesting. , both for the sailors and for the spectators.

9. Turnkey logistics
The Sevenstar team, logistics partner of Les Voiles de St. Barth Richard Mille, is available to teams to transport their boat to and from the United States, Europe, Australia or Asia to the Caribbean. Turnkey services include assistance in obtaining spare parts, containers or transferring packages by air freight.
The regatta also offers a free concierge service to help interested competitors with transport, on-site logistics and accommodation. We are able to share preferential rates. The objective of the organizers is thus to be able to meet all the expectations and needs of the crews and their companions so that relaxation remains the key word before, during and after the event.

10. The Richard Mille Maxi Cup and the Richard Mille Trophy
Created in 2018, the Richard Mille Maxi Cup rewards the winner of the general Maxi classification, a class mixing carbon racing beasts and luxury racing yachts. The Richard Mille Record Trophy rewards the winner of the long-distance race of the regatta, a 40-mile course between the islands of Saint-Barth and Tintamarre. The challenge is open to the fastest classes, namely Maxi, Spinnaker 0 and Multihulls.