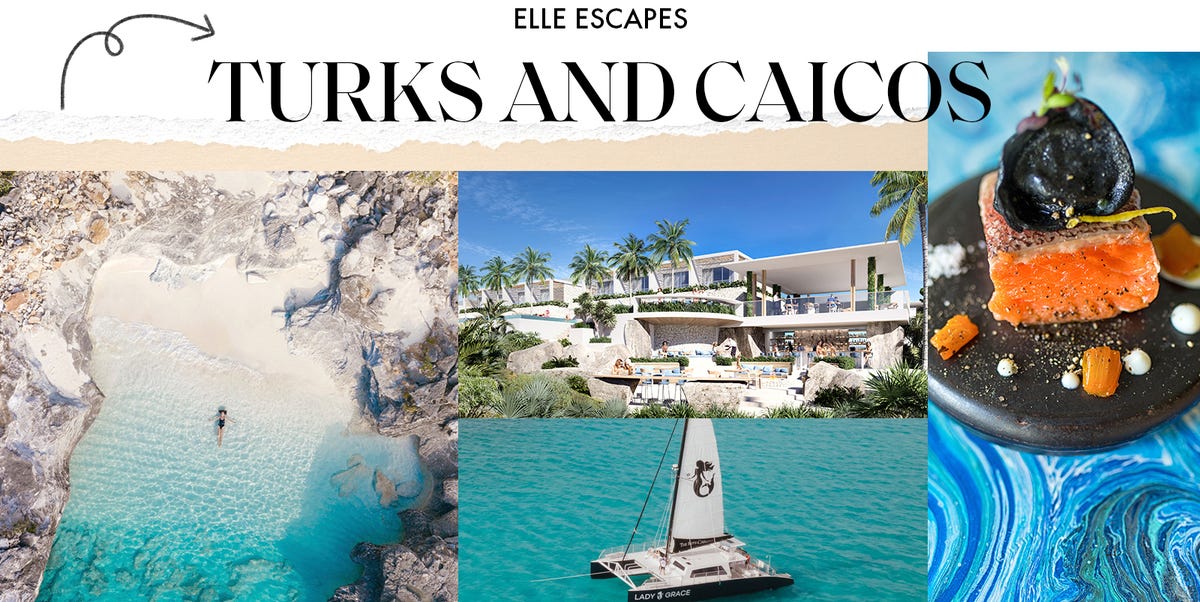 Turks and Caicos Islands travel guide
Tourism in the Turks and Caicos Islands has come a long way since Club Med opened the very first resort on the island in 1983. Today, the British Overseas Territory that tempted travelers to the Caribbean over the past few decades has developed a distinct luxury vibe, complete with celebrity chefs. , world-class shopping, spas and more, while maintaining the laid-back, small-town island atmosphere. And activity on the most populous island of the archipelago shows no signs of slowing down. On Providenciales, or "Provo" to the locals, you'll find a slew of new eco-friendly restaurants, bars, and resorts. Weave in summery climes all year round – even the rain passes through the "liquid sun" – and it's a weekend destination well worth considering for your next getaway.
Lady Grace
"On a clear day, you can see 12 shades of blue," says Andrew Dear, director of residences at the new Ritz-Carlton, Turks & Caicos. A bay window behind it showcases the entire coastline of Grace Bay, regularly voted one of the best beaches in the world. Climb aboard Lady Grace, the hotel's 65-foot catamaran, for a sunset cruise and a rare glimpse of JoJo the Dolphin, the island's most famous mammal.
Flamingo Pond View
Take a half-hour ferry from Leeward Marina to the remote island of North Caicos, where you can visit the Flamingo Pond Overlook, a sanctuary for West Indian flamingos in the Ramsar Nature Reserve. Time your arrival at the right time and you may spot thousands of exotic pink birds wading through the crystal clear water. Note that interfering with flamingos or their eggs is illegal, so bring or rent a pair of binoculars instead.
Amanyara
Relaxation is essential to Turks, and fortunately, travelers have no shortage of spas to choose from to do just that. Amanyara stands out for its secluded reflection pond, Indonesian black lava rock infinity pool and lush foliage in a protected nature reserve, as well as its comprehensive list of spa treatments made with local ingredients and administered in the one of four waterfront pavilions. Choose a service from the Aman Rituals menu to combat jet lag, such as the 90-minute Grounding Massage, which uses rose quartz crystals, jasmine, rare Peruvian black and purple muds, and wild harvested butters to hydrate and heal your body.
Da Conch Shack
As home to the world's only conch farm, it's no surprise that the Turks and Caicos' signature restaurant is Da Conch Shack. Head to this beach bar in the Blue Hills neighborhood of Providenciales for a fresh conch salad and a pitcher of rum punch with your toes in the sand. On Wednesday evenings, enjoy live music from the We Funk Junkanoo Band, whose lineage dates back to West African tribes. Fun fact: many of the island's costumes and instruments are made from recycled cardboard, newspaper, fabric scraps and goatskin.
Coco Bistro
Nestled in a palm grove and considered one of the best restaurants on the island, Coco Bistro offers plenty of charm, with executive chef Stuart Gary at the helm. The five-minute drive inland is a small sacrifice to feast on fresh fish or the restaurant's seasonal spicy cognac lobster bisque in semi-isolation under the floating fronds. No reservation? Try Cocovan, the nearby bistro's 1974 Airstream food truck.
Eric's Provence
Book the 14-seat chef's table at Provence by Eric to see Chef Eric Vernice bring a French twist to Caribbean cuisine. Savor the five-course tasting menu or opt for an à la carte option, such as The Surf and Turf or the Herb-Crusted Roasted Lamb. Located in the bustling Le Vele Square of downtown Provo, the restaurant is just steps away from a lively nightcap.
Blu Bar & Lounge
Blu Bar & Lounge, one of the newest bars on the Grace Bay Strip, attracts a more mature clientele with its relaxed, stylish vibe and extensive wine, beer, and cocktail menu. Hit happy hour from 5-8 p.m. for a mojito or margarita after a long lazy day on the beach (you deserve it).
At Danny Buoy's
Locals and tourists flocked to Danny Buoy's, a classic island watering hole with a dance floor, ocean sunset views and karaoke, every day of the week. Live music, spinning DJs, and a slew of sports playing on flat-screen TVs keep the party atmosphere going well into the early hours.
Infinity Restaurant and Raw Bar
Head to Infiniti Restaurant & Raw Bar at Grace Bay Club, the island's first infinity bar, spanning 90 feet of prime shoreline. Locals recommend starting with the signature GBC Mai Tai cocktail before slowly moving into Black Miso Cod and finishing with the house specialty: Gold-Flecked Chocolate Gourmandize.
Grace Bay Club
Grace Bay Club, the OG of modern sophistication, sits on 1,100 feet of waterfront in the center of the action. It opened in 1994 as the flagship property of Grace Bay Resorts, claiming its title as the island's first luxury retreat. A yoga pavilion, multiple pools, and a range of multi-bedroom suites with optional private chef service make this an ideal hideout for an extended family vacation or a girls' weekend.
rock house
The newest and chicest property on the island, Rock House marks the latest addition to the Grace Bay Resorts portfolio. A 10 minute drive from Grace Bay to the rugged north coast of Provo brings you to a hamlet carved entirely out of limestone. Extremely stylish and far from stuffy, the resort offers 10 suites with elevated ocean views, as well as a European-style pier, a choice of acclaimed restaurants and upscale bars, and the longest infinity pool of the island.
The Ritz-Carlton, Turks and Caicos Islands
The first Ritz-Carlton in the Turks and Caicos Islands opened its doors last summer, with 147 rooms located on the coast of Grace Bay. The 10-story resort, the tallest in Provo, has expansive balconies attached to its 27 oceanfront rooms, as well as private poolside cabanas, a quartet of restaurants serving delicious global cuisine, a state-of-the-art spa with world class massage therapists. , and its own catamaran and casino.