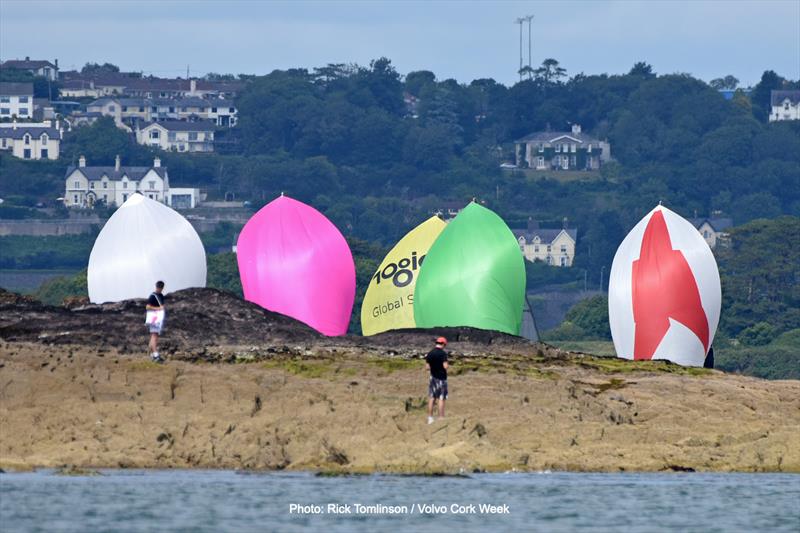 Volvo Cork Week 2022 at the Royal Cork Yacht Club
Volvo Cork Week 2022 at the Royal Cork Yacht Club – Day 3
by Louay Habib Jul 13 21:47 UTC
July 11-15, 2022

Day three of Volvo Cork Week incorporating the ICRA National Championships was blessed with sunshine and an 8-10 knot breeze from the north. The majority of the 192 teams competing were racing in Cork Harbor today, forming a riot of color from spinnakers in the scenic harbour.
Both Non-Spinnaker and IRC One classes started their long run in Ringabella Bay. The Cape 31 class and the Dragons had downwind races off Roaches Point.
Winners of the IRC racing classes and the one-design race on July 13 at Volvo Cork Week: Cape 31 Antix, Cape 31 Shotgunn, Mills 39 Zero II, J/109 Joker 2, Quarter Tonner BLT, 1720 Rope Dock Atara, Ker40+ Signal 8.
Winners Dragon and Echo Non-Spinnaker July 13: Dragon Phantom by Peter Bowring, Dragon Little Fella by Cameron Good, Sweet Dreams by Batt & Helen O'Leary, Roaring Forties by Clodagh O'Donovan
Cork Volvo Week results: www.sailwave.com/results/VolvoCorkWeek2022.htm

Classic Class
White Bay on the east side of Cork Harbor near Roches Point was today the perfect racing area for the classic class. The elegant class includes boats over 100 years old, lovingly restored by their caretakers.

Echo One without spinnaker
Teams from the Royal Cork Yacht Club took the podium in today's race in the Non-Spinnaker Echo One. Sweet Dreams of Batt & Helen O'Leary won the race by 88 seconds after a time correction from Rosmarina of Ronan Twomey. Mike MacCarthy Jolastan finished third.
Frank Caul's Prince of Tides finished fourth today but still leads the class for the regatta, but only thanks to Rosmarina's countdown and definitely in the mix is ​​Paul O'Shea's Elegance, who is only a step away. a point from the class leader.

Echo 2 without spinnaker
Teams from the Royal Cork Yacht Club also filled the podium in today's race in the Non-Spinnaker Echo Two. Royal Cork's Clodagh O'Donovan's Roaring Forties won today's race more than five minutes ahead of Kieran O'Brien's Magnet. Frank McGrath's Big Mac was just 12 seconds behind Magnet.

Daily Prizes
A special prize at today's daily awards show went to the all-female team that raced Kerri Ann Boylan's Cisco of Skerries Sailing Club. Cisco received a 500 euro voucher from Volvo Cars. Kerri Ann is an experienced coach having taught in both Nantucket USA and Ireland. The team grew by sailing against each other throughout the early years in the Optimist.
"We literally got the team together for Cork week and we're improving our performance with every race," commented Kerri Ann. "Cork week is a great regatta, very friendly with lots of people who love to race. We hope to encourage more women and girls to race keelboats. It has been fantastic to bring the girls together because we come from all over the Ireland."

IRC One
Nick Burn's Royal Hong Kong YC had a great day on Mills 39 Zero II winning today's race with over 10 minutes after IRC time correction. Class leader for the regatta, the J/111 Journeymaker 11 of Louise Makin and Chris Jones of Royal Southern YC finished second. Richard Fildes Corby 37 Impostor of Abersoch Wales finished third in today's race

IRC Two
John Maybury's J/109 Joker 2 of Royal Irish YC won today's race almost three minutes ahead of Pat Kelly's J/109 Storm of Rush/Howth YC. The Evans Brothers racing J/99 Snapshot broke the J/109 dominance in the class, finishing third today. Howth YC's Snapshot team was just 23 seconds behind Storm.
"So far so good," Joker's John Maybury commented. "We often race against Storm, Chimaera and Artful Dodjer, all of whom are well sailed J/109s. to not get wrapped up in a personal battle because there are a lot of good teams racing on other types of boats.
"Today as we finished ahead of Cobh, the race director dropped the gun and then threw the empty cartridge at us as we passed them. It was a nice gesture… It's great to be back. back to Cork Week."

IRC Three
Sam Laidlaw's Quarter Tonner BLT of the Royal Yacht Squadron has won its fifth consecutive race and has a big lead in IRC Three. Quarter Tonner Illegal of Dorgan, Marshall & Losty of the Cove Sailing Club finished second again and are five points behind BLT with two days of racing to go. Marcus Ryan's Irish youth team taking on J/24 HeadCase had another great run to finish third, just one point behind Illegal.

Coastal class
Jamie McWilliam's Royal Hong Kong YC team with Ker40+ Signal 8 was today's winner. Tactician Andrew McLelland was also celebrating his birthday! "We weren't sure which direction to take on the first beat, so we hedged our bets and stayed in the middle of the course, which was a low-risk strategy," commented McLelland, a licensed expert, but also a J/24 World Champion.
"Later in the race we made a few gear changes and just pulled away from the fleet, which is what we have to do as a scratch boat."
Signal 8 won the race by over three minutes after Steve Hayes of Greystones SC's Magic Touch IRC time correction. Dexterity from Liam Madden of Foynes YC finished third. Signal 8 is now class leader for Paul & Deirdre Tingle's X4 Alpaca racing regatta from Royal Cork. Robert Rendell's Grand Soleil 44 Samatom of Howth YC is third.

Cap 31 Irish Nationals
The Cape 31 class again raced the National Championship Leeward course off Roaches Point. Royal Cork YC's Anthony O'Leary's Antix scored 1-3-1 to take the series lead. Howth Yacht Club's Dan O'Grady's Aja scored a 4-2-2 to drop to second. Michael Wilson's Shotgunn went 5-1-4 to end the day in third place for the series.

Beaufort Fastnet Race Cup
The Beaufort Cup started its coastal race today inside Cork Harbour. Grand Soleil 40 Nieulargo's Crosshaven RNLI team, owned by Annamarie Fagen and Denis Murphy, won today's race by more than four minutes after the IRC time correction. The Royal Navy team racing J/109 Jolly Jack Tar, skippered by David Warwick, finished second. Third was the Defense Forces Ireland team skippered by Tom Roche on the Solona 45 Meridian.

Class 1720
Class 1720 had a standalone Cork Harbor Race today. Rope Dock Atara with Ross McDonald at bat, representing Royal Cork YC & Howth YC, took a solid win leading the race from start to finish. Fionn Lyden's Spiced Beef of Baltimore SC finished second and Peter O'Leary's Royal Cork team with Ricochet finished third.
Racing at Volvo Cork Week continues tomorrow with the penultimate day of racing for the regatta. Five racing areas, inside and outside Cork Harbour, will be hosted by the Royal Cork Yacht Club.
For more information, visit www.corkweek.ie