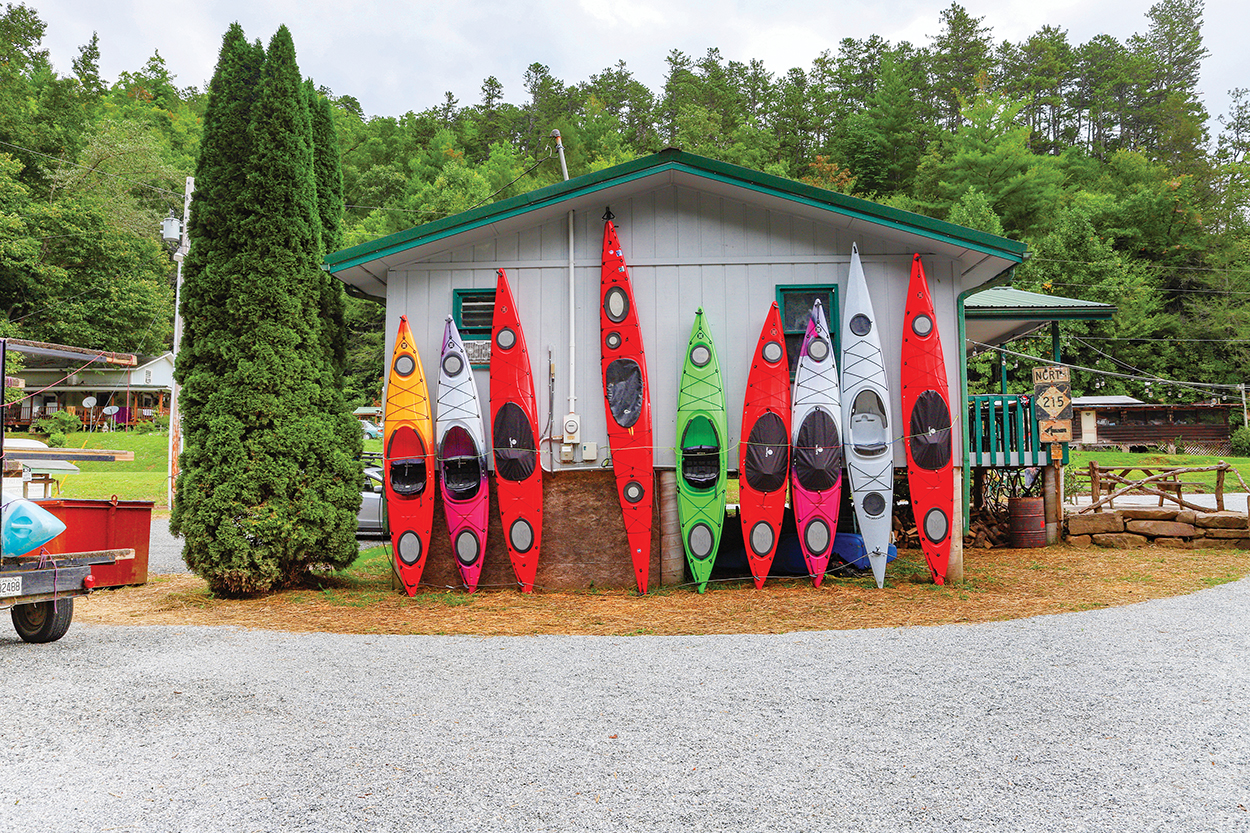 Water lovers, rejoice | Upstream outfitters
Written by: Mary Jane McCall | Problem: 2021/10 – October
Paddles in the water! Headwaters Outfitters in Rosman allows you to discover the French Broad River. Then you can relive the adventure at Forks of the River Taproom. Before you go, visit headwatersoutfitters.com.
---
LnRiLWNvbnRhaW5lcltkYXRhLXRvb2xzZXQtYmxvY2tzLWNvbnRhaW5lcj0iMGQxNDkzYzBjZWM1YzQyMmRiMzNlOTc2NmZjYTFmZDciXSB7IHBhZGRpbmc6IDEwcHggNDBweCAxMHB4IDQwcHg7IH0gLnRiLWNvbnRhaW5lcltkYXRhLXRvb2xzZXQtYmxvY2tzLWNvbnRhaW5lcj0iZWQzODMyYWE2MjAxY2JlYzViMWU1YjkwMmRjMDY3ZTIiXSB7IHBhZGRpbmc6IDI1cHg7IH0gLnRiLWJ1dHRvbltkYXRhLXRvb2xzZXQtYmxvY2tzLWJ1dHRvbj0iZTVkMGMwYWZjZWM1ZWRiOTA5MWEwMGU3Zjc2ZmJjODkiXSAudGItYnV0dG9uX19saW5rIHsgYmFja2dyb3VuZC1jb2xvcjogcmdiYSggMTU5LCA4MiwgNTcsIDEgKTtib3JkZXItcmFkaXVzOiAwO2NvbG9yOiByZ2JhKCAyNTUsIDI1NSwgMjU1LCAxICk7Zm9udC1zaXplOiAxMnB4O2xpbmUtaGVpZ2h0OiAxMHB4O3RleHQtdHJhbnNmb3JtOiB1cHBlcmNhc2U7Y29sb3I6IHJnYmEoIDI1NSwgMjU1LCAyNTUsIDEgKTsgfSAudGItYnV0dG9uW2RhdGEtdG9vbHNldC1ibG9ja3MtYnV0dG9uPSJlNWQwYzBhZmNlYzVlZGI5MDkxYTAwZTdmNzZmYmM4OSJdIC50Yi1idXR0b25fX2ljb24geyBmb250LWZhbWlseTogZGFzaGljb25zO21hcmdpbi1yaWdodDogNXB4OyB9IC50Yi1idXR0b25bZGF0YS10b29sc2V0LWJsb2Nrcy1idXR0b249ImU1ZDBjMGFmY2VjNWVkYjkwOTFhMDBlN2Y3NmZiYzg5Il0gLnRiLWJ1dHRvbl9faWNvbjo6YmVmb3JlIHsgY29udGVudDogJ1xmNTA4JzsgfSAudGItZmllbGRbZGF0YS10b29sc2V0LWJsb2Nrcy1maWVsZD0iZTk1NDE4ZjgxYmZmMjFjMzQ1OTZkYjY2MjhmNDVlYjIiXSBhIHsgdGV4dC1kZWNvcmF0aW9uOiBub25lOyB9ICBbZGF0YS10b29sc2V0LWJsb2Nrcy1pbWFnZT0iZjI5MTJiODMzZDM1MjEzYmNiOGM3MzhlZGMwZjU5ZTciXSB7IG1heC13aWR0aDogMTAwJTsgfSAudGItZmllbGRzLWFuZC10ZXh0W2RhdGEtdG9vbHNldC1ibG9ja3MtZmllbGRzLWFuZC10ZXh0PSI4YmFhZjBmOTZlZGYzMzJkZTg4MmRmZDIzNDVkZjYzMiJdIHsgbWFyZ2luLXRvcDogMDtwYWRkaW5nLXRvcDogMDsgfSBAbWVkaWEgb25seSBzY3JlZW4gYW5kIChtYXgtd2lkdGg6IDc4MXB4KSB7IC50Yi1maWVsZFtkYXRhLXRvb2xzZXQtYmxvY2tzLWZpZWxkPSJlOTU0MThmODFiZmYyMWMzNDU5NmRiNjYyOGY0NWViMiJdIGEgeyB0ZXh0LWRlY29yYXRpb246IG5vbmU7IH0gICB9IEBtZWRpYSBvbmx5IHNjcmVlbiBhbmQgKG1heC13aWR0aDogNTk5cHgpIHsgLnRiLWZpZWxkW2RhdGEtdG9vbHNldC1ibG9ja3MtZmllbGQ9ImU5NTQxOGY4MWJmZjIxYzM0NTk2ZGI2NjI4ZjQ1ZWIyIl0gYSB7IHRleHQtZGVjb3JhdGlvbjogbm9uZTsgfSAgIH0g
Memories are created in the great outdoors here at the Plateau and Headwaters Outfitters at 25 Parkway Road in Rosman, NC is the place to go to begin your outdoor aquatic adventure. Since 1992, this small family business has offered memorable canoe, kayak, tube and fly fishing trips in the French Broad River watershed. Next year, 2022, they will be celebrating 30 years of Headwaters.
From April 1 to the end of October, guests can enjoy self-guided or guided canoe or kayak trips on the first section of the historic French Broad River. This Class 1 section offers scenic and calm paddling tours for all skill levels and is a great place for beginners to try paddling on moving water. Year round Headwaters offers guided fly fishing tours and bass charters who are led by their team of experienced professional guides. Guests can enjoy half or full day outings on two pristine private water bodies, or venture over 250 miles of public streams in and around the Pisgah and Nantahala National Forest . Whether it's your first time on the water or you're an advanced angler, Headwater Outfitters can tailor a trip tailored uniquely to your talents, tastes and needs.
Don't miss their October canoe trip in fall colors. What better way to take in the splendor of fall than by paddling a scenic river and feeling like you're the only one in the world? Enjoying the colors and escaping the crowds is a win-win.
Their outdoor shop / fly shop has a great selection of gear and clothing and you will likely find used boats, kayaks and accessories for sale during the fall season. Why not plan ahead and start your Christmas shopping and find the perfect gift for the water lover or fisherman on your list? Headwaters is proud to offer cutting edge products made in the USA, such as Thomas and Thomas Fly Rods, Wenonah Canoe and Dovetail workwear. Hours vary seasonally, but in October the retail store is open daily from 8:00 a.m. to 6:00 p.m.
The Forks of the River Taproom is a short walk from the retail store and you can often find local food trucks on site! So enjoy a cool drink and lunch on the river while you're there. The Taproom offers local craft beers on tap and a variety of beers, wines and ciders to take with you on your next adventure. They often have entertainment during the season, so keep a close eye on their Facebook and Instagram for a calendar of events. Every Tuesday evening from 5:30 p.m. to 7:30 a.m., you can ride flies and talk fishing with their fly fishing guides. It is open to all skill levels and additional tools and materials are provided. You won't want to miss a moment of this fun.
Hours vary by season, so visit their website at headwatersoutfitters.com for more information, as well as the aforementioned Facebook and Instagram pages.