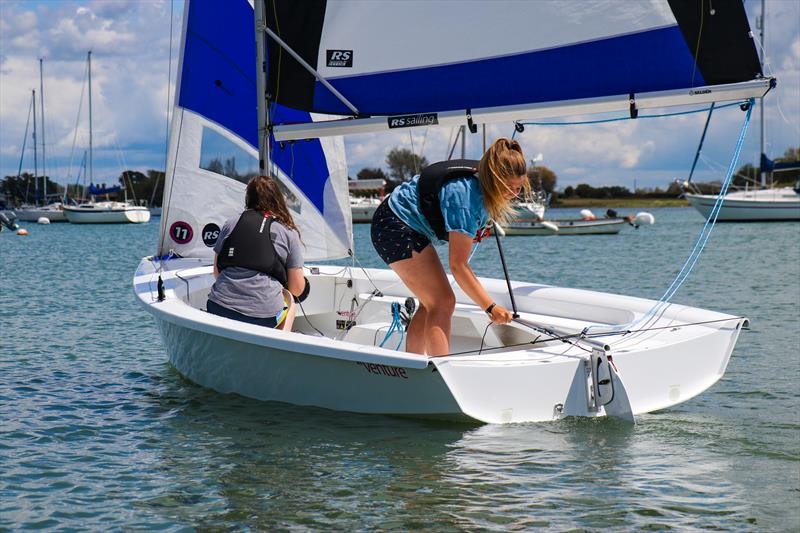 What can you do to help increase the participation of women in your sailing club?
What can you do to help increase the participation of women in your sailing club?
by RS Sailing Mar 16 13:18 UTC

Help increase female participation in your sailing club © RS Sailing

There are some amazing initiatives to increase female participation at the top of our sport right now, from Olympic Games, SailGPfor The ocean race but what can we do locally to help increase female participation in your sailing club?
In December 2019, the World Sailing Trust released a report that overwhelmed much of the sailing community due to the proximity of the pandemic. the Women in Sailing Strategic Report was a huge undertaking, the survey received over 4,500 responses from 75 countries, from people between the ages of 11 and 83 with roles and experience in the sport – dinghies and keelboats sailing on and at sea, representatives MNAs and class associations, and race officials, referees and event organisers.
The ambition of the strategic review was relatively simple: to identify the disparities in sport, understand why they exist and think about what could be done to improve the balance, drawing on the examples of sailing and other sports.
Below are some of the suggested initiatives you could implement in your local sailing club to improve gender diversity and increase the participation of women and girls. World Sailing suggested prioritizing 2-3 to start in the next 6-12 months, and 2-3 more to add after that. Identifying a champion and/or committee is a good way to ensure that this work moves forward.
Provide or find mentors for sailors in your clubs. This can be done through internal or local networks – mentors can be male or female. Alternatively, there may be external mentorship programs that your members could access.
Introduce a women-only regatta to provide dedicated opportunities for women to sail together. How can you help women get involved who might not be inclined to volunteer or might lack confidence?
Introduce a mixed regatta where women helm and make up more than 50% of the crew, e.g. Irish Pathfinder Regatta in 2019.
Compulsory races which must be coxed and/or with a female crew.
Mandate mixed crews in regattas / change rules to encourage higher female participation rates, or create new mixed events.
Organize training programs for women to become race marshals and provide them with opportunities to learn about racing.
Organize training programs for women to become coaches and provide them with learning opportunities during training.
Actively encourage more women to take leadership positions, for example by specifically recruiting women to committees or boards, creating mentors for women who may lead in the future, and sharing the experiences of women in these roles .
Increase the promotion of female sailors, showcasing female role models, for example through social and traditional media, speakers at panels and dinners, and in photographic and graphic work.
Support women's social events, discussions and knowledge transfer to create a clear space for women to participate and network.
If this is a topic you are passionate about, we highly recommend read the report and its recommendations!

Credit: World Sailing Trust | Women in Sailing Strategic Review