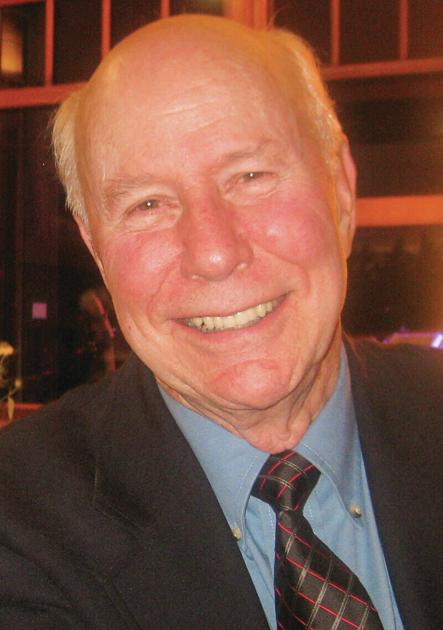 William H. Gilmore Obituary | Deaths
William Humphrey Gilmore passed away peacefully at home on Tuesday, September 21, 2021, in hospice care surrounded by his loving family. Bill's death on Tuesday morning ended his long, hard battle with cancer. He was born in Peoria, Illinois on November 20, 1936 to William Perry Gilmore and Joy MacMahon Gilmore. At the age of six, Bill's father passed away and his grandparents Lola and George Gilmore stepped in to help raise him. Two years later, her mother married Donald Roebling of Clearwater, Florida. Bill attended North and South Ward Elementary Schools in Clearwater, Warrenton Stuyvesant Residential School in Virginia, and graduated from Staunton Military Academy.
As a teenager, Bill was an avid horse enthusiast who rode at Warrenton Hunt Club events and learned to navigate a Clark Mills Optimist stroller in his pool and in Clearwater Bay. At the age of 13 he was with his friend Hugh when he first saw Hemmie visiting for the summer from New York and quickly called dibs, telling Hugh, "Here's the girl I'm going. marry !
After a year at the University of Florida, he served in the US Navy for four years. Shortly after returning home to Clearwater, he married Hemmie at the Peace Memorial Presbyterian Church in January 1960. A year later they moved to Gainesville where Bill completed his university studies in advertising with a minor in philosophy at the University of Florida as they started and grew rapidly. a family with three sons, Jerry, Will and Jim.
Bill and his young family returned to Clearwater where he held various jobs while developing a business plan and commissioning the "Double Eagle", a radical new commercial fishing vessel built by Clark Mills in 1967, the first catamaran authorized in Florida by the American coast. Guard to transport passengers offshore. Two years later, a second catamaran, the "Double Eagle II", joined the fleet. Clark Mills also designed and built a bright yellow 53ft three-masted schooner named "Sunflower" which docked at Clearwater Beach Marina and became the home of Bill's family of five during several years of adventure and sailing exploration along the Florida coast.
Bill and his family were avid outdoor enthusiasts. When the boys were young, they traveled across the country to visit national parks for several months in a VW camper van, testing their ability to live in nearby neighborhoods. In 1977 they sailed to Maine on "Sunflower" where Bill worked as an Outward Bound instructor and Hemmie and Jerry took 26 day courses, Will a 10 day course. The boys were homeschooled. A year later, the family moved to Littleton, New Hampshire, where the three sons attended White Mountain School as day students. An adopted son, Bill Sanders, joined the family's teenage team in 1980. The four boys learned to ice and ice rock climbers and spent many days exploring the hiking trails and skiing from the north of the country with their parents and friends.
Their love of travel and adventure continued, with trips to Europe, South America and the Caribbean. They have traveled by car and motorbike and on a number of magnificent sailboats that have transported Bill and his family to magical and far-off places that many people dream of. Sometimes Bill sailed solo, and for the other stages he was with Hemmie, his family and friends as he explored continents, islands and met people from all cultures.
Over time, Bill and Hemmie's family grew as the boys became men, married, and had children of their own. Thanks to his grandchildren, Bill was able to share his knowledge, focus on learning and inner thinking with another generation. Her grandchildren have benefited from friendship, mentoring, education, creative expression, movies, walks, veils and quiet moments of reflection, self-consideration and unconditional love. .
His urge to travel led him on a series of sails to Europe and the Caribbean and a three year circumnavigation of the southern hemisphere around the globe and back to Littleton, NH where he felt the sight of the chain Presidential from the deck of his own home was as beautiful as anywhere he had seen.
Through his adventures and moments of reflection, Bill focused on finding a meaningful life. His research and introspection took him to limitless places and had a fundamental influence on those close to him as he shared reflections on the meaning of life and encouraged others to explore their personal connection as part of their world. . His greatest concerns affecting those who knew him was his unwavering consideration for others. He believed in the interconnections and the unity of everything, especially in the people around him. Bill's generosity of spirit touched everyone in his life and beyond.
He is survived by his wife Hemmie, Jerry and Ania and the son of Jerry Scott and the daughter of Ania Monika; Will and Linda and their children Kyllan and Tiegan; Jim and Debbie and their daughter Destinee were recently married to Tom Britto; and his adopted son Bill Sanders and his son Billy.
Phaneuf Funeral Homes & Crematorium will take care of the arrangements.